When was the last time you paid a visit to Science Centre Singapore? There's plenty to explore and discover at the Jurong East institution, where science gets presented in interesting and exciting ways.
We walk you through what you can expect on a visit to Science Centre Singapore and everything you may want to know about this attraction.
---
A Brief History of Science Centre Singapore
Science Centre Singapore opened its doors on 10 December 1977.
---
-- Story continues below --
The idea for a science centre was first floated more than two decades before in 1955 by Rex Anthony Shelley from Hume Industries Ltd, Ronald Sng from Science Council of Singapore, Bernard Tan of the University of Singapore and Sng Yew Chong from the Ministry of Education.
Originally envisaged as a small centre in a rented shophouse, the idea grew bigger and bigger.
Eventually, the Science Council set up a committee to look into setting up a science centre in 1968.
The Science Centre Board became a statutory body in 1970. When the Centre opened in 1977, it had four exhibition galleries – physical sciences, life sciences, special exhibits and a lobby gallery.
Originally called Singapore Science Centre, it changed its name to Science Centre Singapore in 2007. The Centre is set to move to a new location at Jurong Lake Gardens in 2027, coinciding with its 50th anniversary.
---
Overview of Science Centre Singapore
Science Centre Singapore is made up multiple exhibitions spread across different halls in the building.
Upon enter Science Centre Singapore, a passageway leads to the central Atrium. Three main halls surround the Atrium. In a clockwise direction, these are Halls A, B and C.
The wing of the building with Hall C also houses the smaller Halls D, E and F.
Level Two above the Atrium has additional exhibition spaces.
Another notable part of Science Centre Singapore is The Annexe, which hosts temporary exhibitions and events such as UNTAME STEAM Fest.
In a nutshell, Science Centre Singapore is huge and, if you wanted to go through all the exhibitions in detail, you could easily spend a couple of hours there.
---
What to See & Do at Science Centre Singapore
Here's a more detailed look at the exhibitions at Science Centre Singapore, where we also highlight which are our favourites.
---
Entrance Hall
The Mind's Eye
You won't believe what you see, and you shouldn't, at The Mind's Eye. This exhibition shows how your eyes can deceive you and every may not be what it appears to be. There are exhibits that make use of shadows and angles to trick the eye. You can also take a picture being in the grasp of a big hand at the entrance too.
---
Atrium
The Atrium is the central hub of the Science Centre Singapore building. There are some exhibits around it such as a smoke cannon and a Jacob's Ladder that shows high voltage climbing arc.
However, the main reason to congregate at the Atrium is the Energy Titans Show. This is a series of electrifying live demonstrations with electricity. It takes place at 12 pm with an additional show at 4.30 pm on weekends, school and public holidays.
---
Hall A
Professor Crackitt's Light Fantastic Mirror Maze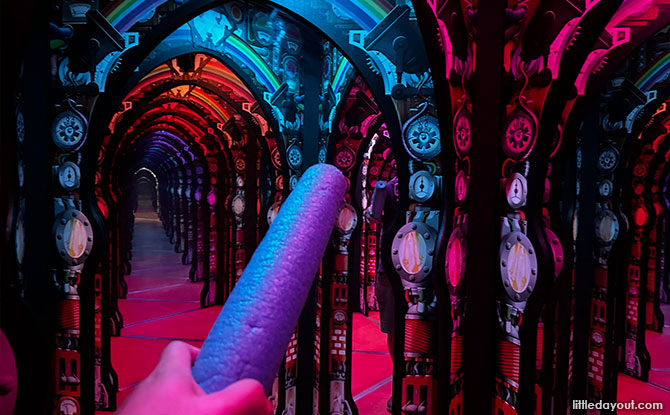 Professor Crackitt's Light Fantastic Mirror Maze is one of our favourite exhibitions at Science Centre Singapore. Step into a mirror maze armed with a pool noodle and try to find your way out.
Read more about Professor Crackitt's Light Fantastic Mirror Maze.
Laser Maze Challenge
This is for the ninjas out there! Step into a dark room and try to Mission Impossible your way across 50 laser beams without setting any of them off. It is fun activity but you can usually expect a queue of people waiting to give it a go.
The Giant Zoetrope
This exhibit shows how our brains can be tricked. It converts static images into a moving image through the use of strobe lighting.
Scientist for a Day
Learn more about the scientific method and how they can be applied to experiments.
Urban Mutations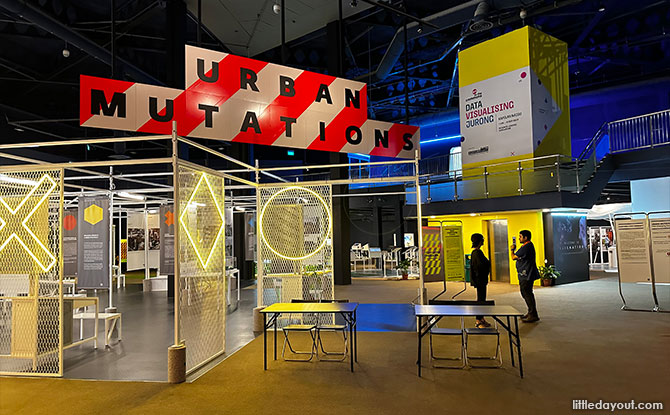 This exhibition provides and insight into how cities have evolved over time and the various workings and solutions for developing urban landscapes.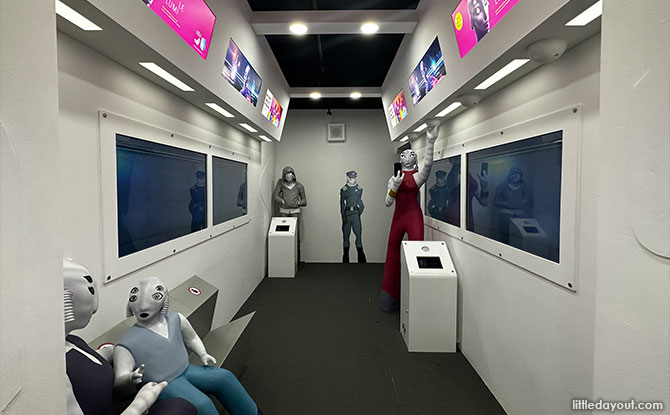 You can also head up to the upper floor to board an alien metro train and learn about discrimination.
Waterworks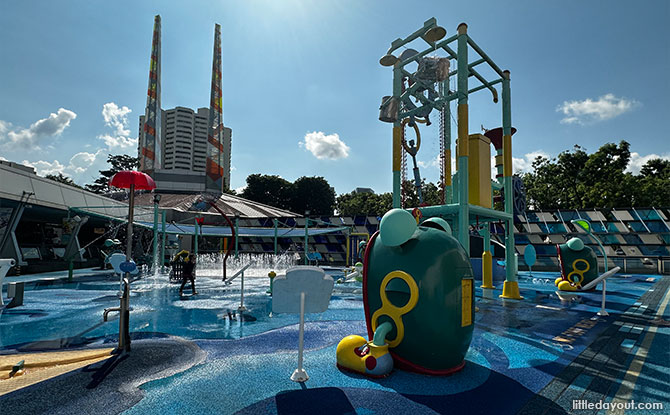 This is an outdoor water play area where science is presented through fun water exhibits. You will need to bring along your wet gear. There are changing rooms available too.
Here's a fun fact: did you know that Waterworks was the very first water play area set up in Singapore?
Get more details about Waterworks.
---
Courtyard
Before you move to Hall B, there is a small courtyard that has fun exhibits all about fire. You can try to shoot a cannon at advancing pirates and learn about matches and lighters.
You should also definitely try to catch the fire tornado science demonstration at 2.30 pm. Watch as the flames spiral upwards in a specially built chamber.
---
Hall B
Know Your Poo
This exhibition takes on a rather stinky subject. Thank goodness, the exhibits don't have an olfactory aspect. Instead, learn all about poo, the digestive track and the science of sanitation.
Read more about Know Your Poo.
Phobia²: The Science of Fear
Step through a skull and face your fears. This engaging exhibition examines the psychology behind fear.
There are also different experiences that allow visitors to confront their fears. This is one of favourite exhibitions because of the unique way that it presents the topic of fear. Just be warned that young kids may get frightened inside this exhibition.
Earth Alive
Delve into the forces of nature that shape the world at Earth Alive. There are several interesting exhibits here that you should try.
Step into a typhoon chamber. The play with the interactive sand exhibit at the back of the exhibition hall.
You must also experience what an earthquake feels like.
Climate Action Show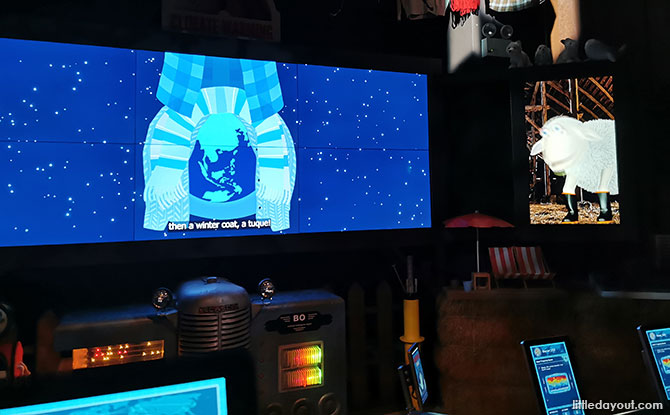 This is must-watch at Science Centre Singapore. It is an immersive show that has lights, sounds, wind accompanying the "Change Agent Training" conducted by two sheep – Felicity, Sheepy and an AI machine called Bo, and highlights the need to act upon global warming.
Energy Story
Learn all about energy and the law's governing energy through the exhibition's six different zones.
One of the highlights here is a game zone where you can earn your Climate Driver's License by completing a series of segments, themed to look like a life-sized game board.
Dialogue with Time – Embracing Ageing
If you head to the upper floor at Hall B, you will find the Dialogue with Time – Embracing Ageing exhibition. Here, you can learn about what happens to our bodies as we age over time.
You even enter into a booth to see what you will look like in the future.
Animal Zone
In between Halls B and C, you will find the Animal Zone with live animals like little chicks as well as insects like stick insects.
---
Halls C, E and F
E3: E-mmersive Experiential Environments
Head to Hall C and step into the E3: E-mmersive Experiential Environments exhibition. You can try immersive virtual reality experiences and even get to visualise what it is like to fly like a bird.
The Going Viral exhibition about STEM's role in pandemic intervention is only display at E3 from August 2023 till March 2024.
Read more about E3: E-mmersive Experiential Environments.
The Tinkering Studio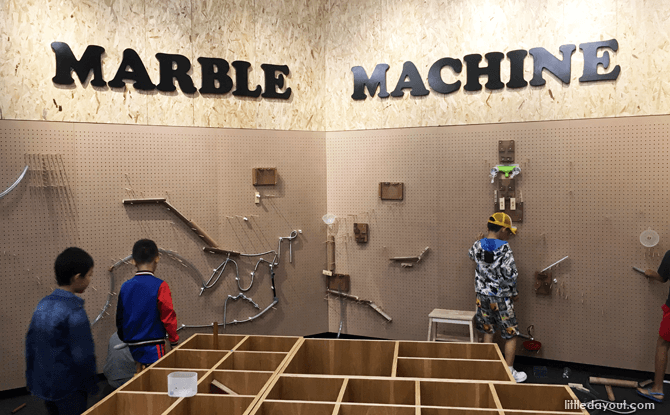 Behind Hall C is The Tinkering Studio. Here, kids can try out different activities and experiments with the materials available in the studio. We especially like the Marble Machine wall.
Smart Nation Playscape
At the other side of Hall C is the Smart National Playscape. This exhibition in Hall F showcases technologies such as geospatial technology and the blockchain. Register for a Smart Nation Passport and go through the various zones at the exhibition.
---
Level 2
Future Makers
On Level 2, above the Atrium, you will find Future Makers, an exhibition about engineering. There is a cool Future Makers Object Theatre show that shouldn't be missed.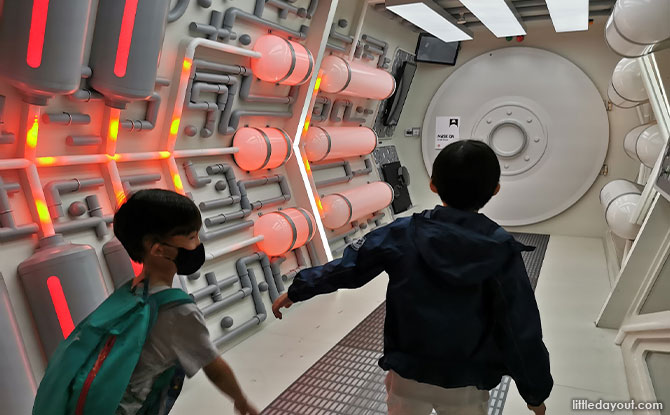 And solve the puzzles at Future Makers to get some numbers that will gain you access to a large vault escape room.
There is also a lab for 3D printing and a showcase of local inventions on Level 2.
---
Auditoriums & Labs
There are two auditoriums at Science Centre Singapore. The Maxwell and Mendel Auditoriums host science shows, talks and other events.
There are several labs located in the wing where Hall C is located. These are mainly used for school programmes.
---
Ecogarden
At the rear of the Science Centre Singapore building is the outdoor Ecogarden. If you feel like you want to get some fresh air, step outside here.
You can pay a visit to the treehouse, or get a closer look at a leaf litter.
There's even a mini rubber plantation and exhibits on the rubber tapping process at the Ecogarden.
---
Kinetic Garden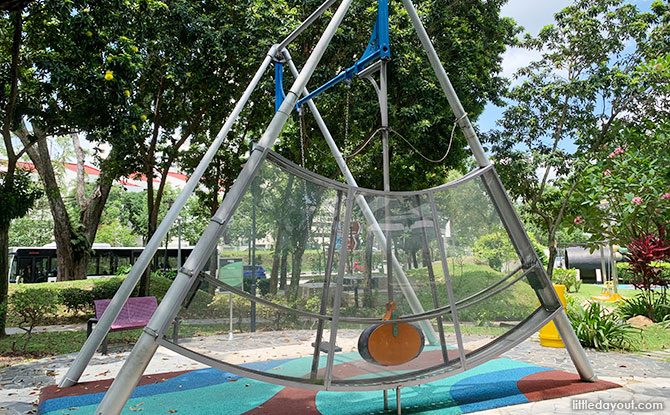 Out front at the entrance of Science Centre Singapore is the Kinetic Garden. It is a fun place filled with hands-on activities for kids.
Learn more about the Kinetic Garden.
---
Retail and F&B
If you should get hungry while inside Science Centre Singapore, there is a small cafe, Coffee Bee, that serves local food and drinks at the Courtyard.
Another cafe-restaurant, Stellar Kitchen Bar, is located at the front of building at the Kinetic Garden. This is accessible by the public, even if they don't enter Science Centre Singapore.
The Curiosity Shop sells science-themed gifts and novelties. It is a nice place to pick up a unique gift or a souvenir from your visit.
---
Science Centre Singapore Opening Hours
The opening hours are Tuesdays to Sundays, 10 am to 5 pm with last entry 4.15 pm. Science Centre Singapore is closed on Mondays, except for Public Holidays and gazetted school holidays.
---
Science Centre Singapore Admission Tickets
Tickets need to be pre-booked online before a visit.
Prices for Singaporeans and PRs during peak hours, i.e. weekends, public holidays and school holidays, is $6 for adults, $4 for children 3 to 12 and $4 for seniors aged 60 and above.
During non-peak hours, i.e. weekdays during school term except public holidays and school holidays, Singaporeans and PRs enjoy complimentary admission.
For non-Singaporeans and PRs, the prices are $12 for adults, $8 for children 3 to 12, and $12 for seniors aged 60 and above.
---
How to Get to Science Centre Singapore
Science Centre Singapore's address is 15 Science Centre Rd, Singapore 609081.
Bus services outside Science Centre Singapore are 66, 178, 198 and 335.
The nearest MRT Station is Jurong East MRT Station. From there, you can take bus 66 or 335, or walk eight minutes to Science Centre Singapore.
It is also eight minutes to walk to Science Centre Singapore from the Jurong East Bus Interchange.
Visit the Science Centre Singapore website.