The Waterworks exhibition at Science Centre Singapore offers visitors a chance to splash about and cool down from the heat. The Science Centre Singapore water play area is an opportunity to have some fun while learning about the importance of water.
---
Waterworks At Science Centre Singapore
Accessible through Hall A, the Science Centre Singapore Waterworks exhibition is open from 10 am to 12.30 pm and 2 pm to 4.30 pm, on days when the Science Centre is open.
On the way to the Waterworks exhibition, you will pass by Professor Crackitt's Light Fantastic Mirror Maze, another of our favourite spots at Science Centre Singaore.
---
-- Story continues below --
Entry into the water play area is complimentary with entry tickets to the Science Centre.
Head over to the fun looking water clock tower. This mechanical beast not only serves as a clock but also has different weather measuring equipment. Look out for a anemometer which measures wind speed and a rain gauge.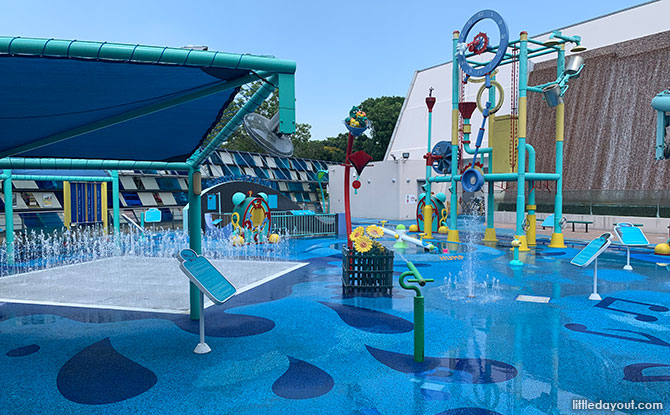 Another fun feature at Waterworks is the water maze. Made up of jets of water, sprouting up from the ground, navigate your way through the little water maze.
Or, if the plan is to cool down, just go straight through them. Don't be surprised if water jet guns spray water in too.
---
More at the Science Centre's Water Play Area
There are other water play features too. For example, look out for a fun pool with balls bouncing about in the water.
For a scientific slant, head over the pipes showing how different diameters affect the flow of water.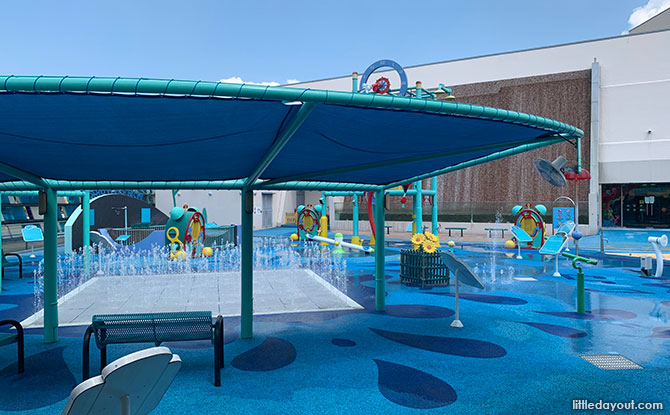 Parents and caregivers will be thankful for the chance to take shelter under a blue tarp with seating while waiting for the kids to expend their energy.
Take note that if you are planning to take the kids to Science Centre Singapore's Waterworks, they will need to be appropriately dressed with proper swim wear. Sun block is highly recommended as well.
The Science Centre Singapore water play area is fun distraction to add variety to your visit to the Jurong attraction.