It is almost surreal thinking about the pandemic which dominated our lives from 2020 to 2022, and now, with some hindsight, we can look back on that experience at Science Centre Singapore's latest exhibition Going Viral. This traveling exhibition provides a look at the role that STEM plays in managing pandemics and how scientific knowledge has enabled pandemic interventions.
Going Viral is making its premiere at Science Centre Singapore's E-mmersive Experiential Environments (E3) gallery, where it will reside from August 2023 till March 2024.
Thereafter, the exhibition will be traveling to different locations around Singapore, starting with a showcase at Changi Airport Terminal 3 in April and May 2024.
Going Viral examines how science plays a role in pandemic interventions in general, borrowing elements from the COVID-19 pandemic. It challenges visitors to think about what type of role they could play through STEM in a future crisis.
---
-- Story continues below --
---
Going Viral Exhibition at Science Centre Singapore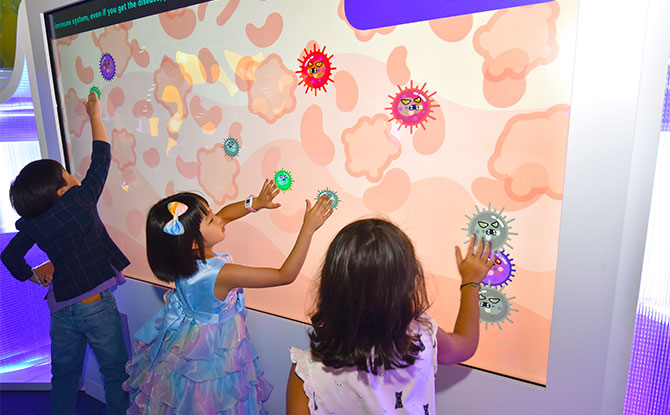 There are three themed zones with interactive activities at the exhibition. It also takes advantage of the immersive projection and multimedia capabilities of the E3 gallery.
---
Zone A: Living with Viruses
Featuring shape-fitting 'lock and key' entrances as well as multimedia games, this zone is the exhibition's biggest one and delivers the science of viruses, vaccines and our immune system through fun and engaging ways.
At an interactive touch table, you can dissect the SARS-CoV-2 virus and scan QR codes to learn little-known facts about pandemic interventions like inoculation efforts through animations.
More QR codes lead to ebooks curated by the National Library Board on different inoculation efforts and the science behind viruses.
---
Zone B: Let's Get Quizzical
Take part in a gameshow-styled quiz to understand the dangers of misinformation in the era of social media. Beside testing your knowledge about viruses and pandemics, you can also find out more about "infodemic" – where unreliable and fake news gets spread like a virus via social media.
---
Zone C: Pandemics are Social
This zone highlights the social dimension of pandemics. It features two stations with eye-catching installations.
View four paper dioramas created by artist Cheryl Teo from Lulo Paper Studio depicting familiar scenes from the pandemic in creative ways.
This zone also features three short, animated videos on mRNA vaccine technology. These were created by exhibit sponsor Moderna Biotech Singapore, a pioneering biotechnology company that developed one of the earliest and most effective messenger RNA (mRNA) vaccines during the COVID-19 pandemic.
Visitors can also view photographs contributed by the public during the pandemic and collated by the National Library Board.
Nanotechnology masks provided by Nanyang Technological University will also be on display, together with TVs featuring interviews with the exhibition's advisory panel members.
---
Science and Global Health Challenges
Associate Professor Lim Tit Meng, Chief Executive of Science Centre Board said, "Today, we stand at a pivotal moment where modern-day science and innovation have enabled unprecedented advancements in pandemic management. Going Viral showcases how science has evolved over time to confront global health challenges, inspiring us to embrace STEM learning as a powerful catalyst for progress. With the flexibility of being a travelling one, we hope the exhibit will reach people beyond the Centre to community spaces and help foster enhanced outreach and education while reflecting our commitment to breaking boundaries."
Going Viral is included with Science Centre Singapore admission.
While at Science Centre Singapore, don't miss out on any of the fun exhibits and activities with our Science Centre Singapore guide.