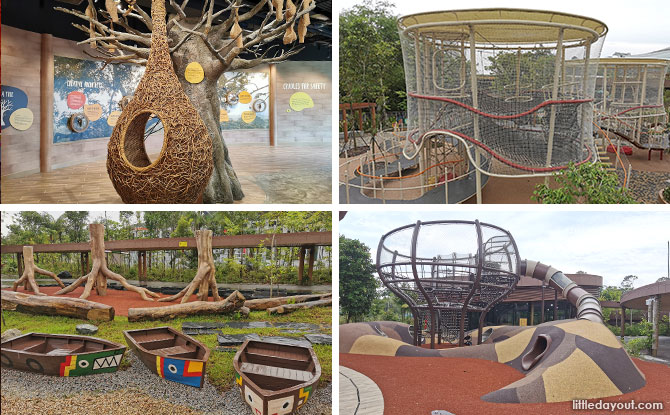 Kids (and parents) will be so excited to explore all the Bird Paradise playgrounds and play spots at Mandai Wildlife West. The great news is – some of the playgrounds do not even require ticketed access and are free for all to enjoy!
Here's our guide to the playgrounds and playspots at Mandai Wildlife West and Bird Paradise.
---
Mandai Wildlife West Playgrounds – Free Access!
Mandai Wildlife West is a space free for all to access and it serves as the gateway to Bird Paradise as well as Rainforest Wild.
---
-- Story continues below --
It has many F&B spots such as A&W, Starbucks, Birds of Paradise Gelato, Luke's Lobster plus three playgrounds and a towering 10m waterfall.
There are three playgrounds to explore at Mandai Wildlife West: Pangolin Hideout, Pangolin Adventure and Forest Stream.
---
Pangolin Hideout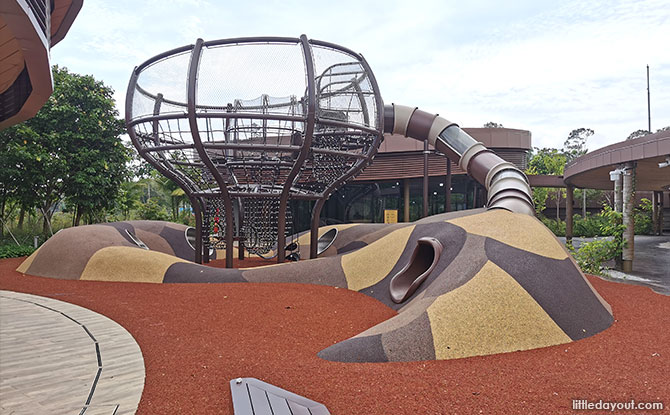 Pangolin Hideout consists of a wide tower with a long slide and tunnels in the mounds perfect for crawling, burrowing and climbing. It is located right next to Unpackt Café and store. Children will love navigating the rope tunnels and netting to get to the slide.
---
Pangolin Adventure
Pangolin Adventure is an inclusive playground located to the left of the carpark entrance. The nets, swings and slides invite kids to jump, bounce and swing. Children on wheelchairs can also head up the ramp to get on higher ground.
---
Forest Stream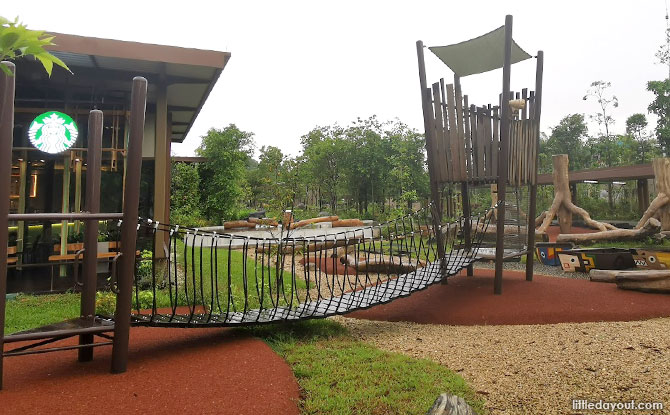 Forest Stream playground is located right next to Starbucks. Parents can enjoy their cuppa while the children frolick at the nature-themed playspace. They will enjoy balancing on the logs, "rowing" the boats, balancing on the suspension bridge and weave through the root-like structures inspired by mangrove forests.
---
Bird Paradise Playgrounds & Playspots
Bird Paradise has two playgrounds, a water playground and a huge dry playground for some climbing and bouncing.
Apart from the two play areas, the three biggest walk-in aviaries – Heart of Africa, Crimson Wetlands and Wings of Asia have fun playspots just for the kids plus games in the hubs connecting the aviaries.
---
Egg Splash Water Playground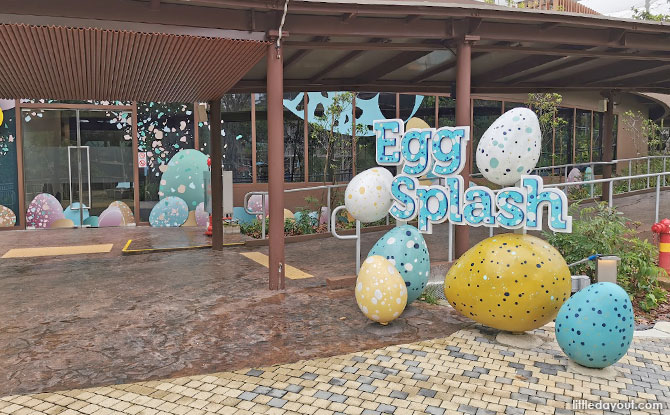 Families will flock to this wet play area aptly named Egg Splash. Kids can slide down the mega slide and jump around the colourful eggs. The colours of the "eggs" – blue, yellow, dotted patterns are the actual colours and patterns of the eggs of water birds! Of course there is a giant bucket ready to get everyone wet and wild.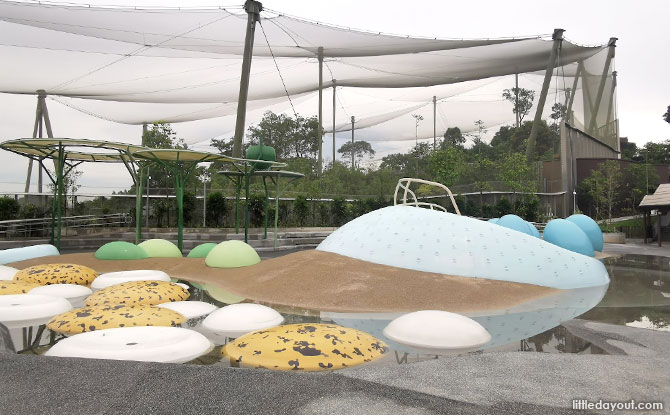 Other areas include sprays and shallow pools, with pools suitable for younger children.
Parents can wait at Egg Splash café and the sheltered pavilion.
Opening hours of Egg Splash Water Playground are 9.30 am to 5.30 pm.
---
Treetop Play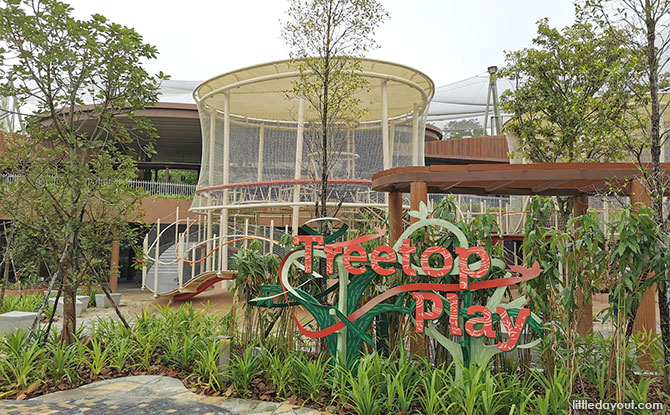 Experience what living in a tree feels like at Treetop Play. There are two towers to ascend, one includes a wheelchair-friendly ramp while the other has tunnels and sand play.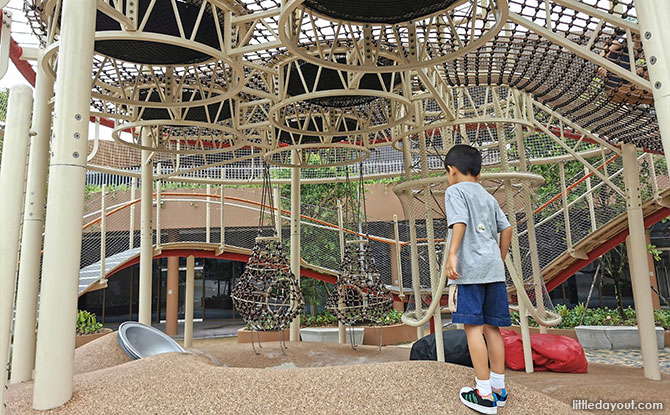 Kids will enjoy climbing through the rope tunnels and nets to get to the trampolines and then sit in the pods that look like nests. Imagine being a baby bird!
Treetop Play is open from 9 am to 6pm.
---
Playspots in Three Aviaries
Families can also find playspots at three aviaries: Crimson Wetlands, Heart of Africa and Wings of Asia.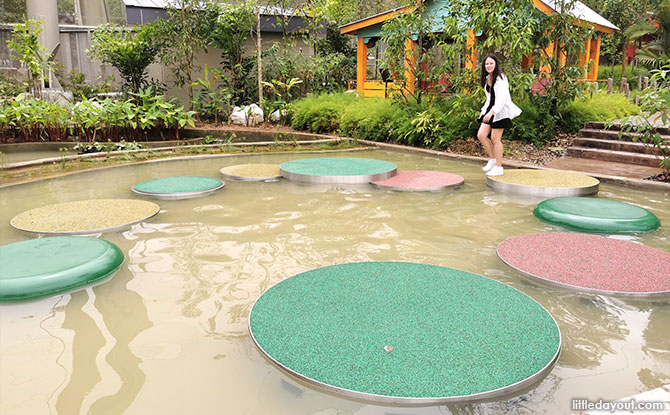 At Crimson Wetlands, bounce and hop at Lily Pad where one can finally "jump" on giant leaves!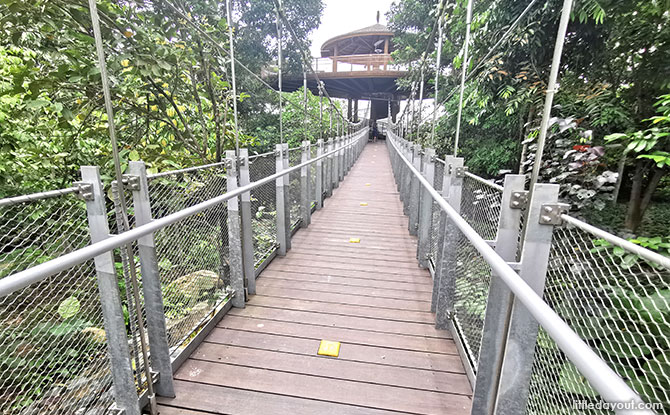 Find the Balafon Bridge at Heart of Africa and step on musical planks to play your own jungle beat.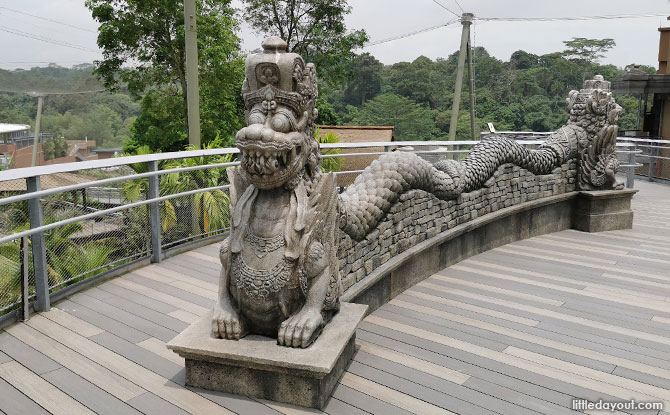 When you visit Wings of Asia, strike a pose and pretend to ride the magical dragon perched atop the padi fields or go on an Adventure trail off the well-trodden path.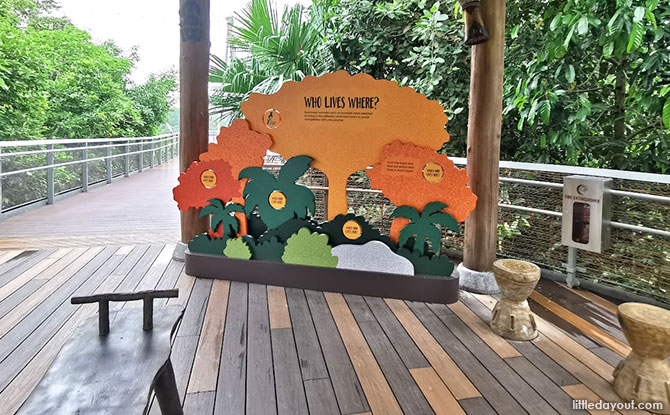 There are also learning panels within the shelters at each aviary where children can learn through interactive elements.
---
Play and Learn at Resting Spots & Booths
For some respite from the heat, head to the booths connecting the aviaries.
Each booth contains a wealth of information about the birds in a specific habitat. Find the wildlife that's hiding in the foliage or guess the sound of the songbird.
Sit in the bird-themed seats, one shaped like a Weaver bird's nest, another like a hatched egg or a swinging rattan chair.
---
Endless Fun at Bird Paradise & Mandai Wildlife West
Mandai just levelled up on fun factor for families with the egg-citing playgrounds at both Mandai Wildlife West and Bird Paradise. We are so "eagle" to play!