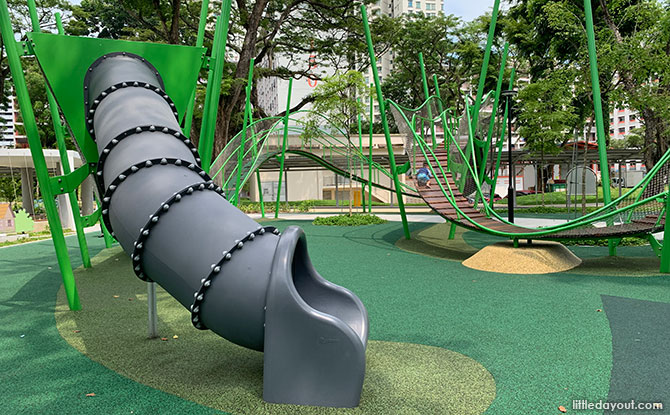 Does the idea of a walking roller coaster sound strange to you? In Germany, there is the Tiger & Turtle Magic Mountain, an sculpture that simulates a roller coaster except that it has steps and slopes instead of a carriage. In South Korea, there is the SpaceWalk. Now, Singapore has its own version of a mini walkable "kids roller coaster" at the Heights Park playground.
---
Walking Roller Coaster Playground at Heights Park
Play @ Heights Park has already been making waves, attracting families to its water playground. The recently opened walking roller coaster playground at Heights Park (at least that's what we're call it) adds yet another reason to pay a visit to and a novel way for young kids to challenge themselves.
The green playground structure is made up of a track which undulates up and down. It even banks as it twists and turns. At this playground, you are the roller coaster train.
---
-- Story continues below --
Starting from one end, kids can follow the track as it rises and falls and winds its way around the playground.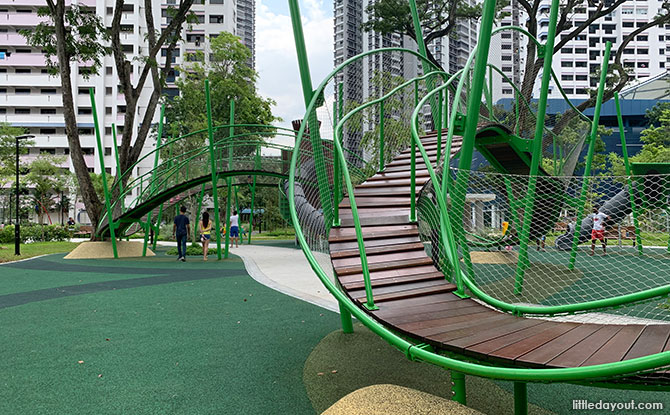 In case you think that the slopes are easily navigable, give it a try. The gradient at some parts seem quite steep. So much so that even adults may welcome the hand railings which run beside the track. And, if adults find the slope steep, it must feel even more so for young kids!
Parents may want to walk alongside younger ones to help them navigate the ups and downs of the Toa Payoh "walkable roller coaster".
---
Walkable Roller Coaster in the Toa Payoh Neighbourhood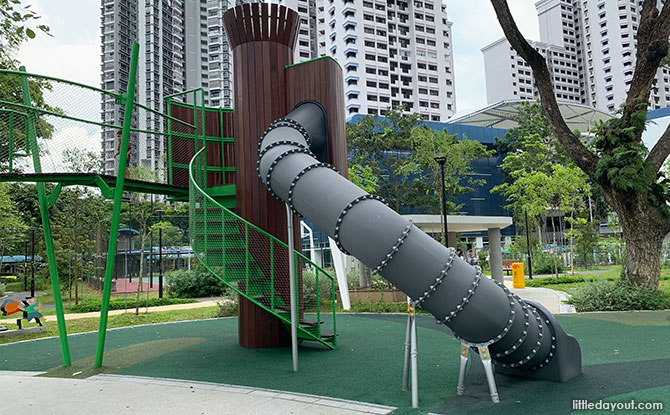 Beside the two ends, there are multiple points along the track where kids can embark or disembark from the track.
The reward for traversing along the tracks to the end is tube slides. After carefully navigating the walking roller coaster, the slides are a chance for kids to swoosh down at speed.
The walkable roller coaster playground is quite a novel concept and almost reminded us of walking up along the spine of the old school heritage Dragon Playgrounds (of which there is one at Lorong 6).
---
Family Trampoline
For more active fun at Play @ Heights Park, head over to the nearby trampolines embedded into the ground. In addition to an individual-sized trampoline, there are two that can accommodate up to three persons at time. Just another reason to bounce down to Play @ Heights Park.