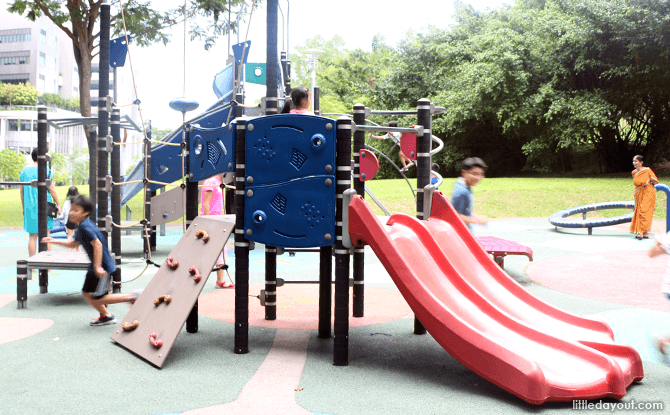 one-north's Biopolis is normally associated with life science and biotech companies. However, as the proverb goes, all work and no play makes Jack a dull boy, and in the case of Biopolis, an element of play is introduced with the one-north Park playground.
Located beside the Chromos building, a stone's throw from the MOE building and separated from some eateries by a hedge is the blue-and-metallic children's playground.
Two "Towers"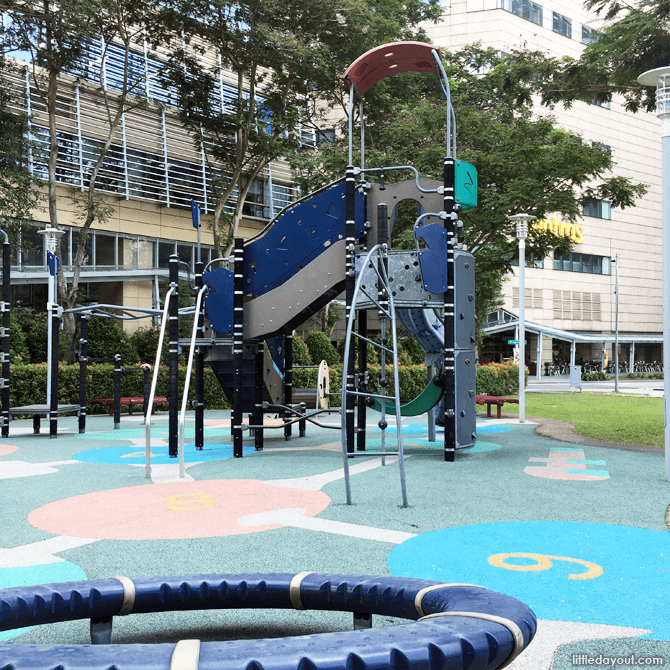 At one-north Park playground, kids can choose between stairs, a curvy ladder or a rock climbing wall to scale a play tower. A wavy slide leads back down to the ground from the tower's two-meter high platform. Suspended beneath the platform is a green swinging seat for kids who wish to sit back and chill.
Across from the tower is a shorter platform. Suitable for younger kids, the second "tower" has a red slide and a fun climbing pole, ladder and gently-sloped rock wall.
---
-- Story continues below --
The two platforms are connected by a set of unusual kinked monkey bars and a yellow spiderweb net.
Playing with Sound
In addition to the two play platforms, the one-north Park playground also has equipment for kids to "play" with sound.
A pair of giant parabolic dishes allows kids to experiment with reverberation.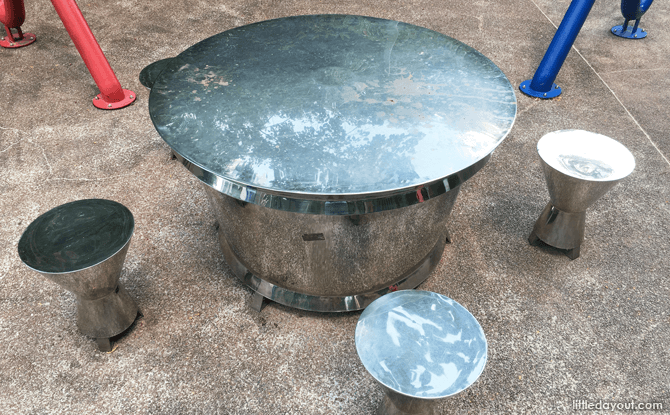 There is also a communal metal drum that looks like a futuristic Round Table for King Arthur and his knights. Up to five kids can sit around the table and beat out rhythms together.
Red and blue telephone tubes snake out from the ground.
one-north Park playground's soft padded floor also has hopscotch markings.
Another nice feature of the playground is the expanse of green open space nearby.
On Saturdays, the two restaurants at Chromos, Pepperoni Pizza and Parkway Thai are open for business, making it convenient spot to grab a bite before unleashing the kids into the one-north park playground. On Sundays, only Pepperoni Pizza is open.
one-north Park Playground
Next to Chormos Building at one-north Park