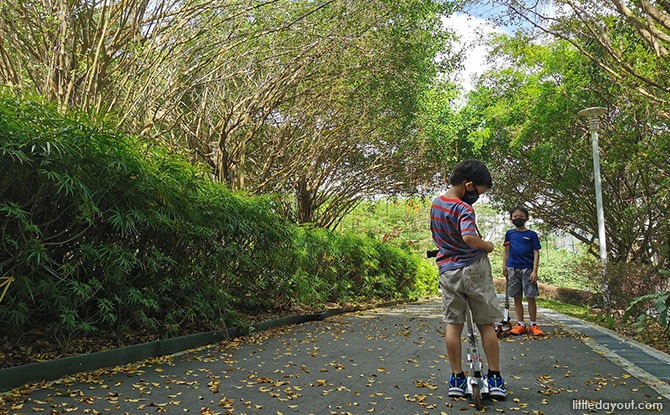 One park with 5 parts, untouched by crowds? We explored one huge park with 5 different sections in the West. It was a hidden oasis of greenery with plenty of space. And it is none other than one-north Park.
There are five parts to this park, namely:
Fusionopolis North (Soon to be open)

Fusionopolis South
Biopolis (Near Buona Vista MRT)
Rochester East and West
Mediapolis
We explored each of the five parts and tell you the best bits, according to activity and sport.
---
one-north

Park Biopolis – Most Accessible with the ONLY playground
To get to the park via public transport, the easiest access point is Buona Vista MRT. Walk past the Ministry of Education Building towards the greenery where you will see the huge "one-north Park" signage. Across the road is one-north Park – Rochester.
As you advance upslope, you will see benches, exercise corners and right at the top of the hill NTU Alumni Club building. We reckon this part of One North Park is perfect for joggers and kids with scooters as it has a hilly terrain.
The park is also where the Saturn plaque is located. This is part of the "Our Solar System" series found all over the island to liken the distances according to the distances from the sun which is "located" at Singapore Science Centre's Eco garden.
As you venture upslope, you will reach the Hilltop where majestic Ficus trees, also known as Banyan trees, are. Take a breather, enjoy the panoramic view of the Buona Vista area while being shaded by the huge trees. The ficus trees are beautiful and must have withstood the time to grow to their current size.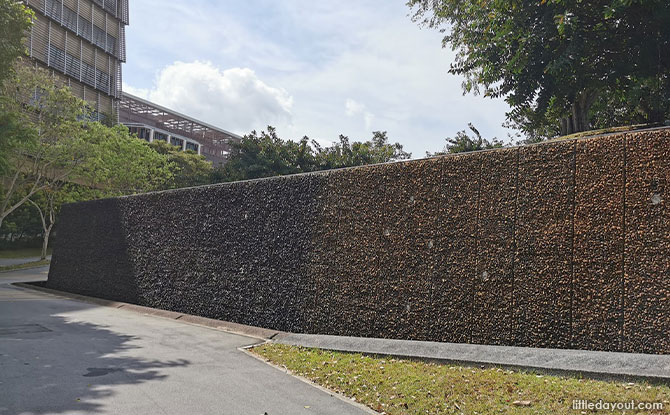 As you head downslope, you will see a huge water wall that was not operational when we visited. Taking the stairs or slopes downhill will bring you to the playground.
But before that, look for mounds at the hillside. Can you guess who the mounds are homes to?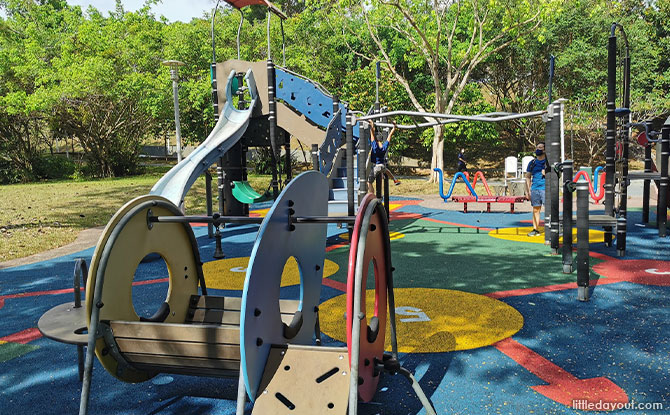 The highlight of the park was definitely the playground, located right next to Pepperoni at Chromos building. Children will love the monkey bars, climbing structures and sound experimentation corners.
As you walk further away from Buona Vista, you would head closer to one-north Park at Fusionopolis which is separated by one-north Link road.
Nearest Parking: MOE visitors' Carpark, Chromos Building
---
one-north

Park Fusionopolis South – Elevated Boardwalk for Birdwatching
Located right next to Nexus and Solaris buildings is one-north Park – Fusionpolis South. We were surprised to find an elevated boardwalk known as the Forest Canopy Boardwalk. It is about 150 metre long with two observation platforms where one can see birds, squirrels and other creatures amidst the various tiers of the forest.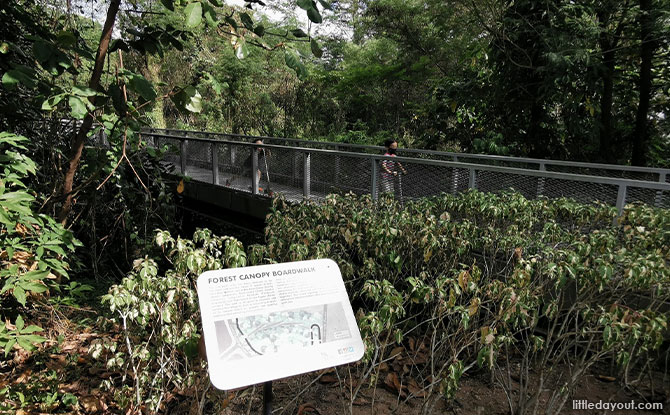 One can spot the Asian Glossy Starling, Long-tailed Parakeet, Black-naped Oriole and Pink-necked Green Pigeon at One North Park. Perhaps for an easier time, look out for the bird-attracting plants like Tembusu, Weeping Fig as well as fruit trees like Mango trees.
We liked how the boardwalk was very flat and suitable for kids on wheels – strollers, scooters, rollerblades. It is also wheel-chair friendly without the undulating terrain at the Biopolis area.
Nearest Parking: Nexus or Solaris Buildings
---
one-north

Park Rochester East & West – Ideal for Picnics and a place to practise Rollerblading / Cycling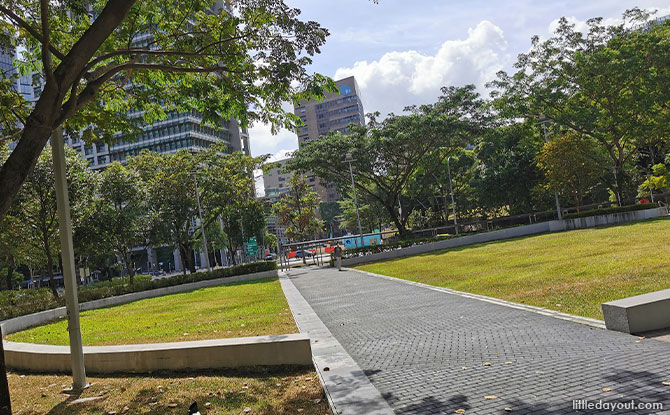 A much smaller section of one-north Park is located right next to Rochester Mall, Park Avenue Rochester and across the Biopolis section. There isn't much to see here, but we reckon it would be a good spot for picnicking.
As it is another flat area, parents can also bring children here for some inline skating or cycling practice for those who are just getting started on wheels. As it is right next to the malls and washrooms, this is a good place to hang out with the convenience of nearby amenities.
Nearest Parking: Rochester Mall/Park Avenue Rochester
---
one-north

Park Mediapolis – Large Spaces for Picnics, Frisbee games and Cycling Fun
A gem that is more inconvenient to get to is one-north Park at Mediapolis. This elevated park is located right next to Mediacorp and Café Melba Mediapolis.
The huge sprawling green space is perfect for many activities – picnics, frisbee games, a good round of hide and seek as well as cyclists and inline skaters. However, there is not much shade so we would recommend a visit in the early morning or late afternoons.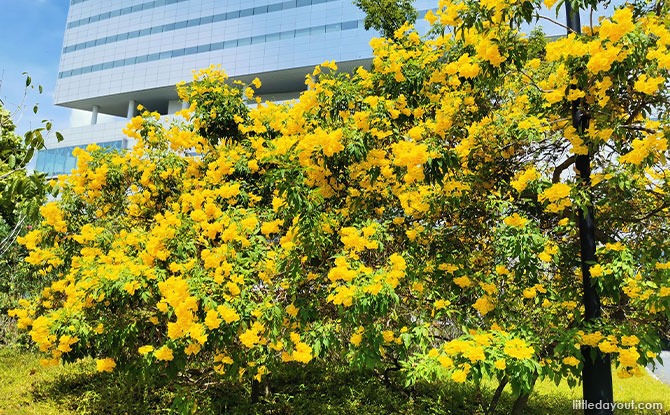 Don't forget to admire the blooms in various colours around the park. Due to the heat, the plants were flowering vibrantly.
Nearest Parking: Mediapolis @ one-north
---
one-north

Park
Whether you are an avid cyclist, Bird-watcher, noob inline skater, a picnicker, park bench bookworm, you will find your spot at one-north Park where plenty of space and greenery awaits.
There might be only one playground but the park has a lot of space and paths to explore. It also has eateries nearby if you feel peckish or thirsty. Just lather on the sunblock put a hat on and get your wheels ready for exploration time!