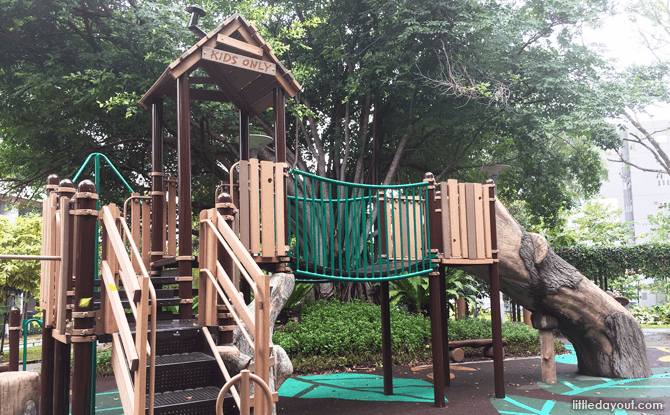 Sandwiched between the buildings fronting Leng Kee Road and the Rumah Tinggi hillside behind IKEA Alexandra, Rumah Tinggi Eco Park is a well-hidden green corridor.
The narrow slither of land was once a KTM railway siding, leading down to the Alexandra Brickworks area. The trains have long since stopped running and in place of the din of railway cars is the quiet serenity of a green park and its children's playgrounds.
Nature in a Line
The linear Rumah Tinggi Eco Park can be entered either from the housing estate to the rear of IKEA or from Kung Chong Road at the back of Borneo Motors showroom.
It has a rustic atmosphere with a collection of plants and trees that include a bamboo grove, palms and banana trees.
---
-- Story continues below --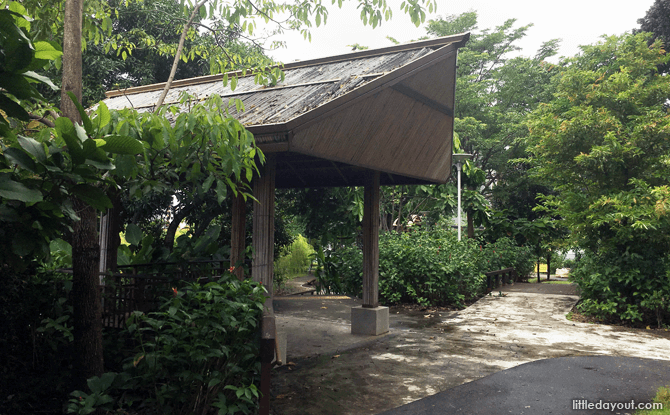 In keeping with its rustic vibe, structures at Rumah Tinggi Eco Park are designed accordingly. Rest huts at the start and end of the park are reminiscent of traditional Malay houses with gabled roofs.
Even the water taps are disguised to blend in with the landscape.
Rumah Tinggi Eco Park Playground and More
This natural theme extends to the playground found at the Kung Chong Road end of the park.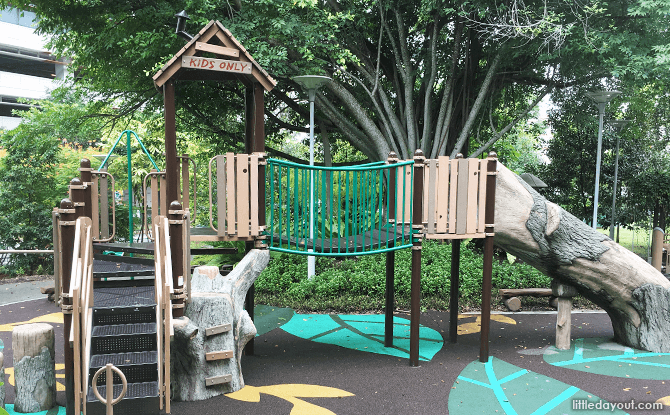 Here, the woodlands-themed Rumah Tinggi Eco Park Playground features a little tower and bridge that lead to a slide hidden inside a log.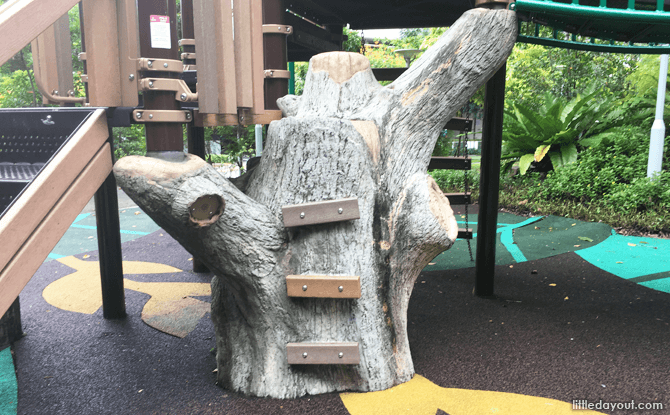 This treehouse playground includes little climbing points that include planks fitted into the side of a tree trunk and steps made out of tree stumps.
The brown-hued Rumah Tinggi Eco Park playground blends in perfectly with the real trees nearby.
A short distance away is Rumah Tinggi Eco Park's second playground.
This brightly coloured train playground is intended for younger children. It has a yellow slide in place of the cowcatcher at the front of the locomotive.
It is a reminder of Rumah Tinggi Eco Park's past as a railway line.
As a bonus, there is an additional playground in front of the HDB blocks 12 and 13 at the rear of IKEA Alexandra, just a stone's throw away from the park.
Two more small playgrounds can be found at the top of Rumah Tinggi hill at Blocks 9 and 37, and another a short distance away at Alexandra Hill East Neighbourhood Park.
Rumah Tinggi Eco Park
Location: Via Blk 12 at Rumah Tinggi, behind IKEA Alexandra, or Kung Chong Road.