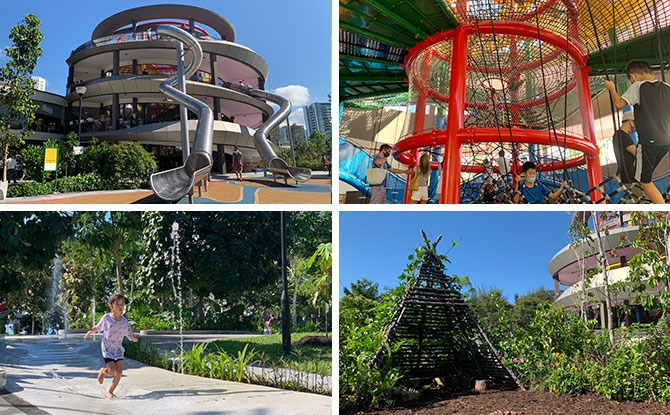 Coastal PlayGrove and its seriously amazing playground offer plenty of fun for kids and families. Located at the former Big Splash site, this family-friendly enclave also has a water play area, nature playgarden and dining outlets to cater to everyone. It also pays respect the past with a few subtle nods to the site, which has a long history of being a family-friendly entertainment location.
East Coast Park's Coastal PlayGrove brings back exciting family fun to the 4.5 hectare site, once home to one of Singapore's favourite water parks from the late 1970s up till 2006. The location is set to carry on its role as a leisure centre with new facilities and fun for a new generation of Singaporeans.
---
Coastal PlayGrove Playground: 16-Metre High Play Tower of Fun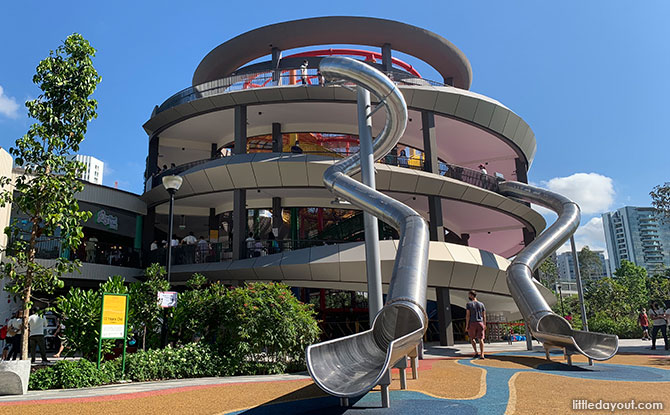 The centrepiece of Coastal PlayGrove is its soaring play tower. It is impossible to miss the multi-storey, 16-metre high structure which has an amazing playground built right into it.
---
-- Story continues below --
Formerly the Big Splash building where thrillseekers used to race down colourful waterslides, the landmark at Coastal PlayGrove now has a swirling ramp leads upwards from the ground floor, going ever round and round. This creates anticipation as it ascends up the towering structure.
It is the tallest outdoor play feature in Singapore.
---
Vertical Challenge – Waves of Fun
Stepping inside the Coastal PlayGrove playground building, it is hard not to gobsmacked by the impressive structure the first time you see it.
At the centre of the Play Tower is the Vertical Challenge. This is made up of climbing nets which ascend from the base of the building up to the top. The Vertical Challenge is themed after the concepts of waves and the shore, a tribute to the coastal heritage of East Coast Park.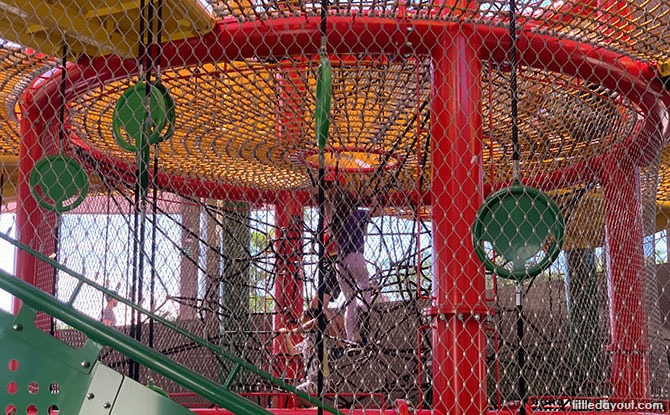 Colour-coded sections – blue, green, orange and yellow – make up the central column of fun. These colours have been specially chosen as they are the same vibrant colours as the former Big Splash's water slides.
A spiderweb of adventure awaits intrepid kids and adults who dare to ascend the Coastal PlayGrove via the nets. At the higher levels, wide cargo nets provide a space for kids to hang out high above the ground. Other features include hoop mazes and wobble links and more. There are passageways that lead from the central column of nets out to the ramp.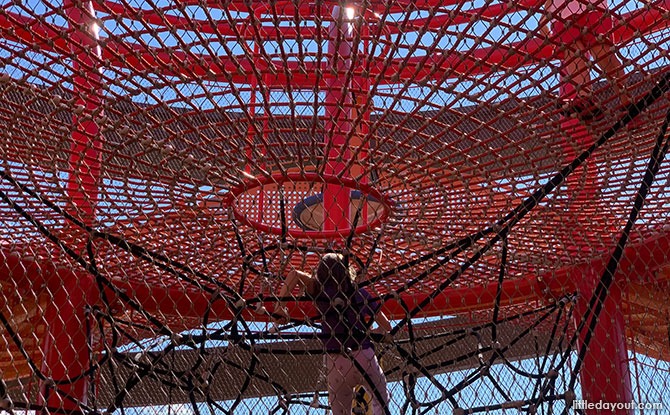 The Vertical Challenge can accommodate up to 20 people at each level any time, as part of safe management measures. It is recommended to wear proper footwear and not to carry loose items when on the Coastal PlayGrove Vertical Challenge.
It was built by playground equipment provider Semec Enterprise, the same company behind the playground at Admiralty Park.
Take note that the Vertical Challenge in the Play Tower is open from Tuesday to Sunday, 8 am to 8 pm.
---
Enclosed Tube Slides at the East Coast Park Playground at Former Big Splash Site
Even if you don't want to ascend the Vertical Challenge, you can still climb the ramps to reach top.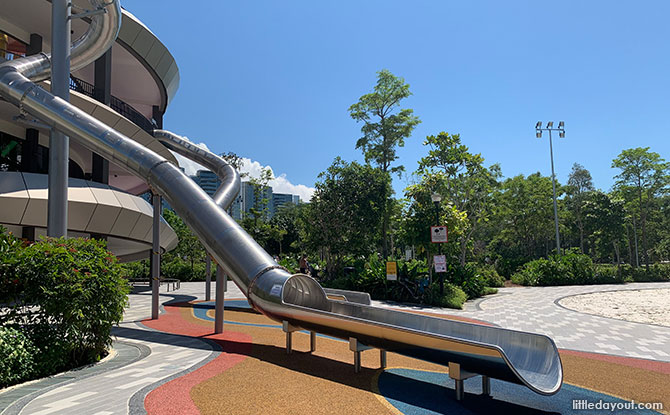 In addition to great views of East Coast Park and the sea, there are also two metal tubular slides. They are a nice reference to the water slides that Big Splash was known for.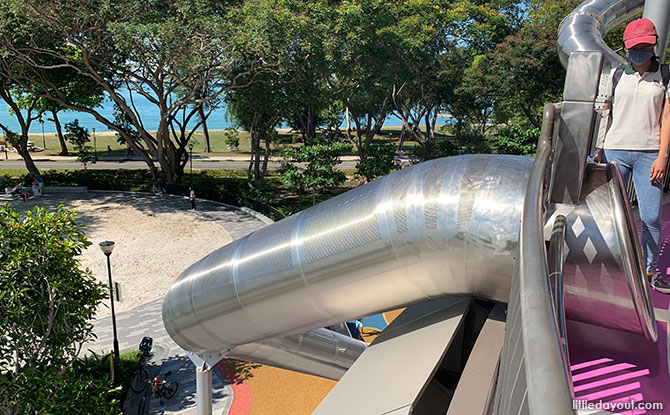 The lower slide is 7.3 metres up and leads down to the colourful orange-and-blue foam flooring below.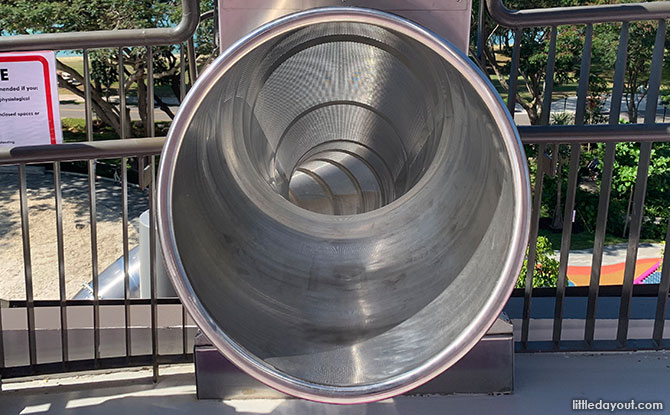 Get ready for some fun as you hurtle down the tube.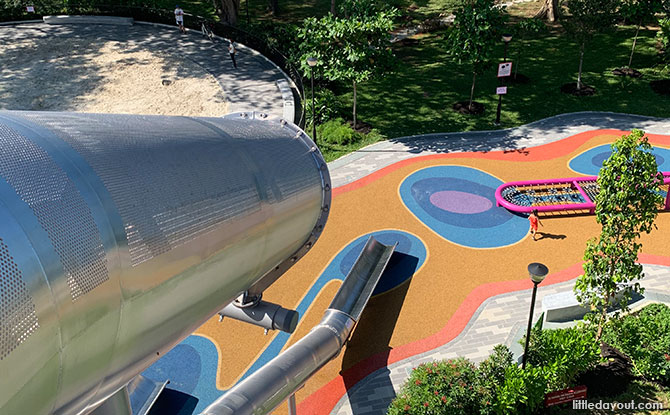 The higher slide, from the top of the building, makes a twirl before delivering play-seekers down to the ground. It is a whopping 11.9 metres above ground.
---
Leisure Nets on the Ground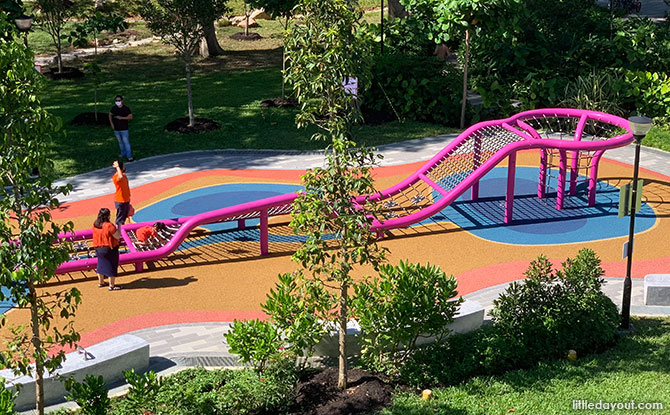 At the foot of the Play Tower, there is a lower climbing frame known as the Leisure Nets for them to get in on the action as well. Kids can even the lower section of the climbing play structure as a bouncy trampoline.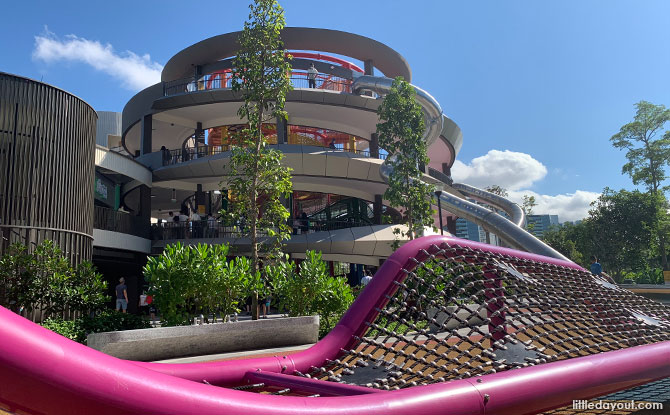 It is a good opportunity for confidence-building before tackling the higher playground elements at the Coastal PlayGrove playground.
---
Nature Playgarden at Coastal PlayGrove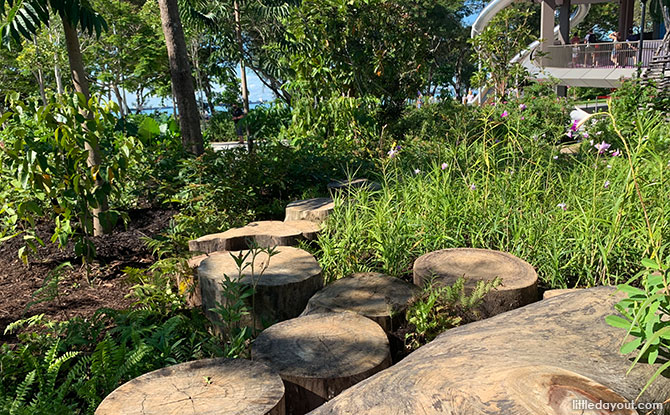 The youngest ones are not left out either. Coastal PlayGrove has a nature playgarden. This space provides back-to-nature play opportunities for little ones.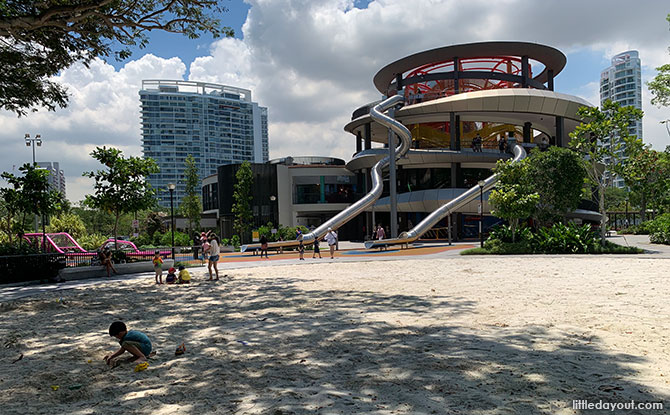 There are three themed sections which make use of natural materials.
These include a bamboo tunnel trail, a camping-inspired zone and a trail leading to a sand pit.
Play elements at the Coastal PlayGrove Nature Playgarden include a wooden teepee and wooden obstacles which allow kids to play in nature. There is also an outdoor nature classroom for preschoolers.
---
Coastal PlayGrove Water Play Area
And there's more! Want to splash about on a hot day? Kids can bring along their swimmers and head to the Coastal PlayGrove Water Play Area. This water play area pays tribute to the location's heritage as a water park.
The Coastal PlayGrove Water Play Area has little jets for water play and is designed for children between the ages of 5 to 12 years old. There is even illumination at night. A maximum of 10 children are allowed into the pool at any one time.
Take note that the Coastal PlayGrove Water Play Area operates from Tuesday to Sunday, 8 am to 8 pm. It is closed for maintenance every Monday.
And yes, as of May 2022, the water play area at Coastal PlayGrove is open once again.
---
Dining Outlets at Coastal PlayGrove
After having fun, you are sure to work up an appetite. Thankfully, Coastal PlayGrove has restaurants, cafes and eateries such as Old Town White Coffee and Burger King where you can get some refreshment and fill up the tummy to have energy to keep on playing!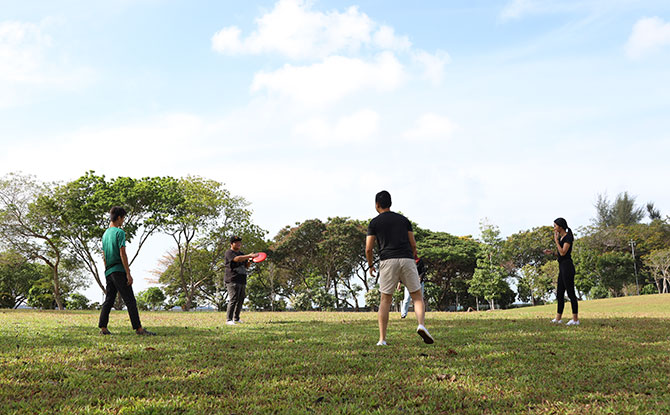 Or, if you wish, pack a picnic mat and your own food and picnic mat, and head over to the event lawn to enjoy the outdoors.
---
Awesome Fun for Families & Everyone!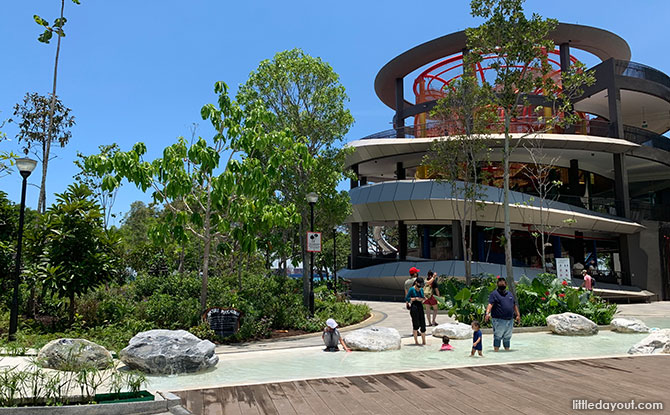 Coastal PlayGrove is a wonderful spot for some family fun outdoors and a great addition to the playgrounds and playgardens at East Coast Park. We love the varied play elements which cater to different ages. These provide opportunities for families to have fun experiences and take up new challenges together.
Coastal PlayGrove is also designed to be "open", allowing for views from the compound out to the seaside. This makes it feel more connected with the surrounding East Coast Park and the beach nearby.
Coastal PlayGrove is located at Area B of East Coast Park, close to the Road Safety Park. Drivers can park at the Coastal PlayGrove's Car Park B2.