NParks has unveiled its first outdoor classroom by the sea at East Coast Park's new Coastal PlayGrove.
The new outdoor classroom by the sea is designed for preschooler and integrated with Coastal PlayGrove's nature playgarden. It allows preschools to have more programming options when it comes to exposing young minds to the wonders of nature.
At the outdoor classroom, you will find a chalkboard and boulders and log stools where little kids can sit while teachers conduct lessons.
---
Learning in Nature at the Outdoor Classroom By The Sea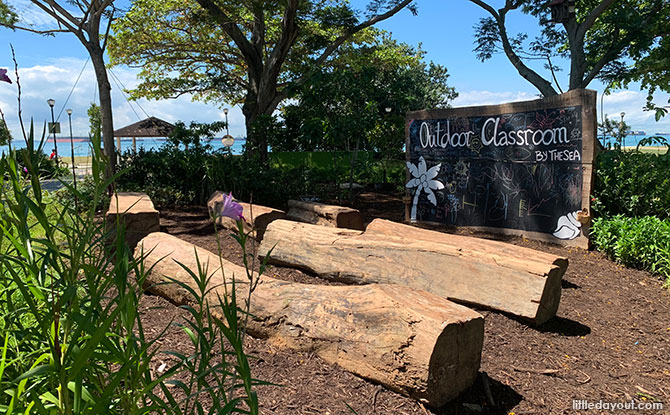 To create an appropriately conducive environment, the outdoor classroom by the sea, various fruit trees are planted around the learning space.
Look for the Seashore Mangosteen, an endangered species with round, bright-red fruits that is native to Singapore. It was previously though to extinct but is now being reintroduced to various parks and gardens by NParks. Its fruit resembles a necklace.
The outdoor classroom also has a former hornbill's nest. This is a section of a tree trunk that was salvaged from a dead tree at East Coast Park. In addition, an artificial nest box for hornbills has also been installed in the Yellow Flame at the outdoor classroom.
These features aim to kickstart conversations with kids about wildlife conservation efforts.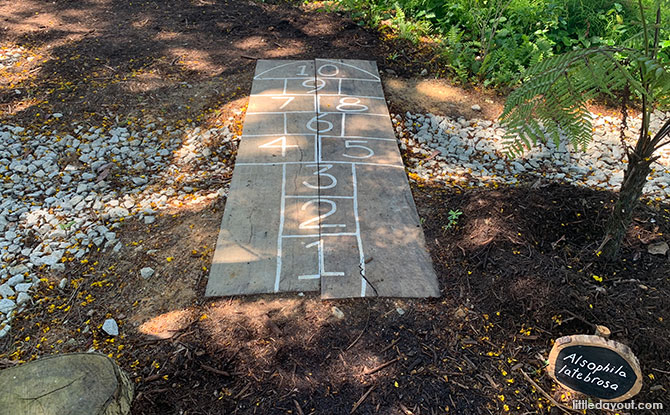 There is also a hopscotch area for kids to have some fun.
Just next to the outdoor classroom is a large sandpit, one of Coastal PlayGrove's nature playgarden's three themed zones.
---
Learning Through Play at Themed Zones at Coastal PlayGrove's Nature Playgarden
At the nature playgarden, kids can enter into a bamboo tunnel which evokes a sense of mystery. Look for plants such as the Terminalia bentzoe and Purple Fountain Grass which provide copper and red tones from their foliage.
At the camping play zone, there are play elements like teepees and a log trail. These features act as spaces for kids to hide and have some quiet. These plants in the camping zone are a mix of exotic shrubs that attracts butterflies and native plants.
The last zone of the Coastal PlayGrove nature playgarden, next to the outdoor classroom, is the sand pit. This zone is planted with native shrubs that attract biodiversity. Look out for the Red Leea with its attractive bright red flowers are pollinated by bees and butterflies, and provide food for birds and other small mammals with it fruit.
Another plant is the Rose Myrtle which has magenta pink petals and resemble a cherry blossom and velvety purplish fruits.
Birds and insects which may possibly be spotted at this nature learning area include the Black-naped Oriole, Olive-backed Sunbird, Plain Tiger Butterfly and the solitary Blue-banded Digger Bee.
---
Heading to Outdoors
The outdoor classroom by the sea at East Coast Park provides preschoolers plenty of opportunities to enjoy playing in nature, learning to treasure it as well.