If you thought it's just fresh air and sunshine that makes you love being in nature, think again.
It has been theorised that biophilia is an innate urge or need humans have to be one with nature and living systems, which would explain why many of us feel at peace and perhaps happiest when we're surrounded by any form of greenery.
In keeping with this idea, the National Parks Board (NParks) has in place plans to design and create a number of biophilic playgardens for children of all ages to enjoy.
Here are three of our current favourites that you should definitely check out!
---
-- Story continues below --
---
1. Forest Ramble, Lakeside Garden (Jurong Lake Gardens)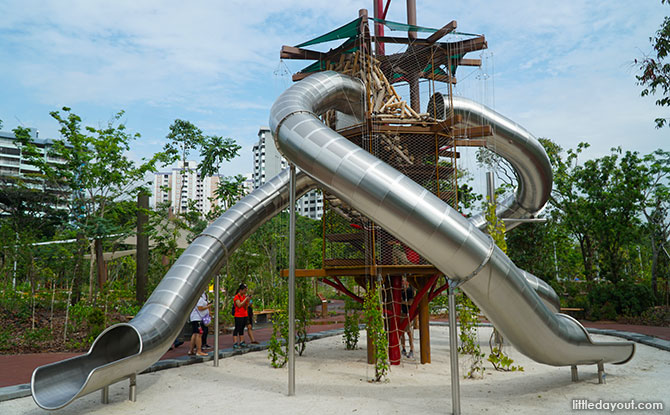 Forest Ramble, the Lakeside Garden playground in Jurong Lake Gardens, is the largest nature play garden in the heartlands.
At 2.3 hectares, Forest Ramble draws inspiration from the animals and insects that live in freshwater swamp forests, including butterflies, frogs, herons, and snakes.
Even the materials used to construct the play stations are as natural as they can get. Otter Play, for example, makes use of recycled tree logs to recreate a life-size version of Pick Up Sticks that children have to jump, climb or crawl under.
Other noteworthy play features at Forest Ramble include Butterfly Play where you'll find different types of swings for one or more people, and Snake Play, a tall wooden climbing structure, two tube slides, and a one-of-a-kind climbing tube.
Read our thoughts on Forest Ramble here and here.
Forest Ramble is open from 8 am to 10 pm, Tuesday to Sunday. It is closed every Monday for maintenance, except on public holidays.
---
2. Jubilee Park, Fort Canning Park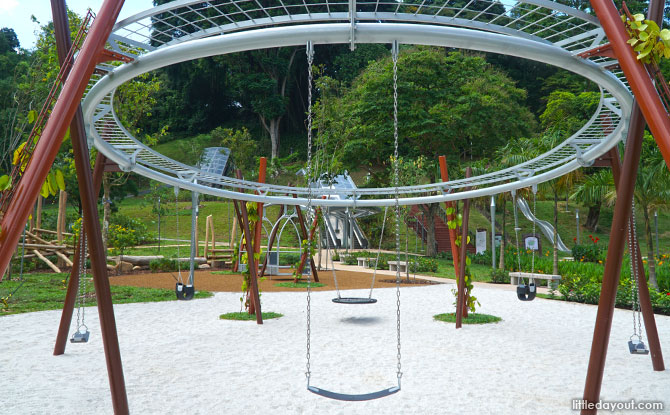 Jubilee Park, located on the western slopes of Fort Canning Park, is a family-friendly, recreational space.
Occupying the spot where the National Theatre used to be, Jubilee Park throws back to a time when recreational facilities like the Van Kleef Aquarium and the River Valley Swimming Pool used to be found in the vicinity.
The great thing about Jubilee Park is how inclusive it has been designed to be, what with swings for wheelchair users. There are also seesaws and wobble boards that four or more children can enjoy at the same time!
If your little ones love slides, they'll love the ones built into the sloping terrain. Straight and wavy, the children will need no prompting racing up Fort Canning Park to get down these awesome slides!
Go here for more on Jubilee Park during our first visit there.
Jubilee Park in Fort Canning Park is open 24 hours daily.
---
Nature Playgarden, HortPark
Breathtakingly beautiful, HortPark's Nature Playgarden is the first biophilic play garden launched by NParks, and with it, they set the benchmark high for the play gardens to come.
Instead of rubber mulch flooring, you'll find sand, soil, and grass in the Nature Playgarden; while teepee-like structures made out of recycled timber decking take the place of steel climbing frames and plastic slides.
At The Stream, children can engage in some water play as they watch water trickling down mini man-made channels carved from recycled logs. They can even make music at The Singing Seeds which consists of a life-size bamboo wind chime, and hollow musical seesaws and wheels filled with saga seeds.
Targeted at children aged three to six, imagination is a child's best friend here. Remember to set aside a good few hours and lots of sunscreen to fully enjoy Nature Playgarden.
Read our review of HortPark's Nature Playgarden here.
HortPark is open from 6 am to 11 pm, Tuesday to Sunday. It is closed on Mondays for maintenance, except on public holidays.