Alice in Wonderland is a beloved children's classic and a whimsical and adventurous tale. It is also the theme of a fun playground at Dawson Vista – the Alice in Wonderland Playground.
The free neighbourhood playground features familiar characters from the story. Kids will be able to engage in plenty of fun at the Alice in Wonderland playground at Dawson and its colourful play structures.
---
The WonderLand Playground at Dawson Vista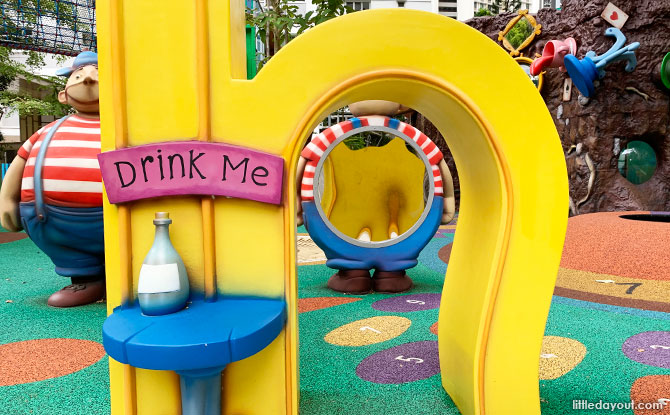 Officially known as The WonderLand Playground, the play area welcomes all to play by entering through one of two doors – a larger door for adults and a smaller ones for little kids. There is even a "magic shrinking potion" at the door.
---
-- Story continues below --
The HDB playground is designed for two different age sets.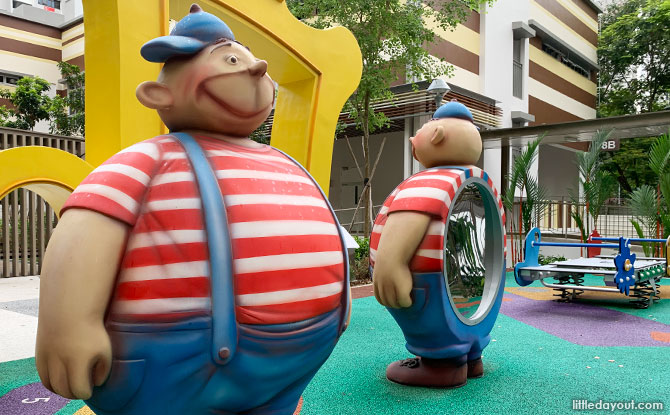 2 to 5 year olds can have some fun reflecting on the Twins Illusions that greet visitors just beyond the doorways. "Twiddle-dee and Twiddle-dum, have some fun with their mirror-like tums!"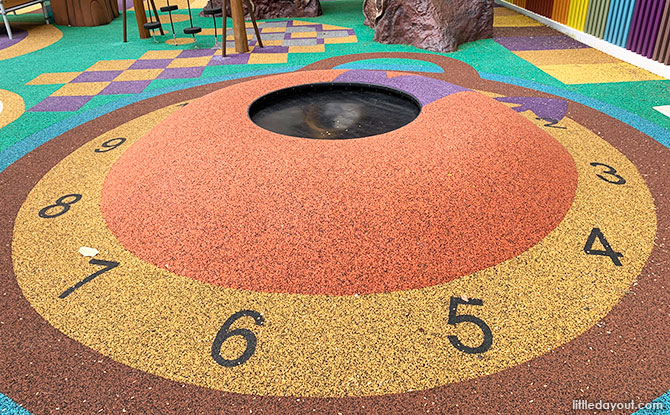 There is also a Clock Trampoline for kids to bounce up and down.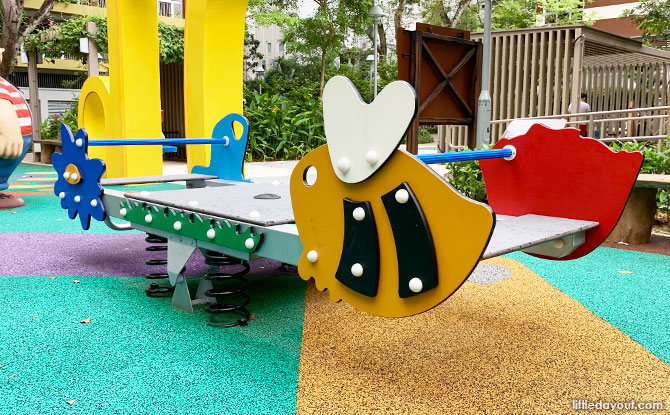 There is a simple rocking see-saw for younger kids too.
6 to 12 year olds will have plenty of fun at The WonderLand Playground's climbing structures.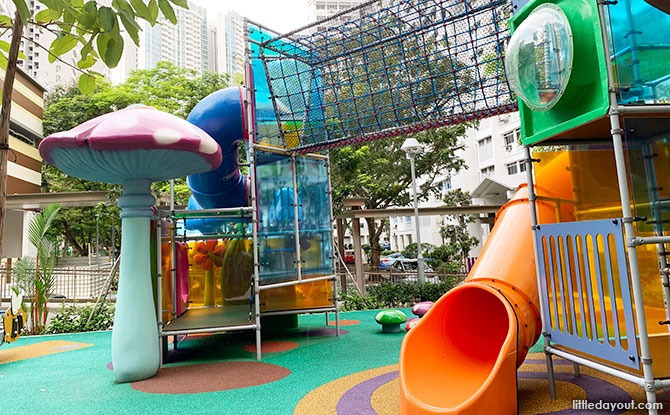 Sprouting up from the ground is the Mushrooms Adventure.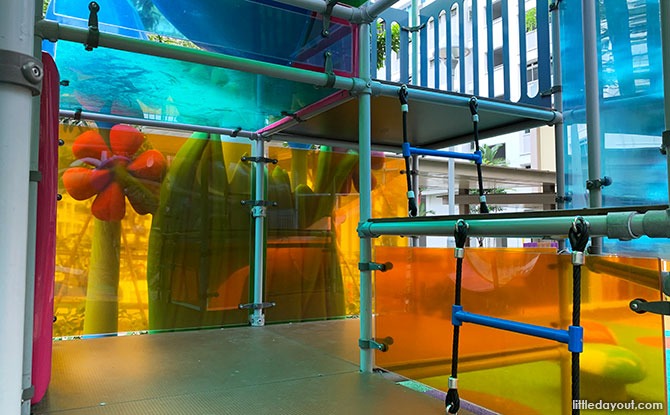 Kids can make their way up this multi-tiered structure to reach the top.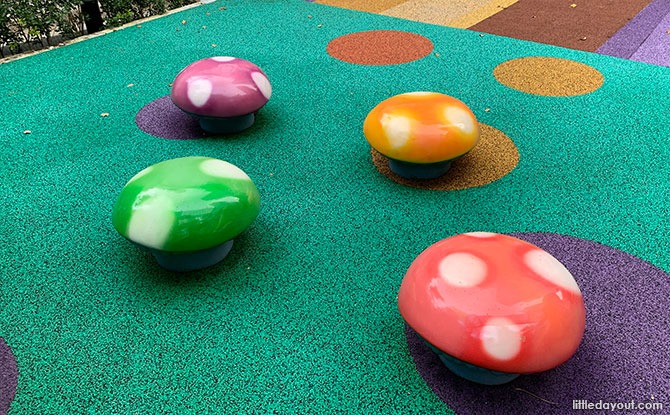 There are also little, low toadstools for a bit of balancing practice.
---
Meet the Cheshire Cat at the Alice In Wonderland Playground At Dawson Vista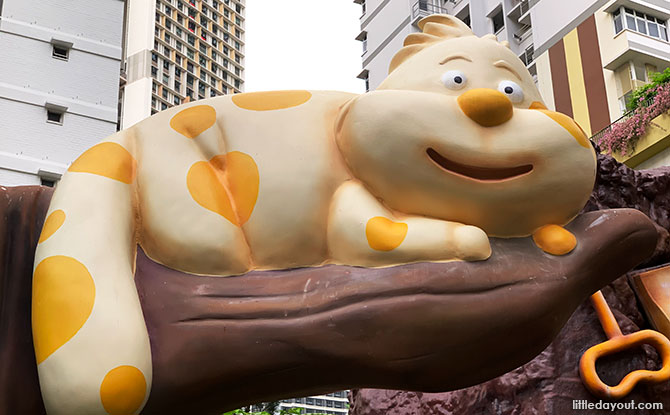 What would an Alice in Wonderland Playground be without the Cheshire Cat? He can be found smiling away, high up on a branch at the tree house structure!
An orange slide also connects the top of the tree house to the ground. The Tree House is connected by a bridge to the Mushroom Adventure.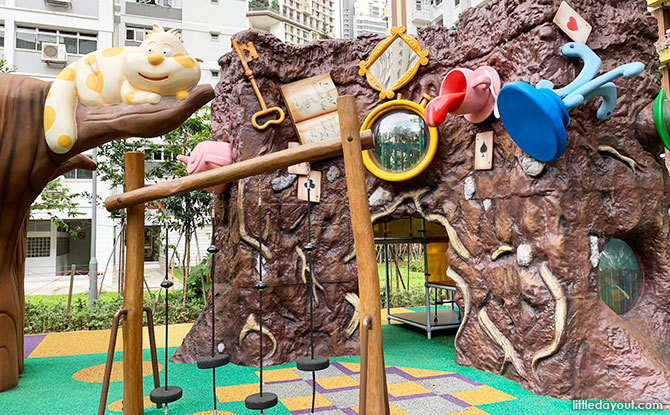 Kids can also try to spot other references to the children's story around the Alice in Wonderland Playground at Dawson Vista. There are playing cards and the Mad Hatter's tea pot.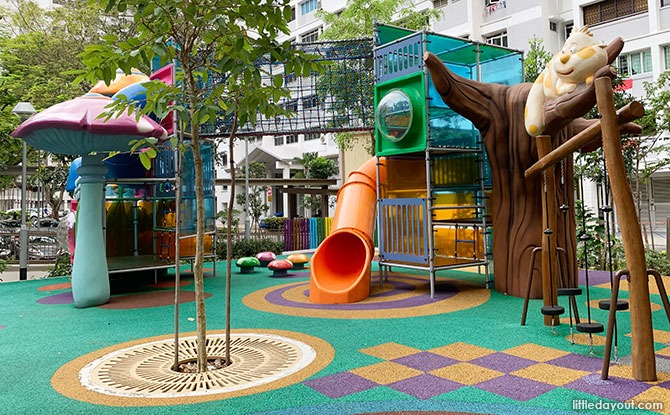 In the middle of the Dawson Vista playground, there is a real tree. Still young and growing, we can only imagine how impressive it will be when it finally matures.
The Alice in Wonderland Playground at Dawson Vista offers a spot of whimsical fun for kids. To quote Lewis Carroll, ""When I used to read fairy tales, I fancied that kind of thing never happened, and now here I am in the middle of one!"
---
MORE GREAT READS