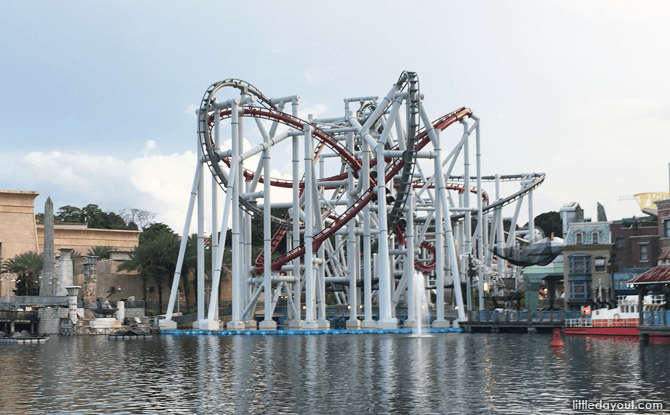 Universal Studios Singapore at Resorts World Sentosa is one of Singapore's top attractions. With thrilling rides, entertaining shows and thematic dining, it is a fun day out for both young and old. Here are our top tips for visiting Universal Studios Singapore and getting the most from your visit.
---
1. Visit On A Weekday, Preferably Not During School Holidays
Universal Studios Singapore gets really busy on weekends. Queue times can extend up to sixty minutes or longer.
The best way to avoid the crowds is to visit the park on a weekday. On weekdays, queues are shorter and there will be less need to jostle with others as you move around the park.
Even better still yet, visit on a weekday that is not during the Singapore school holidays. (See Singapore school holiday dates here.) School holidays are the park's peak periods. It can fill up really quickly, so if you are planning to visit during the Singapore school holidays, be mentally prepared for crowds.
The flipside of visiting on a weekday is that you may miss the Hollywood Dreams Parade and Lake Hollywood Spectacular fireworks show. These are usually only held on weekends. The Park also typically has extended hours on weekends too.
Check for the Park's opening hours at the Visitor Information calendar online here.
---
2. Book Your Tickets Online
It is MUCH MORE COMFORTABLE to book your tickets online than to stand in queue at Universal Studio Singapore ticketing counters waiting to buy tickets.
They often have online promotions too that help you save money.
Bottomline: Buy your tickets online.
---
3. Get the Universal Express For Busy Days (Such as Weekends and School Holidays)
The Universal Express is the Park's "fast pass" system. It is an add-on you have to purchase in addition to the Park's entrance ticket.
Universal Express holders at Universal Studios Singapore get to take a different, shorter queue from the regular standby queues. This lets you skip the long waiting times and head to the front of the queue.
Most rides at Universal Studios Singapore have Universal Express queues. Two notable exceptions are the Treasure Hunters and Canopy Flyer rides.
With the Universal Express, you save the time and energy spent queuing for the attractions. This obviously comes with a price. More on that next.
---
4. Two Types of Universal Express Passes and Where/When to Buy Them
There are two types of Universal Express passes.
The standard Universal Express starts from S$30 and can be used only once at each attraction/ride. The Universal Express Unlimited starts from S$50 and can be used over and over again at the attractions.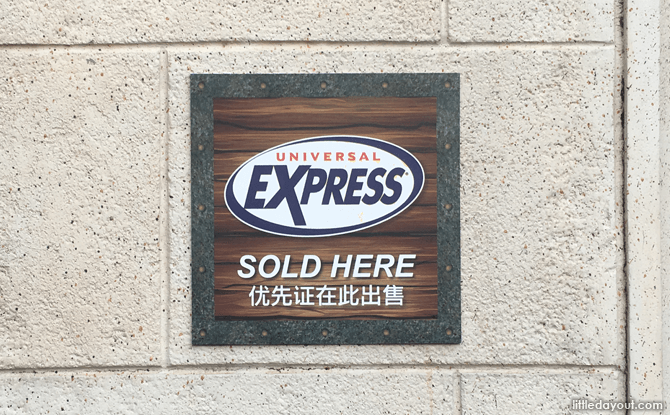 The Universal Express can be purchased online or at selected locations around Universal Studios Singapore.
If you intend to get the Universal Express, we recommend BUYING IT BEFORE ENTERING THE PARK. This can be done online at the same time when you are purchasing your tickets.
The pricing of the Universal Express is DYNAMIC. The prices start climbing as the demand rises. A Universal Express bought within the Park, during peak season, can cost close to the price of another admission ticket. *Gasp*
In other words, buy the Universal Express early and buy online.
---
5. Arrive Early to Beat the Crowd
Get to Universal Studio Singapore's gates a half-hour before opening time. This will let you have first dibs on your choice of rides before the queues pile up.
---
6. Orientate Yourself to Universal Studios Singapore's Layout
In total, Universal Studio Singapore is around the size of 25 football fields. It doesn't seem that large but it is packed full of attractions.
You can download the park map online and orientate yourself to Universal Studios Singapore's layout with our tips below.
Imagine Universal Studios Singapore as a donut on a stick. Yes, a donut on a stick.
The "stick" is where you enter the park. Called Hollywood, this zone is a tribute to Universal Studio's Hollywood's lineage, complete with golden Hollywood stars embedded into the pavement. Hollywood is where you will find a cluster of shops, eateries and park services.
Once you are past the "stick", the "donut" is a loop where the themed lands or zones are laid out. The hole of the donut is Hollywood Lake which you can't pass through. You have to head left or right to get to the different Park zones.
The first themed zone immediately to the left of the "stick" is Madagascar. This is followed by Far, Far, Away aka Shrek-land, and then The Lost World aka Jurassic Park-land.
Heading right from the "stick", you will come to New York, followed by Sci-Fi City, and then Ancient Egypt aka The Mummy. This then joins up with The Lost World.
As such, generally speaking, going left would be a bit more kiddy-oriented which heading right is more urban and with bigger thrills.
You'd still cover everything eventually because it is a donut loop but whether you go left or right depends on which rides you want to catch first.
---
7. Choose Your Rides Beforehand
You may want to decide beforehand which are your must-do rides at Universal Studios Singapore. This lets you head over directly to the rides on your "hit-list" and cover them first. This is a better strategy than trying to take every ride you come across in the park sequentially – which can end up draining your energy and time.
For those with young kids, you can refer to Little Day Out's feature on visiting Universal Studios Singapore with toddlers as a guide.
For thrill-seekers, the big three RCs at Universal Studios Singapore are Human, Cylon, and Revenge of the Mummy.
Human and Cylon are 14-storey high outdoor roller coasters. Based on the TV series Battlestar Galactica, they launch at the same time and "duel" it out with each other. Revenge of the Mummy is an indoor roller coaster based on The Mummy franchise.
We personally have a  "thrill-o-meter" of Universal Studio's rides – from the most thrilling to the most sedate. In that order, they are:
Battlestar Galactica: CYLON
Battlestar Galactica: HUMAN
Revenge of the Mummy
TRANSFORMERS The Ride: The Ultimate 3D Battle
Canopy Flyer
Jurassic Park Rapids Adventure
Enchanted Airways
Puss In Boots' Giant Journey
Accelerator
Dino-Soarin'
Madagascar: A Crate Adventure
Sesame Street Spaghetti Space Chase
King Julien's Beach Party-Go-Round
Treasure Hunters
Your own view may differ depending on age and disposition. For example, many young kids find Treasure Hunters extremely fun and enjoyable. Everyone sees the world through different eyes.
Thrill seekers will probably want to make sure they cover the top half of the list and save the bottom half for any time they have left-over. The less adventurous may choose to start from Revenge of the Mummy or TRANSFORMERS downwards.
---
8. First Ride Suggestions and Using Shortcuts
Here are our suggestions for deciding which rides to tackle first.

For those with young kids: Treasure Hunters.
This ride is popular with young kids and the queue can get extremely long. Furthermore, there is no Universal Express queue for Treasure Hunters. So even if you have doled out the extra money, you will still have to join the queue.
Assuming you have arrived early, we suggest taking this ride first before the queue gets stupendously long.
For older riders: Canopy Flyer or TRANSFORMERS
We know Canopy Flyer and TRANSFORMERS may seem like strange suggestions as a first ride. Most would head straight to Cylon, Human, or Revenge of the Mummy. There is nothing wrong with that and if you are itching to get your adrenaline-pumping, go for it.
For those who have a Universal Express, we suggest Canopy Flyer as it does not have a Universal Express lane. This means that there can be a long queue for what is the shortest ride in the park at only 53 seconds long. Therefore, if you are early, do Canopy Flyer first. After that, you can make use of your Universal Express at the other rides.
If you don't have a Universal Express, then we'd suggest starting with TRANSFORMERS The Ride: The Ultimate 3D Battle and progressing from there. Queues at TRANSFORMERS can get very long too. It is definitely worth the wait, but if you don't need to queue so long, why not save the time?
To get to these rides, there is a "shortcut" you can take.
After arriving at the Park, most people will go left or right and end up spending time with the attractions at Madagascar or New York.
It is possible to bypass these zones to get to the themed lands on the far side of the lake. This lets you access the rides such as Revenge of the Mummy, Human, Cylon, TRANSFORMERS and, for young kids, Treasure Hunters, while everyone is still making their way through Madagascar and New York.
To take the shortcut, just head down the path in-between Mel's Drive-In and the lake, make your way past the wharf and you will arrive at Sci-Fi City, right in front of TRANSFORMERS and the Battlestar Galactica roller coasters. From here, it is a short walk to the Ancient Egypt zone.
---
9. Make Use of the Universal Studios Singapore Programme Sheet
At the entrance, pick up a programme sheet. This lists out all the events and shows taking place on the day of your visit and their timings.
Use this programme sheet to plan your day. We suggest interspersing your rides (and their queues where you have to stand in line) with shows (where you can sit down to rest your feet, often in air-conditioned comfort).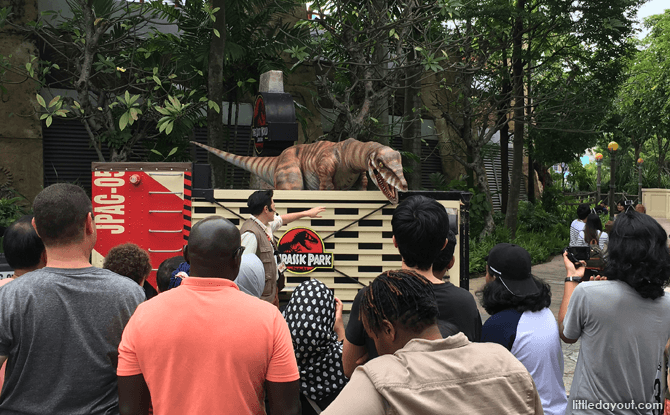 A special mention goes out to the "meet-and-greet" with Diane, the infant triceratops, and the velociraptors at The Lost World. These are fun experiences. Check in-park for timings.
---
10. Two "Hidden" Rides
There are two attractions at Universal Studios Singapore that many often overlook.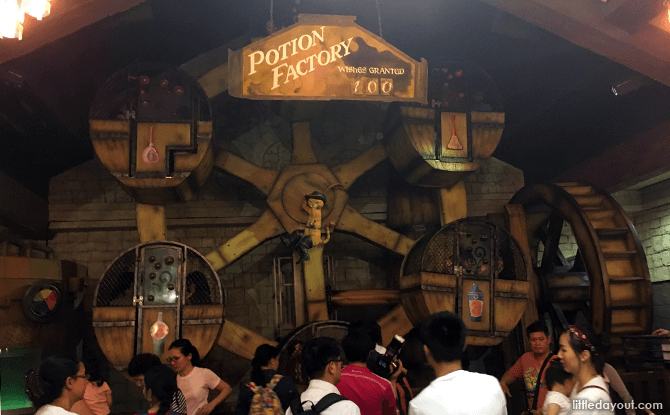 Within the Fairy Godmother's Potion Shop in the Far Far Away zone, there is a tiny Ferris wheel ride, Fairy Godmother Magic Potion Spin, suitable for really young kids. You can get to the ride by entering the Potion Shop from the main shop front, or you will also wind up at the Potion Shop after watching the Shrek 4D show or Donkey LIVE show.
At The Lost World, there is a rock-climbing attraction towards the rear of the land. Amber Rock Climb has three levels, Easy, Medium and Difficult. You admire the fossils embedded into the rock face on the way up too (assuming you aren't too busy struggling to stay on the wall).
---
11. Where to Dine At Universal Studios Singapore
Universal Studios Singapore has many dining options.
Our favourite is the Discovery Food Court in The Lost World zone. This dining hall serves local Singapore fare such as laksa and chicken rice. The main reason we recommend this spot is that it is modelled after the Visitor Centre in the movie, Jurassic Park. It features a towering skeleton of a T-Rex at the centre of the hall. It is best to go early if you want to dine there as it is a favourite of many others too and gets crowded very quickly at lunchtime.
Another less-well-known dining spot in the Park is KT's Grill at the New York area. This is the only full-service restaurant in the Park and the only place that serves alcoholic beverages too. Interesting fact – KT's Grill is named after the Genting Group chairman, Tan Sri Lim Kok Thay.
For halal food at Universal Studios Singapore, head to Mel's Drive-In at the Hollywood zone, Friar Tuck's at Far Far Away, Oasis Spice Café at Ancient Egypt or Marty's Casa Del Wild at the Madagascar zone.
---
12. Ponchos For Jurassic Park Rapids Adventure
Jurassic Park Rapids Adventure is a fun water ride that takes you to the heart of dino country. But be warned you are bound to get wet.
You can purchase ponchos from a vending machine along the queue or shops around the park. Alternatively, bring your own ponchos to use on the ride.
After the ride, you have the option of disposing of the ponchos. However, if it is the rainy season, we suggest holding on to the ponchos, in case the weather turns for the worse.
There are also drying pods outside the rides if you didn't wear a poncho and find yourself soaked. Use of the drying pods is chargeable.
---
13. Lockers For Battlestar Galactica and Revenge of the Mummy
Loose items are not allowed on the Battlestar Galactica rollercoasters and Revenge of the Mummy. Lockers are available next to these rides to stow away your bags and other loose items before embarking on the rides. These lockers are free for use for a limited time.
---
14. Make the TRANSFORMERS Ride More Enjoyable
TRANSFORMERS The Ride: The Ultimate 3D Battle is an amazing ride. You ride along with the Transformer EVAC on a mission to protect the Allspark. You sit inside a car along with 11 other people for this thrilling ride.
We've been in cars with other passengers who are dead silent, and cars filled with screaming passengers. We can attest that it is a lot more fun with a car full of screaming passengers. Even if the other passengers are quiet, take the lead and let out a loud "woohoo" and everyone will soon follow along.
This is one ride that you can play a part to make it even more enjoyable!
As a bonus tip, be sure to look up to the ceiling at the end of the ride for an extra detail you may otherwise miss.
---
15. Detail Spotting at Enchanted Airways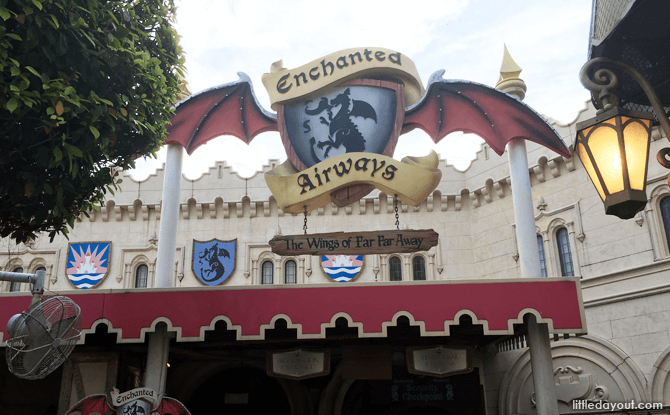 Enchanted Airways is Universal Studios Singapore's kiddy roller coaster. Hop on board with Dragon and swoosh around the rails. While doing so, see if you can spot the three pigs handymen "hard" at work, the Big Bad Wolf in Grandma's clothing and Puss in Boots.
---
16. Detail Spotting at New York
Too often, people walk through the streets of New York without appreciating the details found there. Don't be one of those people. While passing through the New York zone, be sure to peer through the shopfront windows. There are a lot of interesting details to take note of and the displays add to the flavour of the themed zone.
If you notice, there are local-sounding names on the shop windows. These names belong to the people who helped to build Universal Studios Singapore.
Universal Studio Singapore's New York Public Library façade is also the only one in all the Universal Studios themed parks around the world built in 3D. The other parks only have a 2D version of the library. You can walk up the stairs and duck behind the columns for a peek-a-boo pick. The library doors can't be opened though. We tried.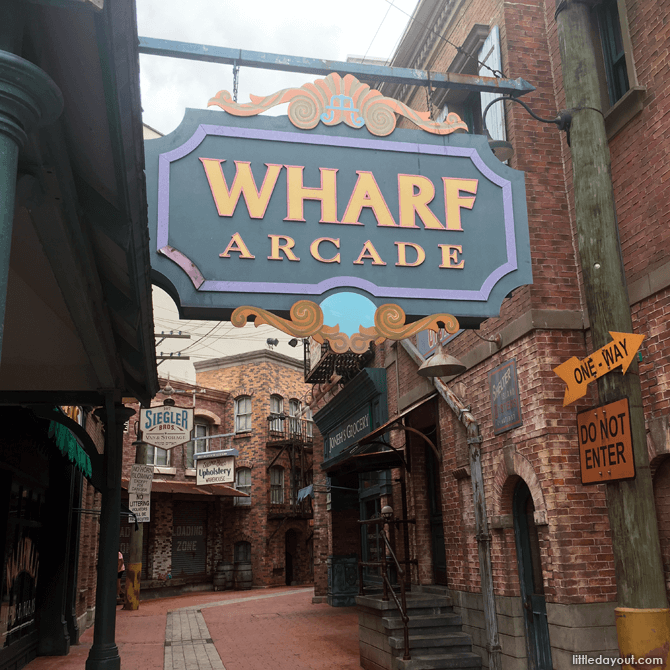 The wharf area at New York is also perfect for insta-worthy photos.
---
17. Be Ahead of Time for the Shows
If you want to watch the shows, arrive 10 minutes ahead of the show time to queue up for the shows. If you don't, for popular shows, you may not be able to get a seat. Take note that the shows start promptly at the stipulated show times.
---
18. Bring a Personal Fan
Singapore is hot and humid. Waiting in the outdoor lines at Universal Studios Singapore gets hot and humid. Bring a fan. Seriously.
---
19. Amenities Found at Universal Studios Singapore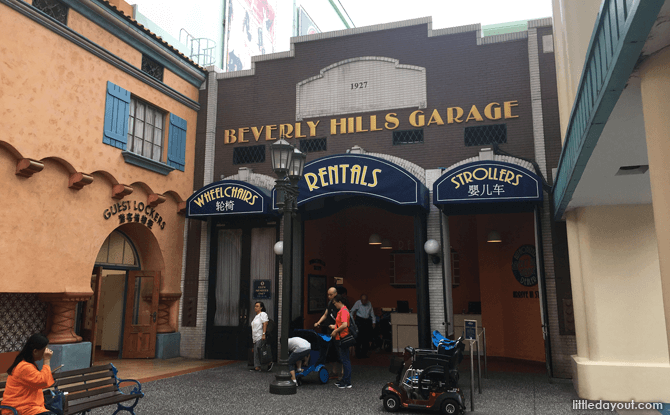 The main Guest Services area is at the entrance to Universal Studios Singapore. Here, you can rent strollers and wheelchairs at the Beverly Hill Garage, put away luggage for the day in storage lockers, and find the first aid corner. Single strollers cost S$15 to rent while double strollers are S$20.
There are also toilets located next to the stroller rental area.
At the Baby Centre, there are two nursing cubicles along with a microwave, water dispenser and even dispensers for extra diapers in case of an emergency. The Baby Centre is located to the left after entering the park.
For Muslim visitors, there is a prayer room inside Universal Studios. It is located next to the Battlestar Galactica lockers. The prayer rooms are past the lockers in a standalone building. The rooms are air-conditioned and there are separate rooms for men and women.
There is also FREE WiFi in the Park. There is a two-step process to use it; first, register over the WiFi network with a valid email address and then authenticate your email address by clicking on a link sent to your email before you will be given access to the WiFi network.
---
Hope You Enjoyed Our Top Tips for Visiting Universal Studios Singapore
There you go. These are our top tips for having a great time on a day out at Universal Studios Singapore. We hope you have a wonderful day there and hopefully, by relying on our tips, you won't look like the person in the picture below at the end of the day.