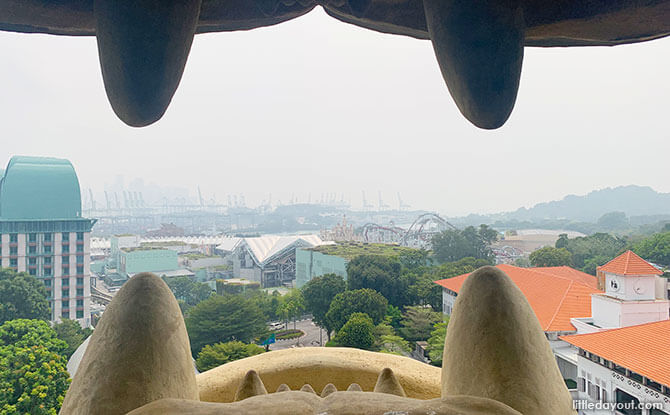 We had been planning to visit the Sentosa Merlion for a while now but just kept putting it off. When the news broke that the Merlion tower would be closing in October 2019, and there were discounted tickets for local residents, that was all the impetus we needed to pay an 'old friend' a visit.
Booking Tickets to the Sentosa Merlion
Booking the discounted tickets from the One Faber Group website was straightforward. We paid online, and received a confirmation email shortly after.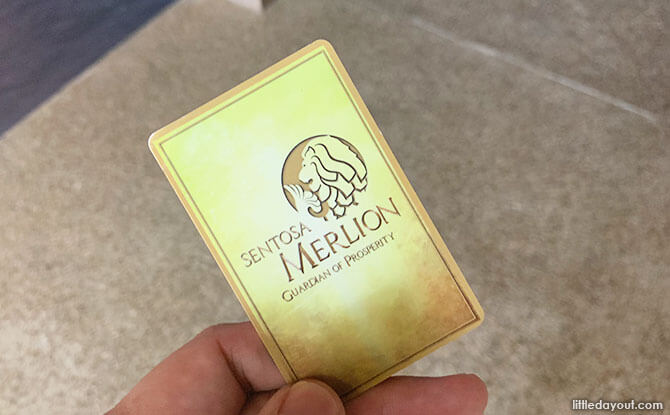 Presenting the confirmation at the ticketing counter along with the NRIC for verification, we got our tickets along with a Prosperity Card. More on the card later.
Origins & Evolutions at the "Merlion Museum"
The Sentosa Merlion experience starts off with a video on the origin story of how the island known as Temasek became Singapura. It had been years since our last visit to the Sentosa Merlion and we were glad to see that the video presentation had been updated.
The Sentosa Merlion underwent a major interior revamp in 2018. At the next part of the Merlion experience, we got to see the fruits of the revamp. The "Merlion museum" had information panels and digital displays dedicated to the iconic symbol of Singapore.
There were interesting facts such as how long it takes to clean the 37-metre tall Merlion tower and even has a display of the octagonal "scales" that clad the Merlion which we could touch-and-feel.
Before heading up to the top of the Merlion, we exchange the Prosperity Card we received at the entrance for a token.
View from the Top of the Merlion Tower Singapore
The lift took us up to the 10th floor of the tower. From the interior, we got a close up look at the lights that cover the Merlion.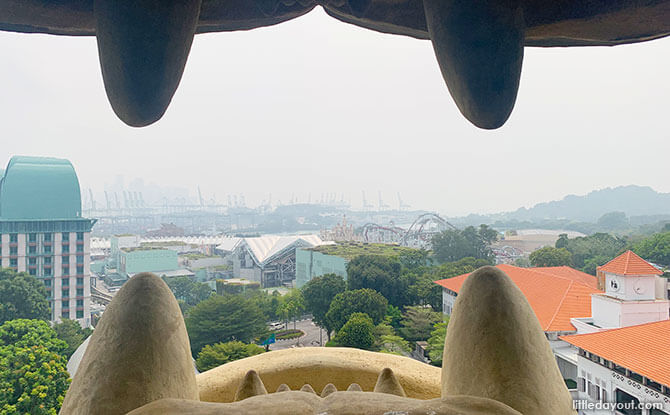 We headed down to the first of two Merlion galleries – the Mouth Gallery. This looks out towards Singapore's Central Business District.
Beside snapping a photo here, there is also a "prosperity bell" which can be ringed for luck!
Climbing back up the stairs, we headed up to the Head Gallery – short flight of stairs above the 10th floor lift lobby.
The top of the Sentosa Merlion provides a good 360 degree view of the island – all the from the beaches to Resorts World Sentosa. While it is possible to see as far as the islands of Indonesia on a clear day, due to the haze on the day of our visit, the horizon was literally a blur.
Nonetheless, this didn't stop us, or the tourists visiting the Merlion tower, from taking some pictures for memories' sake.
Goodbye, Merlion!
A ride down the elevator and we were at the gift shop and café, and then out of the Merlion tower. It was a nice stroll down memory lane and, with the closing promotion, a pocket-friendly one too.