Urban explorers may want to sit tight for this opportunity – to explore Fort Serapong. It is usually off-limits due to its unstable structures though keen adventurers have attempted to explore it. Here's your chance to see Fort Serapong in all its glory, without the possible consequences of falls or fines (or both).
As part of Sentosights celebrating Sentosa's Jubilee year, a new tour to Fort Serapong has been launched. We recently went on a tour with operator Pudu Puda Travel along the Serapong trail encompassing history, heritage and nature in this seemingly forgotten part of Sentosa.
As Fort Serapong is hidden away in the forests and has blended in seamlessly with nature, most people would not know about this mysterious place.
We tell you 6 things you may now know about this fort.
6 Things You Never Knew About Fort Serapong and Your Chance to Explore it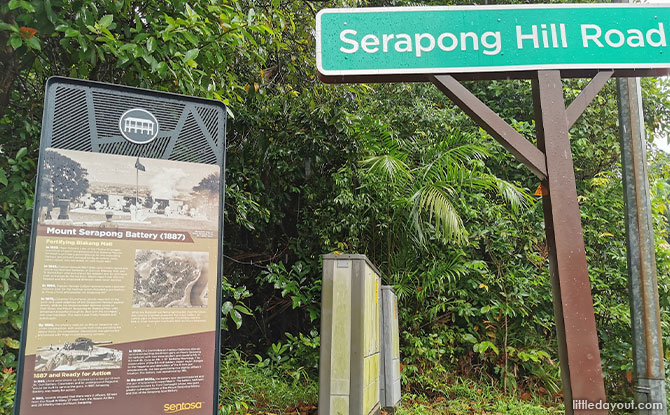 Bigger than Fort Siloso
Fort Serapong is one of four forts on Sentosa Island. Together with Fort Siloso, Fort Connaught, Imbiah Battery, the fortifications were important to the British as coastal defence on the South.
Fort Serapong is almost four times the size of Fort Siloso and stands on highest point of Blakang Mati Island (91 metres), or more popularly known as Sentosa Island. This highest point was called Mount Serapong. Fort Serapong was built between 1970 to 1880, and further fortified before the second world war.
---
Formerly a Swamp area
Serapong was one of two main swamp areas that was extensively cleared by Indian labourers, according to our guides Xin Xin and Ben from Pudu Puda Travel. Trees were cleared to make way for the fortification of the hill.
---
British Defence that was Defenceless in the end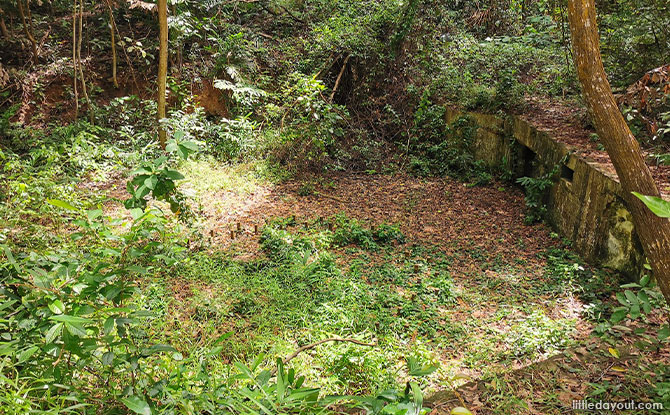 Contrary to popular belief that the guns were pointing the wrong way, they could be turned to fire inland. As the Japanese advanced from the North, the guns of Fort Serapong remained silent as there would be little that could be done to repel the Japanese.
Hence most of the equipment were destroyed or hastily removed before the Japanese arrived three days later.
---
WW2 Tales & Archaeological Finds
During the war, Fort Serapong was used to house Prisoners-of-War.
In February 1942, ghastly finds of 138 bodies were washed ashore nearby as a result of the Sook Ching Massacre. They were then buried by British soldiers and a memorial plaque was erected at Serapong Golf Course.
Interestingly, an archaeological dig conducted by NUS in 2006 revealed the consumption habits of the British soldiers which included sardine and milk.
---
Significance of Fort Serapong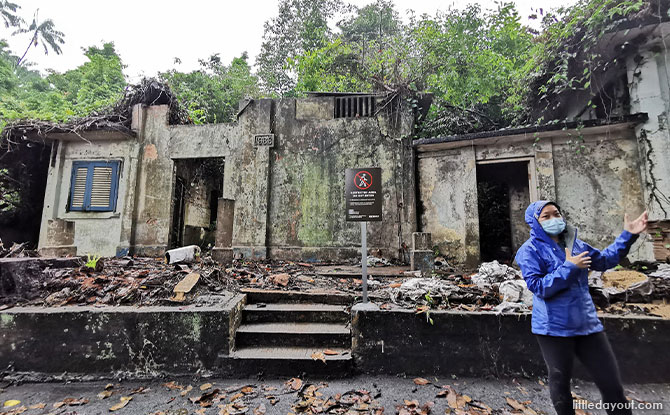 Even though Fort Serapong is a largely forgotten place lost in time, the original structures still stand. We walked upslope towards the peak, we could see the remnants of structures that seemed to be bathrooms, storeroom and even a kitchen. Some of these additional structures were built later on, perhaps we could imagine what life was like for the troops stationed on Mount Serapong.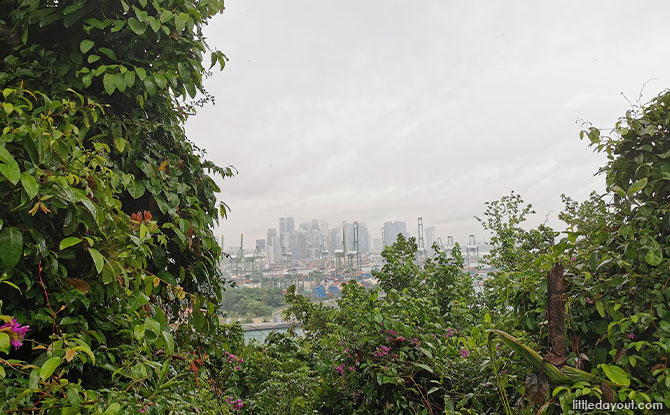 It also overlooked the port area. This was not surprising as the fortification was primarily to protect commercial interests in the Far East.
Even though we could not enter the Casemates, tunnels and Command Centre, Dr Lim Chen Sian's archaeological case study revealed the internal state of the fort. Structures are seen to have been demolished.
---
Rich Biodiversity of Serapong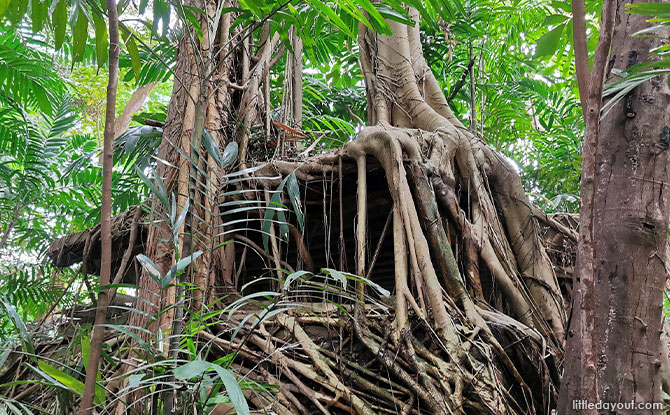 The tour to Fort Serapong will also give visitors a peek into the biodiversity of the area. We have seen Sulphur-crested Cockatoos, heard Collared Kingfishers and also seen insect surveys ongoing at the site. As these are biodiversity sites that are protected, visits can only be made through guided tours with permission sought.
Nature has engulfed some of the structures at Serapong and you will see firsthand how the Strangling Fig has beautifully grown on top of a concrete structure, right out of the scene of Tomb Raiders.
---
The Beauty of Fort Serapong Best Seen First Hand
The best way to discover Fort Serapong is on foot with trusted guides. You shouldn't explore it on your own as the structures are dangerous and unstable. Find out more about the tour of Serapong we were on here.