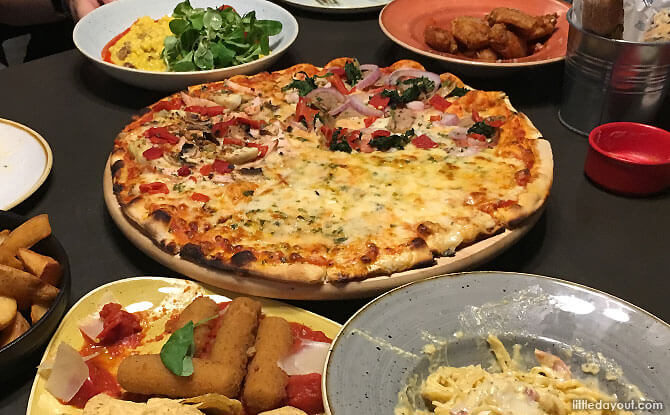 Renowned for its wood-fired, thin crust pizzas, Trapizza is a family-friendly Italian restaurant along Siloso Beach. Perfect for casual dining with the kids after a day out on Sentosa's beaches, it is also able to accommodate big group outings and atmospheric enough for date night with the spouse.
By day, Trapizza is cheery and welcoming. Taking full advantage of its beachfront location, Trapizza even has several tables located on the sand – ideal for those who want the whole beach experience while dining.
In the evening, the restaurant takes on a different vibe.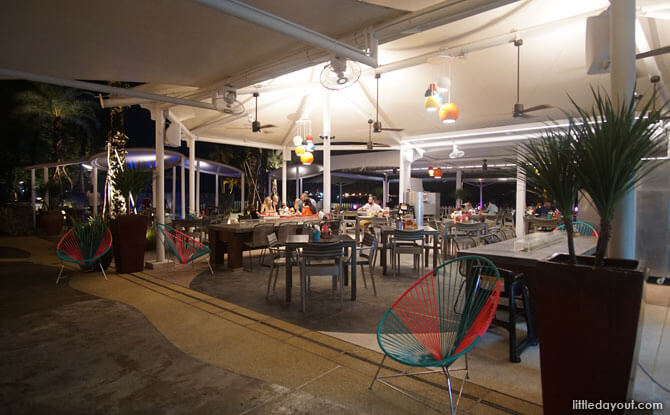 The dining area is warmly lit with accents from retro-looking green and orange fixtures. The evening was also when we visited Trapizza for a meal.
---
-- Story continues below --
Whet Your Appetite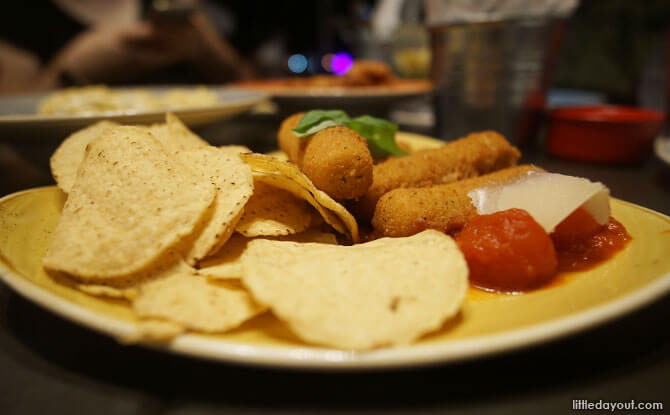 For starters, we had the Seamorza Mozzarella Cheese Sticks ($17). These come served with a tangy tomato ragout and crisp tortilla chips.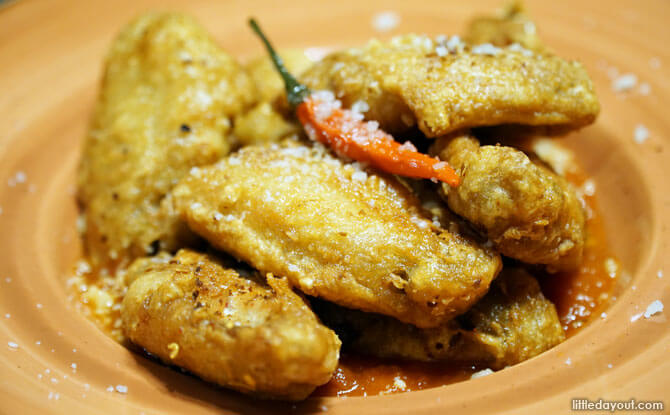 A favourite amongst the grown-ups at the table were the Chicken Wings alla Diavola ($15). These buttermilk chicken wings are tossed in a spicy marinara sauce and had a mild, spicy kick. They were tender to the bite and delightfully crispy on the outside.
Pass-ta Pizza
Trapizza offers 18 varieties of wood-fired, handcrafted pizzas. These include Pizza Porcini ($26.90) with porcini mushrooms and Sicilian pork sausages to Pizza di Mare ($27) with toppings of prawns, mussels, crab and smoked salmon.
A Trapizza speciality is the Family Sharing 16-inch Pizza ($39) – a supersized pizza which can accommodate up to any three flavours.
Ours arrived at the table with a combination of Pizza Siciliana (traditional Sicilian pork sausages, salami, roasted capsicums, onions & baby spinach), Pizza Inferno (smoked chicken, roasted capsicums, button mushrooms, artichokes & chilli flakes) and Quottro Formaggio (mozzarella, parmesan, provolone & gorgonzola) flavours.
The pizza is delicious and with the various flavours on a single pizza meant that both the kids and adults thoroughly enjoyed every bite.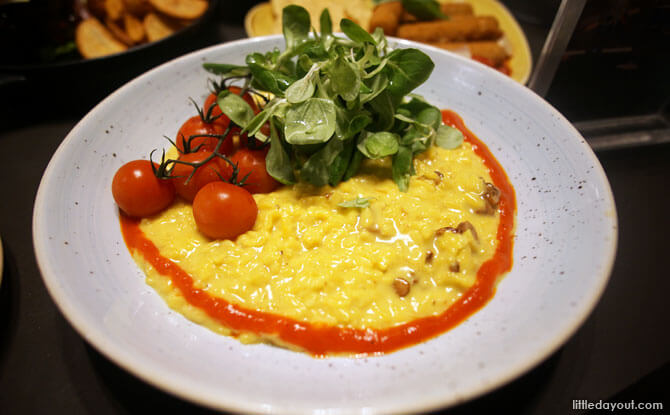 Another speciality at Trapizza is the Gold Risotto ($33). This vegetarian option features Arborio rice cooked in a creamy saffron sauce with chanterelle mushrooms and topped off with mache leaves. Its rich flavour is sure to satisfy.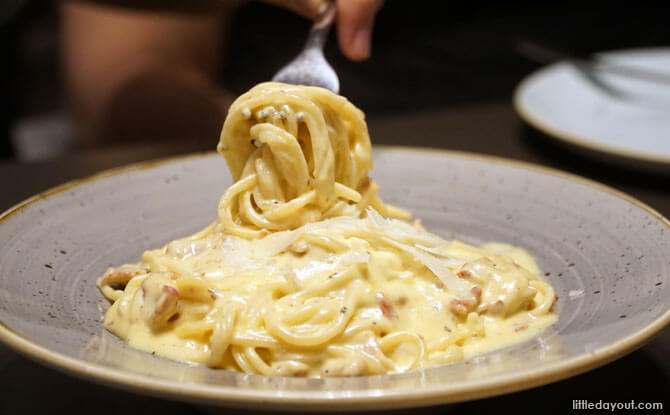 We also had the super-creamy Spaghetti Carbonara ($23), made with egg yolks, parmesan, pancetta. It was yet another crowd-pleaser, especially with the kids.
Mains & Dessert
For those who want something other than pasta or pizza, Trapizza also has a variety of mains. These include Sicilian-style Oven-baked Sea Bream ($33), Crispy Friend Veal Milanese ($41) and Lamb Rack ($28.80).
We opted for the Wagyu Beef Burger ($24). This is the individually-sized portion of Trapizza's massive Family Sharing Wagyu Beef Burger ($46) which feeds up to four!
Our Wagyu Beef Burger was no less impressive. It came stacked high and packed with bacon, onion, lettuce and tomato. If you are looking for a hearty, juicy burger, this will not disappoint.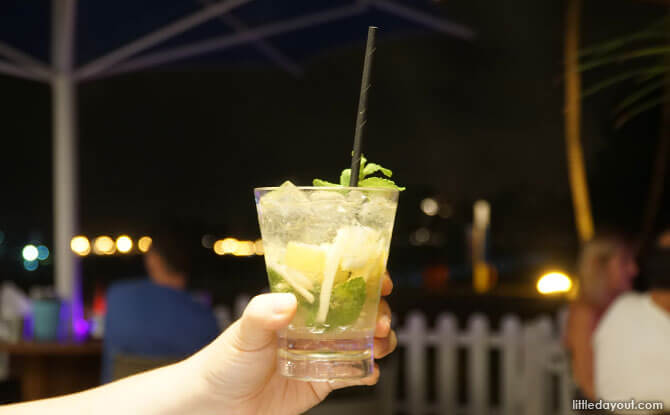 Trapizza also has a full bar menu and a choice of signature mocktails ($8 for a glass) like Ginger Mojoito and Beach Punch.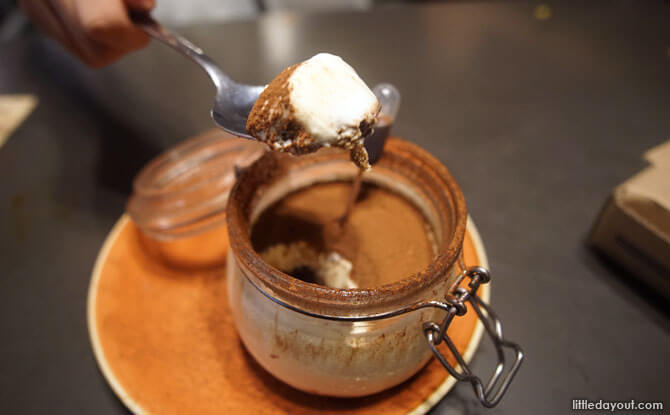 For dessert, we had the Tiramisu ($12), a chef's recommendation. It comes with a plunger so that you can personally infuse the liquor into the decadent-looking mascarpone-and-expresso dessert. It was the perfect way to end a thoroughly enjoyable meal.
Family-friendly Dining
Since reopening in May 2018 after a six-month revamp, Trapizza has also offered a "grab-and-go" bar where pizzas and ice-cream – perfect beach foods – are available for beachgoers.
The restaurant is also one of the few places in Singapore where you can purchase Annette ice cream and popsicles from Thailand. These are available from a tuk-tuk ice cream cart in the restaurant.
Other kid-friendly features at Trapizza include a water fountain play area for kids to splash about in. This play area is even lit up at night. The restaurant also has a play corner for younger children.
Another feature we heard about a new, exciting kid-friendly play structure which will be opening soon. When it does open, there will be even more reason to visit Trapizza and hang out by Sentosa's Siloso beach.
To find out more about Trapizza, visit its website here.
Trapizza, Siloso Beach
Where: 10 Siloso Beach Walk, Singapore 098995
Website
Media invite.