Looking for a place to kick back and enjoy delicious food with a view? Coastes Sentosa has unveiled a refreshed food menu, including breakfast, all-day options and an exclusive wine promotion on the weekends.
Located just two minutes away from Beach Station, Coastes Sentosa sits along the stretch of Sentosa's Siloso Beach, offering spectacular views of the beach and sea while you tuck into their scrumptious food offerings.
---
Coastes Sentosa All-Day Food Menu with a Wide Variety Of Dishes for Everyone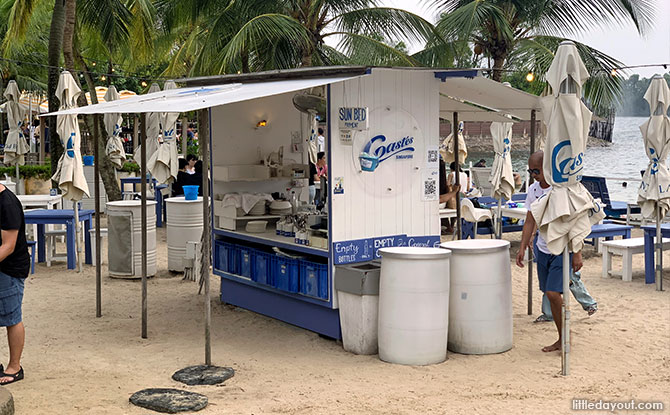 With a wide breadth of options on their menu, there is something for everyone. Some new food offerings include Ham & Cheese Croissant and Spam Benedict for breakfast, available from 9 am to 3 pm daily.
---
-- Story continues below --
For their all-day menu, indulge in new dishes such as the Beef Cheek Ragu Risotto, BBQ Pulled Pork Burger, Crispy Fried Cod Burger and Creamy Prawn Fettuccine.
Not to mention, Coastes includes a good selection of vegetarian options including Spinach & Feta Filo, Grilled Vegetable Antipasti and Grilled Eggplant Ciabatta.
If you are looking for sharing options, spot dishes such as Beetroot Scallops, Smoked Salmon and Poached Prawns with Gazpacho which can be easily shared with your family and friends.
---
Trying The Food At Coastes Beach Bar
We had the opportunity to try out some of the new and popular offerings on their menu.
We tried the BBQ Pulled Pork Burger, which is a sesame bun ensemble with toppings such as lettuce, melted cheddar cheese, a delicious fried egg and not to mention, pulled pork patty.
Every bite was loaded, with sweet and savoury flavours bursting into the mouth. Served with fresh and warm french fries on the side, the burger is definitely a good option for a meatier meal.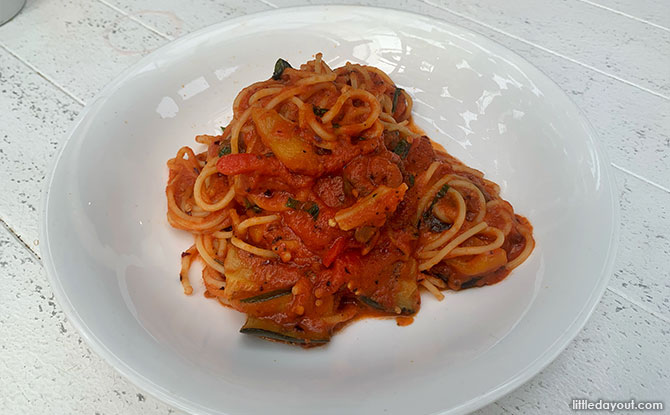 We tried the Spaghetti Arrabbiata, which is a vegetarian pasta filled with a variety of veggies with a tinge of spiciness to it. With tomato serving as a base for its sauce, you might just mistake it for your regular tomato-based pasta fare.
While it does not taste overwhelming and too rich, it definitely packs a punch of flavour with its tangy notes which make it a rather enjoyable dish.
In addition to these mains, we tried two sharing dishes which made us ooh and ahh with every bite.
First off, we had the Beetroot Scallops, which presents a trio of chilled pan-seared Japanese scallops soaked in beetroot jus which gives it its pinkish hue. Sitting atop of zucchini slices and topped with soy caviar, the dish brings out the fresh flavours of the scallops, with the soy caviar bursting with every bite and lightly coating the scallop with a hint of saltiness.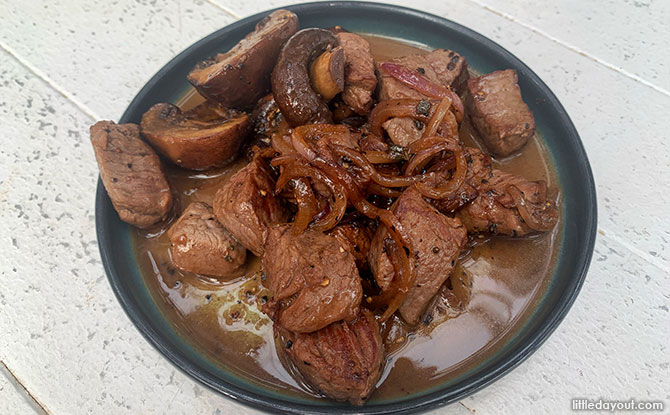 We also tried the Angus Tenderloin Cubes, which is a popular menu item on the menu. Perfect for sharing as well, the dish includes succulent Angus beef cubes cooked medium well, with caramelised onions and juicy mushrooms.
We particularly enjoyed this dish the most as the beef cubes were super soft and juicy, and the caramelised onions and mushrooms tasted smoky and rich.
To round off our meal, we had a Banana & Choco Filo for dessert. We were delighted by the delectable combination of banana wrapped in baked pastry and vanilla ice cream.
Warm and cold at the same time, the dessert was not too sweet, and you can top each bite off with some nuts and chocolate bits. It is a must-get dessert to combat the sweltering heat in recent times.
---
Visit Coastes Beach Bar and Enjoy Hearty Food with Stunning Views of Siloso Beach
In addition to its repertoire of food and beverages, Coastes Beach Bar provides unlimited pours of house wines & bubbly from 12 pm to 3 pm every Saturday and Sunday, starting from $65. Sit back and relax with good company, conversation and food on their day beds, deck chairs and tables facing the beautiful Siloso Beach.
---
Coastes Beach Bar
Where: 50 Siloso Beach Walk, #01-06, Singapore 099000
Opening Hours:
Sunday to Thursday: 9 am to 9.30 pm
Friday & Saturday: 9 am to 10.30 pm
Website
If you enjoyed this story, we predict that you will also enjoy this one on The Palawan @ Sentosa.