The Palawan @ Sentosa, a new 183,000-square-foot lifestyle and entertainment precinct, has been launched by the Shangri-La Group. The lifestyle destination will feature eight distinct experiences with various new-to-Singapore activities for visitors of all ages.
Amongst the attractions that will be at The Palawan @ Sentosa are a family beach club, an electric go-kart circuit and an outdoor mini golf course.
---
The Palawan @ Sentosa: What To Expect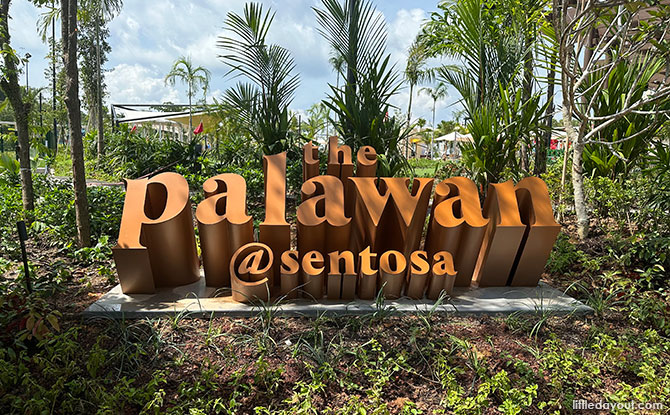 Many of the attractions and experiences at The Palawan @ Sentosa are still in the midst of launching. Here's a first look at what you can expect.
---
-- Story continues below --
---
Splash Tribe
One of the highlights of The Palawan @ Sentosa is Splash Tribe, a family beach club.
The beach club has a sandcastle-themed wet-play zone and an infinity pool. The water castle is fitted with water slides and dominates the Sentosa family beach club.
There are also different types of sprays and fountains to help guests cool off as they make their way around the water play area.
Families will also appreciate the chance to cool down and escape the heat of the day in the pools, which includes an infinity pool.
Splash Tribe occupies the spot previously occupied by the Palawan Pirate Ship water playground, continuing the tradition of having an outdoor water playground at Palawan beach.
There is also food and beverages served at Splash Tribe.
The family club is divided into five different "seating zones". These range from dining tables to poolside lounge sets. There are different minimum spends at each of the zones. You can book a spot at one of these zones for between four to four-and-a-half hours, depending on the day of the week.
Splash Tribe opened Friday, 28 July 2023.
Read more about what to expect at Splash Tribe, the family beach club at Palawan Beach.
---
UltraGolf
UltraGolf is an 18-hole mini golf course designed for everyone to put their putting skills to test.
Adding to the challenge of the mini-golf course are a series of bunkers throughout the course. There are a total of 11 bunkers at The Palawan mini-golf course, including a massive one that straddles holes 10, 11 and 12.
UltraGolf occupies a large chunk of the real estate at The Palawan @ Sentosa.
For those old enough to remember, there used to a mini golf course at the old Sentosa Merlion Plaza. With UltraGolf, this will mark the return of mini golf to Sentosa.
UltraGolf opened on 26 July 2023.
Read more about UltraGolf at The Palawan @ Sentosa.
---
HyperDrive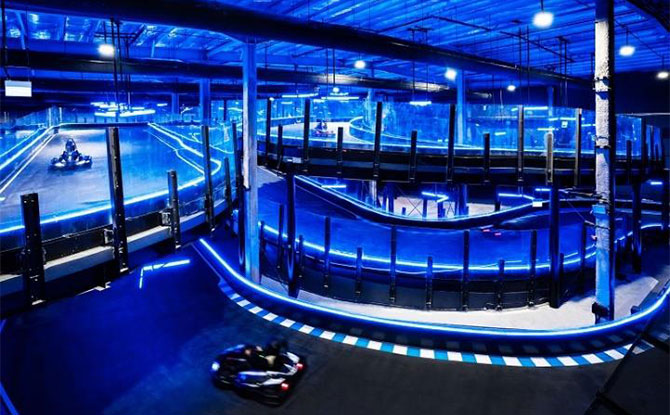 Another attraction that is sure to draw a lot of interest at The Palawan @ Sentosa is HyperDrive.
This indoor attraction is an electric go-kart circuit with a three-level racetrack. Instead of simply driving around a track, there will also be gamification features that immerse drivers into the world of real-life racing and virtual gaming.
Read more about what to expect at HyperDrive indoor go-kart circuit at The Palawan.
---
+Twelve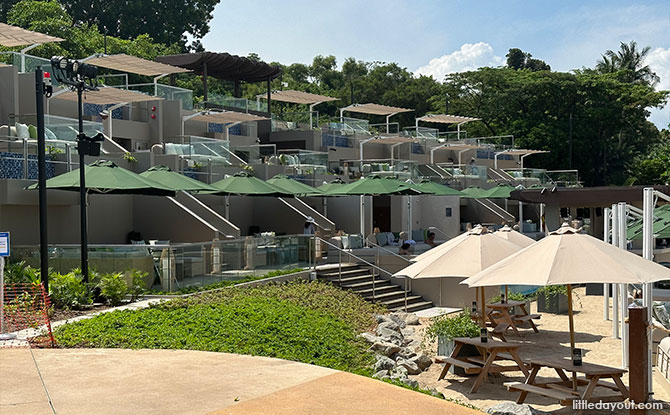 +Twelve is a terraced beach club with 12 cabanas with private plunge pools and a main pool with swim-up bar for indulgent relaxation. +Twelve has a beachfront view, looking out towards HydroDash and the Southernmost Point of Asia.
You can also enjoy a line-up of food and beverage selections at +Twelve.
---
The Palawan Food Trucks
Ten food trucks set up in a circle offers unique beach-side dining experience. The Palawan Food Trucks were still closed when we visited but from the livery, there will be Japanese, Korean and Mexican options available.
---
Blu Kouzina @ Palawan Beach
You can also look forward to the opening of this restaurant, which serves Mediterranean seafood cuisine.
---
Palawan Beach Dog Run
Paw parents aren't forgotten either. There is a dog run at The Palawan @ Sentosa. This is located next to UltraGolf.
---
HydroDash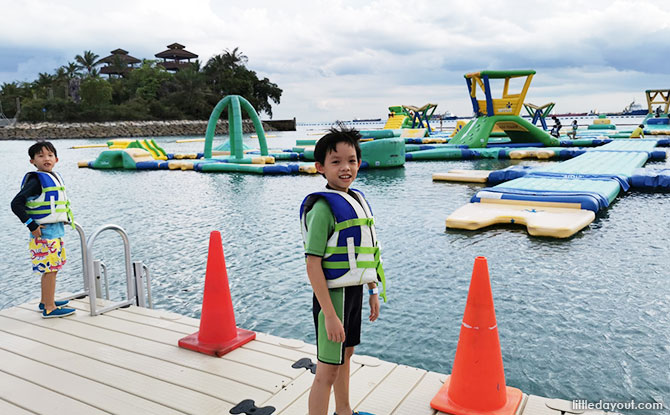 It would be remise not to mention HydroDash. The water park on the water has been around for a couple of years but it is also part of the family of attractions at The Palawan @ Sentosa.
Read more about what to expect on a visit to HydroDash.
---
Creating Colourful Moments of Joy
"With The Palawan @ Sentosa, we are embarking on an exhilarating journey of redefining leisure and entertainment. The first lifestyle precinct by the Shangri-La Group showcases our dedication to crafting unforgettable colourful moments of joy, where guests can immerse themselves in an extraordinary fusion of innovative leisure activities, inviting beach club experiences, and the timeless allure of Sentosa's idyllic surroundings. We are proud to be a part of this transformative chapter, bringing new waves of excitement to the island's vibrant tapestry," said Mr Gavin Weightman, Shangri-La Group's Head of Resorts for Southeast Asia & Australasia and General Manager for The Palawan @ Sentosa.
The Palawan @ Sentosa can be found in front of Palawan Kidz City, where KidZania Singapore will be reopening in 2024.
If you enjoyed this story, we think you will also enjoy this one about Coastes Beach Bar.