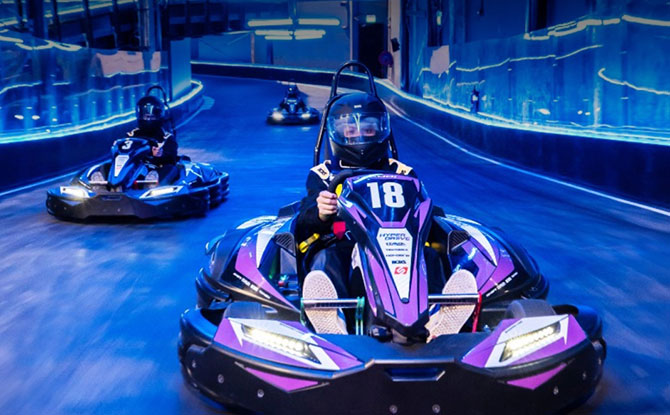 Get ready to race away at HyperDrive, the indoor go-kart circuit at The Palawan where it is not just about getting around the track as fast as possible but there are also gamified elements that make the experience even more fun.
HyperDrive opens from Thursday, 24 August 2023, bringing with it a new experience not just to Sentosa's Palawan Beach but to the region – it is Asia's first indoor gamified electric Go-Kart Circuit.
It promises to immerse drivers into the world of real life racing and virtual gaming at the same time.
---
HyperDrive: Three-Level Indoor Go-Kart Circuit
---
-- Story continues below --
HyperDrive at The Palawan features a three-level race track located within a standalone building at Palawan Beach.
The race action at HyperDrive comes down to a fleet of 36 eco-friendly electric go-karts that come in senior, junior and tandem kart configurations to cater to the young and young-at-heart.
Even though electric powered, the karts can go fast.
The Novice level go-karts can go up to a top speed of 30km/h while the advanced level ones max out at 50km/h and drivers will need to meet additional requirements in order to operate them.
The HyperDrive race track is 308 metres long and designed by karting champion David Terrien from PSD Entertainment. It meanders around the indoor space with 14 turns to challenge driving enthusiasts as well as a straightway for those who feel the need for speed.
At 5.3 metres wide, the circuit has ample space for go-karters to get up to different shenanigans.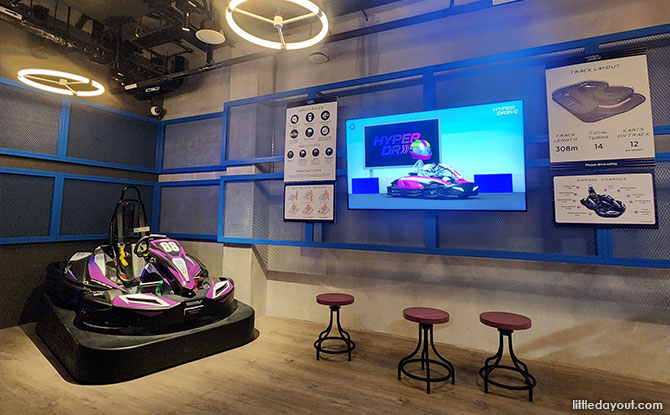 Before you are allowed out on the track, you will have to attend a pre-race briefing.
Each play session can accommodate up to 12 karts at a time and will spans approximately 30 minutes. This duration includes the pre-race briefing, the fitting of helmets, and an exhilarating eight-minute race on track.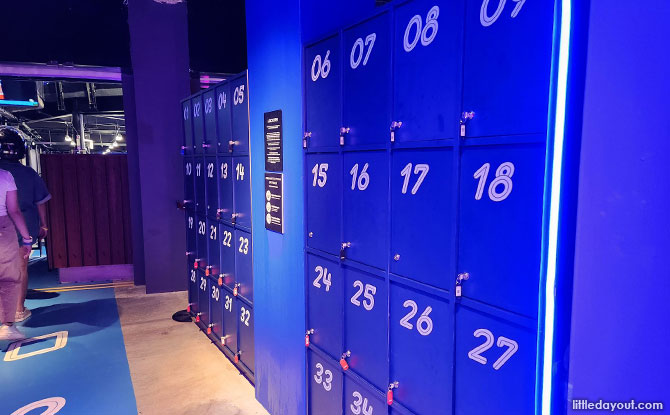 There are lockers for you to stow away your bags.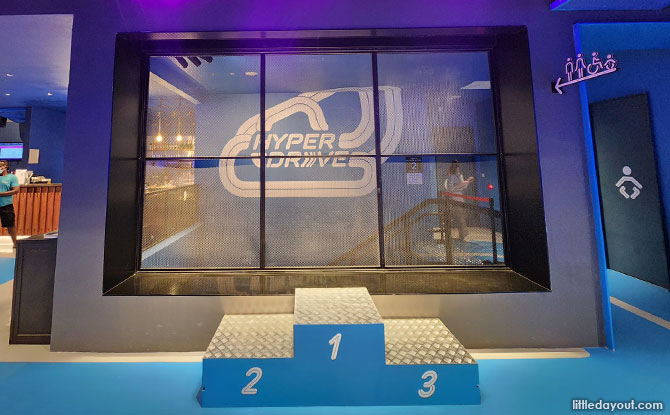 The facility even has a podium where racers can pose for pictures.
---
Game of Karts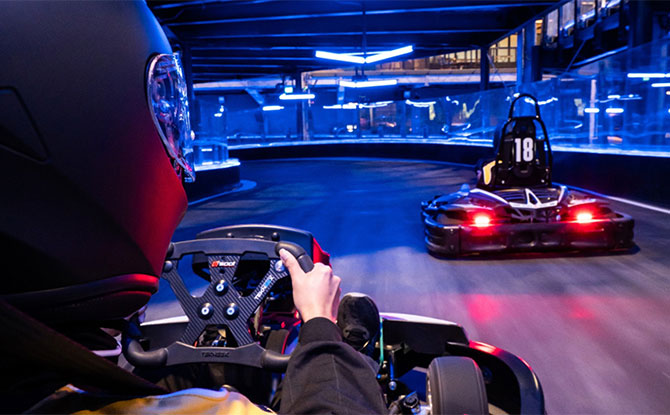 In the coming months, HyperDrive will be the first in Asia to offer the 'Game of Karts' experience.
This is where virtual racing meets real-life go-karting.
Amped up with with sound and lighting effects for an immersive experience, drivers will enter a virtual gaming realm by collecting bonuses as 'weapons' to sabotage their competitors or as 'boosts' to turbo-charge their race to the podium.
It is like playing Mario Kart in real life.
We imagine that there will be plots and lots of treachery involved once the competitive streak of the go-karters on the race track comes out.
---
HyperDrive Cafe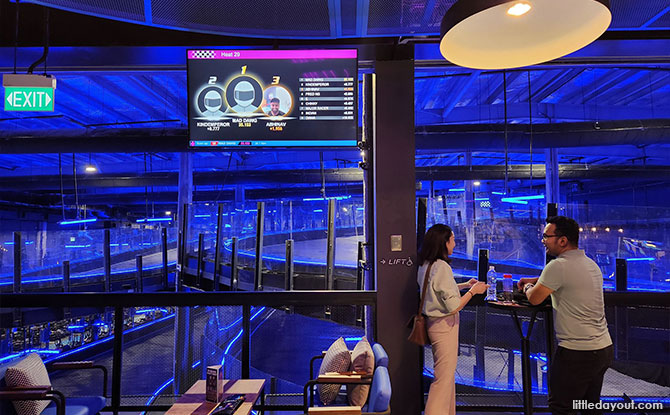 Those who want to take in the action from a "safer" vantage point can head up to the 110-seater HyperDrive Cafe on the second floor of the building.
The 32-metre long open cantilevered gallery provides a viewing spot to look on at the action while enjoying diner-style classics that are on the menu such as SweetStacks pancakes, flatbreads, and milkshakes.
---
Useful Things to Know About HyperDrive: Indoor Go-Karting at Sentosa
Operating hours:
Mondays to Fridays, 12.30 pm to 9 pm, last entry at 8.30 pm
Saturdays, Sundays, Public and School Holidays, 10 am to 9 pm, last entry at 8.30 pm
There are three kart variants.
Junior Kart
For 9 years old and above, 130cm and above
Senior Kart
For 9 years old and above, 140cm and above
Dual Kart
Driver – 18 years old and above, 140cm and above, must possess a valid car or motorcycle licence;
Passenger – 90cm and above
Take note of the following requirements for the Novice and Advanced Levels (i.e. speed of the kart):
A car and motorcycle licence is not required for eligible participants at the Novice Level (maximum speed of 30km/h) for Junior and Senior karts.
Participants who wish to drive at the Advanced Level (maximum speed of 50km/h) need to attain a novice lap time of 34.5 seconds and below, 18 years old and above and possess a valid car or motorcycle licence.
Ticket prices start from $30 for a Junior Kart during off-peak times.
Find out more about HyperDrive.
HyperDrive is part of The Palawan beachfront precinct at Sentosa. Other attractions at The Palawan include the Splash Tribe family beach club and UltraGolf, an 18-hole mini-golf course.
If you are looking for fun and games, you may also want to check out these bumper cars that you can drift.