Wind Beneath My Wings took on a new meaning when winds blasted at my face, propping my entire body up in mid-air at over 180 to 290 km per hour. Suspended in a funnel, my heart was pounding with amazement and exhilaration. My brain was intensely processing the physics and my body was attempting to further defy gravity. Oh boy, I was skydiving indoors at iFly Singapore and I flew indeed!
Skydiving had quietly taken a back seat on my bucket list. Receiving this First-Timer Challenge Package to skydive indoors at iFly Singapore from my brother-in-law was a wonderful way to get the adrenaline going for the entire family. His nine-year-old son had already tried it and was literally blown away. iFly gives the thrill of skydiving, but minus the higher costs, risks and inaccessibility of jumping off an aircraft.
---
iFly Singapore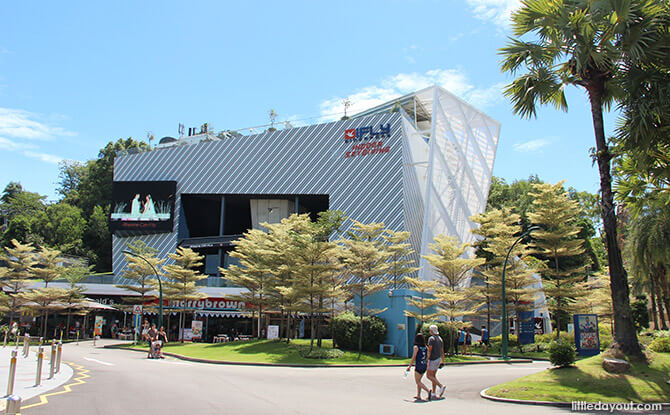 ---
-- Story continues below --
Situated near Beach Station at Sentosa, iFly Singapore flies high as one of Singapore's many firsts.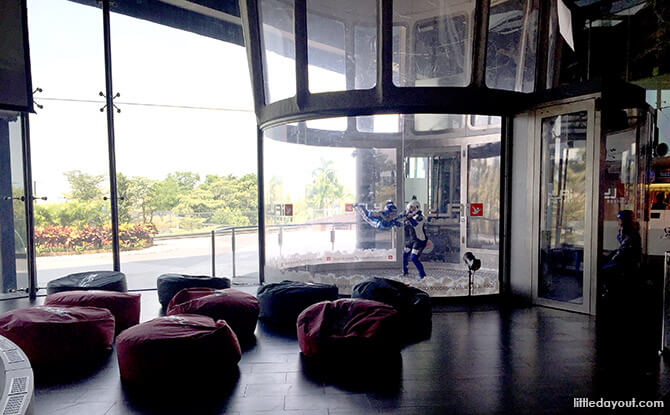 It is the world's largest vertical wind tunnel for indoor skydiving, encased in an 18-feet tall acrylic glass wall, and is 16.5 feet wide and five storeys high.
---
Who Can Be an Indoor Skydiver?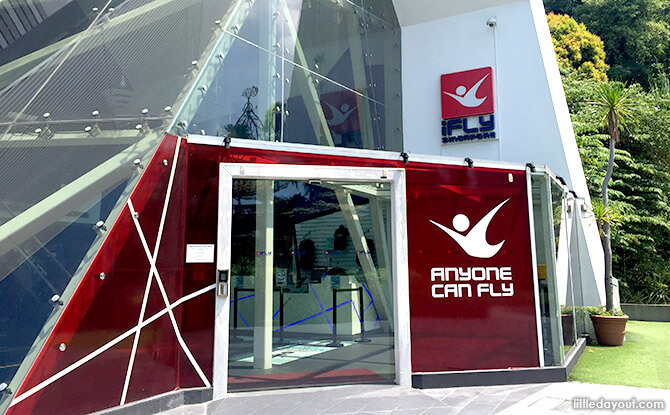 If you weigh less than 120 kg and are under 1.8 metre tall; you are not pregnant; you are not in a cast; and you have no history of shoulder dislocation, back or neck injury, you can fly at iFly Singapore. For the record, the youngest bodyflyer is seven and the oldest 106! iFly Singapore lets kids who are at least seven years of age fly.
---
Registering at iFly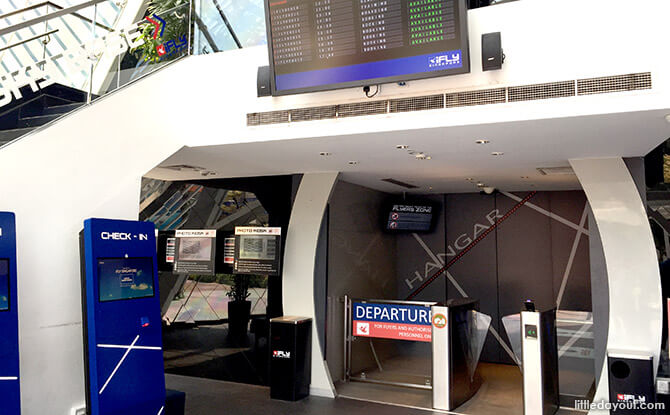 Checking in at iFly is almost like checking in for an actual flight, except that your body is the aeroplane!
First, you need to pre-book your flight time beforehand online. Then be there at least one hour prior to the flight time.
---
Introductory Video
After you have registered, you will watch an introductory video that gives you the assurance that its instructors are certified by the International Bodyflight Association, with at least 50 hours of flight training and are seasoned veterans of skydiving championships. You will also receive more facts and figures about the wind tunnel and that the cable net is strong enough to hold 200 adults of 100 kg each.
---
Pre-flight Training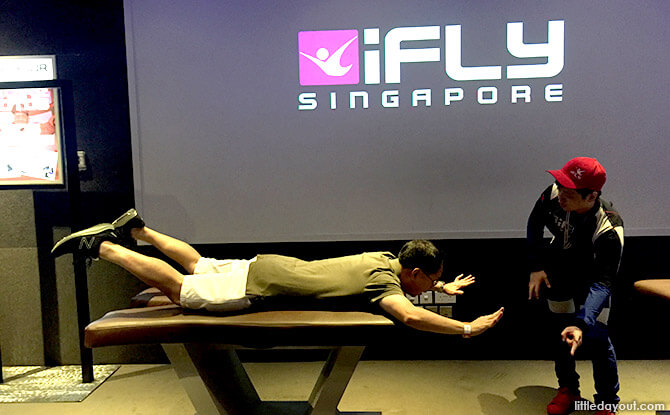 Thereafter, a coach guides you through the body flight process, showing you the basic flying position, simple hand signals he will use to communicate with you while you are both in the tunnel and how to get in and out of the tunnel. He also shares pointers on safety and we do a little stretching to get ready.
---
Gearing Up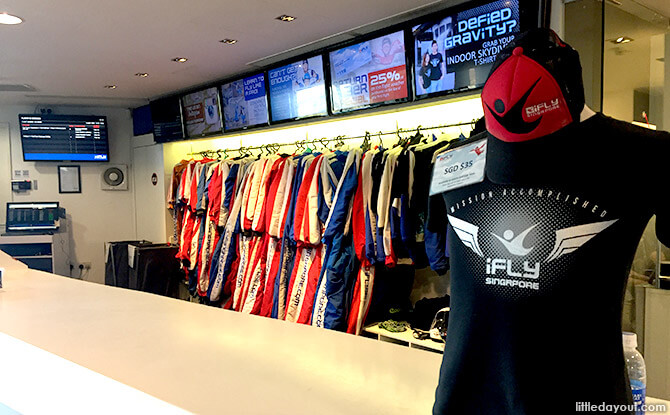 After the training, you head up to the second floor to get all geared up in an area next to the wind tunnel.
Do get to iFly Singapore dressed in T-shirts, shorts, jeans or pants, and wear closed toe shoes, sneakers or track shoes. For ladies, skip the dresses and skirts as these will be awkward to wear under your skydiving gear. You will be given some space to put aside your personal belongings.
If you have long hair, be sure to bun it up tight within the helmet as best as you can. Otherwise, being in a wind tunnel is akin to subjecting your hair to a powerful hairdryer with no hairbrush and result in many impossible knots and tangles.
Get into the skydiving suit, put on industry-grade earplugs, slip on the eye goggles, cap it off a helmet, and you're all set to soar!
---
Taking Flight
We enter the outer chamber of the flight tunnel and sit in line to wait for our turn. It's captivating watching the person before you blast off and is a spot to help keep your butterflies in check.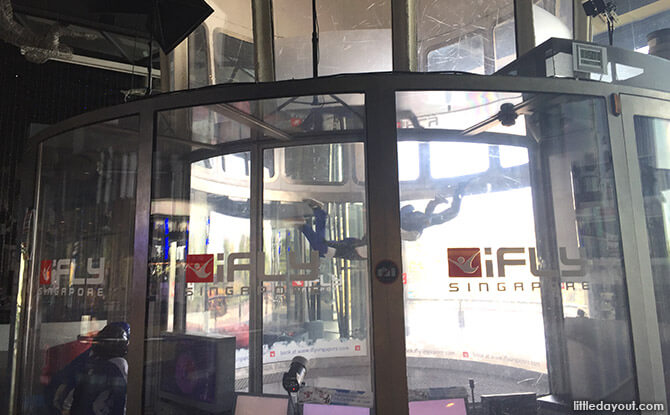 All too soon, it'll be your turn to fly. For first-timers, the best thing to do is to remember to keep in the same controlled body position. With slight movements, you may go in different directions and heights, but the coach is always on hand and quick to rescue you.
Once you enter the wind tunnel and get into a flying position, you will notice the metal mesh below you. Four large fans at the bottom generate a strong constant gust of wind to propel your body up in the air. The wind speed is kept constant and adapted to your body weight.
Smile for the well-positioned cameras at the side of the wind tunnel to take home the memories.
---
Sky Views
Our $119 First-timer Challenge Package entitled us to two skydives of about one minute long each. As the wind tunnel is situated higher up on the second storey of the building, just flying at low heights already entitles you to views of Siloso Beach and South China Sea.
Take the flight at night and you get the backdrop of fireworks from Sentosa's Wings of Time performance too.
We were raring to soar to greater heights. So we topped up the package to go to the top of the wind tunnel, with help from the Coach.
More experienced skydivers can turn 360 degrees, move forwards and backwards, up and down, side to side, and fly to specific places.
For us beginners, we were just happy to stay suspended in flight and marvel at an upside-down Coach.
And so, in less than two hours, we got our certificate and wings to fly with iFly Singapore. Mission impossible became mission accomplished.
---
Address: 43 Siloso Beach Walk, #01-01, Sentosa, Singapore 099010
Tel: 6571 0000
Opening Hours:
Daily except for Wednesdays: 9 am to 9.30 pm (first flight 10 am, last flight 9.30 pm)
Wednesdays: 11 am to 9.30 pm (first flight 12 pm, last flight 9.30 pm)