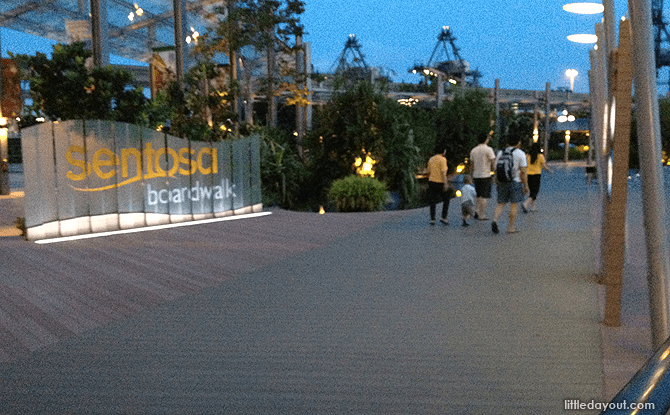 There are many ways to get to Sentosa – car, bus, cable car and monorail. However, one often overlooked means is on foot – by taking a short stroll along the Sentosa Boardwalk.
Walk Across The Waters
The Sentosa Boardwalk is a pedestrian walkway that shares the same bridge which carries vehicular traffic into Sentosa. The pathway of the Sentosa Boardwalk is accessible from the eastern end of the VivoCity shopping mall and connects to the Resorts World Sentosa Waterfront area.
If the idea of walking to Sentosa seems long and tiring, not so at all. In fact, the Boardwalk is only 700 metres long. This is equivalent to walking one-and-three-quarter times around a standard stadium track.
In actual fact, the distance is less than that as the Boardwalk is fitted with travellators which will help you move along at speed. There are 10 of these travellators, which head in both directions, leading in and out of Sentosa.
If that sounds still sounds hot or if you are worried about rain, you will be glad to know that the Sentosa Boardwalk is sheltered. In fact, the travellators have been designed to take visitors through five garden-themed landscapes. These tropical landscapes include mangroves, rock gardens, terrain and hill, coastal flora and rainforest.
It is stroller-friendly and wheelchair accessible as well.
So how long does it take to cross over on foot from VivoCity to Sentosa. You can expect to make the trek in around 5 minutes if you walk like you are a competitive walker, or 15 minutes if you are out for a romantic stroll.
For those who worry that they may get thirsty along the way, there is even a dining outlet midway along the Boardwalk where you can stop to get some refreshments. Even if you don't need refreshments, there is a Promontory area which will tempt you to stop to take in the view of the cable cars in the distance.
Sentosa Boardwalk Bazaar
On weekends, the Boardwalk turns into a bazaar. Stalls are set up along the Sentosa Boardwalk and provide retail distractions for those who wish to walk and browse at the same time.
More Reasons To Walk
One of the best times to walk along the Sentosa Boardwalk is in the evening. It makes for a pleasant after-dinner stroll.
One final bonus reason to take the Sentosa Boardwalk to enter Sentosa is that admission to Sentosa on foot is free (at least till the end of 2018). Awesome!