We had the opportunity to experience one of the attractions available at HomeTeamNS Bedok Reservoir – Action Motion. By the same team behind Adventure HQ and Clip 'n Climb HomeTeamNS, Action Motion at HomeTeamNS Bedok Reservoir is a digital active experience arena in Singapore.
Action Motion at HomeTeamNS Bedok Reservoir: Indoor Active Fun
What set this apart from the usual indoor playgrounds is its unique incorporation of AR elements across its installations. Visitors will be able to score points while playing and tabulate their scores through Action Motion's gamified system.
The facility offers 5 different types of installations:
Rapid Action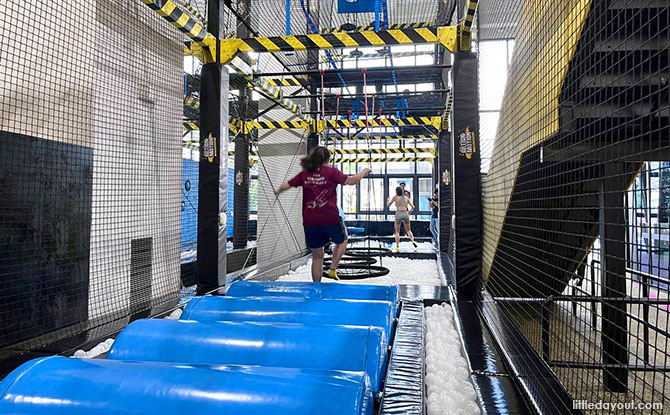 An obstacle course sure to get your heart pumping, there are two levels for challengers to scale and compete against others for the top score on the leader board. The elements on the first floor are less daunting than the second, as it tests your balance and agility. However, the second floor elements do not only test your agility and balance, as upper body strengths are put to the test.
Motion Mesh
Motion Mesh is a net maze that features obstacles which players go through on multiple levels as they scale to the top. The obstacles test agility, balance and strength, allowing players to compete with each other to see who clears the levels faster.
Valo Climb
This bouldering wall is not just any ordinary wall. It includes AR minigames that allow you to play solo, or with other participants. From bursting bubbles, defeating monsters or even giving yourself a climbing challenge, they offer games of varying difficulties that can cater to your level.
Valo Jump
This installation features trampoline jumping with a twist. Using motion capture technology and AR elements, players can jump while playing minigames on the screen. With time limits for each game, players will scramble to earn as much points before the timer runs out. It is definitely a game that will leave you catching your breath.
Ascend Lab
For those who prefers activities of the usual fare, Action Motion has rock climbing walls that challenges climbers. Each wall has multiple routes that climbers can attempt to scale, which are all unique. With auto belaying systems installed, players can scale and climb at their own pace.
---
Minimum Requirements to Enjoy Action Motion
The facility has many experienced trainers that will be present to guide, so you can have fun and play without worries.
There is a minimum height requirement of 1.25 meters and a maximum weight of 120kg, children under 12 are highly encouraged to be accompanied by a parent/guardian.
---
Pricing
The price table can be referred to below.
You will be required to wear Action Motion socks ($4 for a pair) which are free for the first three months from opening.
Single Action Pass
| | | |
| --- | --- | --- |
| | Tue to Fri | Sat-Sun, PH, Eve of PH & School Holidays |
| HomeTeamNS | $35 | $39 |
| Affiliate | $40 | $44 |
| Guest | $45 | $50 |
4 Pax Quad Action Pass
| | | |
| --- | --- | --- |
| | Tues – Fri | Sat-Sun, PH, Eve of PH & School Holidays |
| HomeTeamNS | $133 | $146 |
| Affiliate | $158 | $173 |
| Guest | $177 | $194 |
---
Other fun activities to partake at HomeTeamNS Bedok Reservoir
Other exciting facilities offered at HomeTeamNS Bedok Reservoir include:
Aqua Adventure
Singapore's first integrated indoor water adventure centre, it has fun activities featuring wet and dry activities such as aquatic rope course, climbing walls, lazy pool and 2 water slides, one of which is the longest indoor slide in Singapore. More details will be announced in Mid-Feb 2023.
Fitness Workz Garage
A CrossFit haven for gym junkies, the gym features equipment with smart technological features allowing users to work out to their hearts' content. They also host exclusive programmes and provide gym-goers access to other amenities.
Mancaves
If you are looking to host a party or gathering, and do not need a chalet to stay over in, Mancaves are the perfect spaces to do so. They include amenities such as Wi-Fi, built-in kitchenette with fridge, karaoke system and a BBQ patio with a gorgeous view of the reservoir.
Looking for a cool new hangout space with a beautiful view? HomeTeamNS has unveiled their new location at Bedok Reservoir. The launch wraps up year-long activities celebrating 55 years of National Service. Titled as a waterfront haven, the 85 million development is the only reservoir-fronting clubhouse in Singapore.
Located within Bedok Reservoir Park, its open space design enables visitors to enjoy the surrounding lush greenery, and have an unobstructed view of Bedok Reservoir. The 5 storey tall building is furnished with smart access systems, green features and unique facilities perfect for gatherings or outings.
---
Visiting HomeTeamNS Bedok Reservoir
While not all of the amenities and facilities have completed renovations, it is definitely shaping up to be the next one-stop destination for exhilarating activities which can satisfy groups of all ages. To find out more about HomeTeamNS Bedok Reservoir or make reservations and view rates for amenities, visit their website here.
---
HomeTeamNS Bedok Reservoir
900 Bedok North Rd, Singapore 479994
Action Motion
Opening Hours:
Every Monday: Closed
(Non-Peak) Weekdays: 12 pm to 8.30 pm
(Peak) Weekends / PH / School Holidays: 10 am to 9.30 pm