Adventure HQ at HomeTeamNS Khatib is THE place to be, especially if you have got restless tweens and screen-fixated teens! We give you the lowdown on what to expect at the largest multi-installation indoor centre.
Wow is usually the first response as you enter the compound with the four storey high obstacles. The facility is also sheltered, perfect for an indoor work-out rain or shine.
---
Visiting Adventure HQ at HomeTeamNS Khatib: Important Things To Note
For the high obstacles and activities requiring supervision of the adventure specialists, the minimum height is 1.25m, while the maximum weight is 120kg.
---
-- Story continues below --
All participants have to wear sports attire and sports shoes in order to participate. Dress in bottoms with pockets that can hold mobile devices securely as that will maximise your mobility at Adventure HQ.
Pack water bottles and snacks if needed. There is a water cooler in the briefing room.
---
Different Sections of Adventure HQ
There are eight main sections in Adventure HQ:
Urban Climb: 24 Climbing elements with Auto-belay systems at Level 1
Parabolic Slide
Bouldering and high rock wall
Skyventure: 2-tier Challenge rope courses with 16 Obstacles
Ninja Obstacle Course at Level 3
Fossil Labyrinth at Level 4
Adventure Trail: Cloud Climb, Rope Tunnels & 3 Firemen Slides
Roll Glider
Three sections – Urban Climb, Rock Walls, Fossil Labyrinth, Adventure Trail can be completed without supervision from an Adventure Specialist. The rest of the sections require an Adventure Specialist's supervision. For children below 9, we would advise parents to accompany their child in the activities. They could face difficulty in engaging the belay systems for the climbing elements or require help when climbing upwards!
---
Urban Climb at Adventure HQ Khatib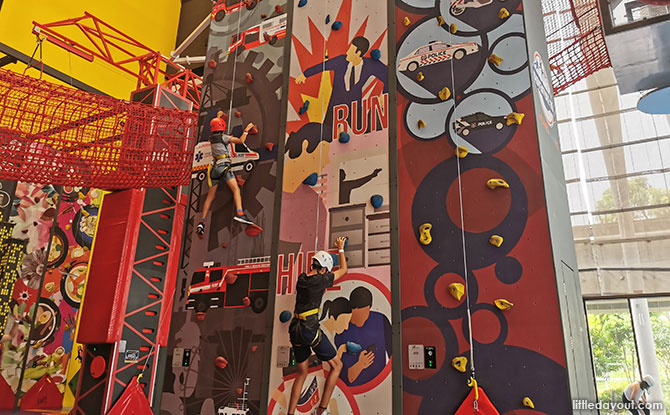 What we like about Urban Climb was the opportunity to try 24 different elements, each with its quirks and challenges!
As these use an auto-belay system, climbers learn to clasp their buckles on before proceeding. We were given a safety briefing before we commenced. Parents and caregivers will need to assist their younger children with this as the mechanisms required a good amount of strength to buckle and unbuckle.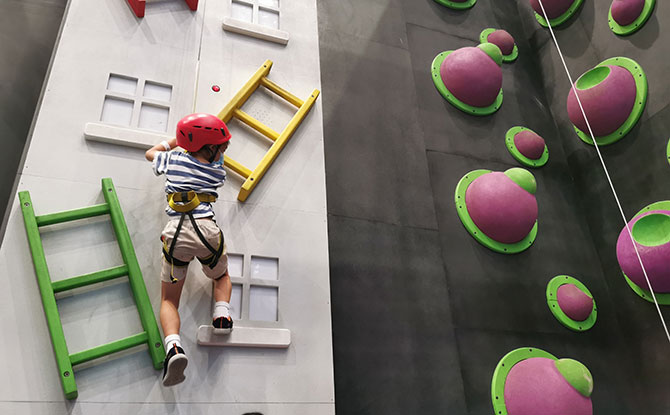 There were walls with various difficulties, the most challenging ones were probably the ones with turning supports and those that required a leap of faith. Perhaps these were a good test of whether we were brave enough to be SCDF men.
---
Parabolic Slide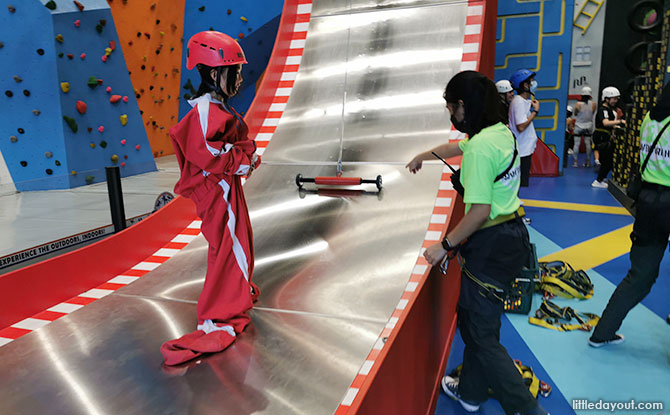 This is a thrilling one that dangles one 8m up into the air and then you release your grip to experience a 90-degree drop! A protective suit is required and it possibly gives you a glimpse into what fire rescue work is like!
---
Bouldering and High Rock Wall
The rock wall has 8 climbing lanes to try! Six of them are 9m high and two are 14m high! All of them use the auto-belay system so you can climb to your heart's delight without relying on another for support.
There is also a bouldering section for aspiring boulderers. Avid climbers might want to bring their own climbing shoes although sports shoes can be used.
---
Skyventure
This is definitely not for the weak. A total of 16 obstacles await as you hover above ground at 15m. Skyventure at Adventure HQ is Singapore's biggest two-tiered obstacle indoor challenge rope course!
Each step requires the bravery to move forward or balance or climb sideways. The Adventure Specialists were there to provide support and guidance.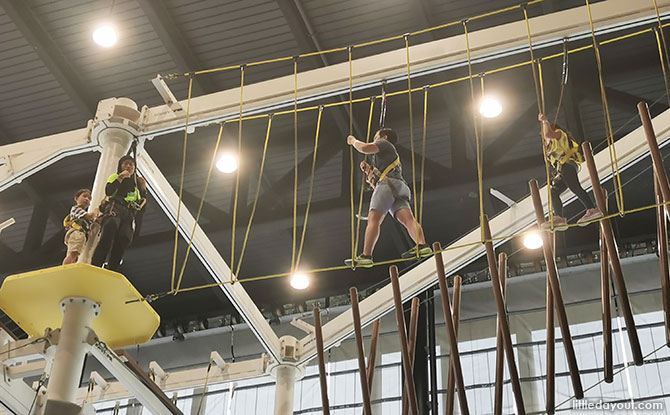 For those who prefer a taster session, start at the very top at Level 4 to try a condensed version. We also found this challenging for younger children as they will need to push their safety ropes forward as they climb.
---
Ninja Obstacle Course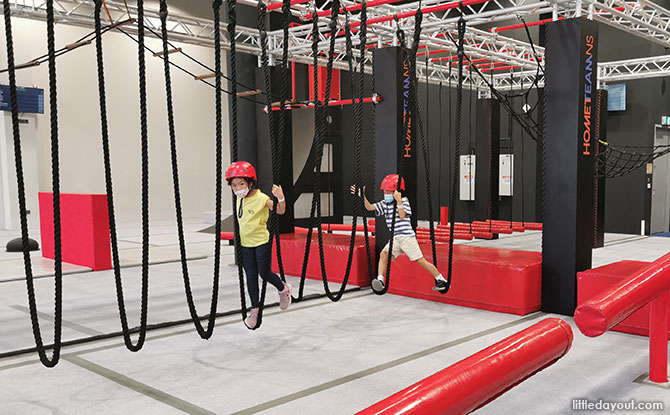 Aspiring Ninja warriors, this is your playground!
You are sure to improve your strength, endurance, coordination and agility as there is a myriad of challenges to overcome.
Walk on ropes, jump on slopes, climb upside down, balancing on beams – all skills essential for ninjas. You can even challenge one another with timers!
This obstacle course is great for younger children as well.
---
Fossil Labyrinth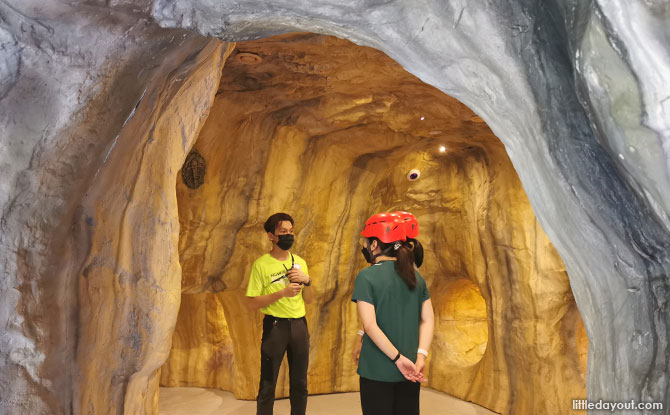 The Fossil Labyrinth on level 4 made us feel like naked mole rats. We crawled in the dark – there was some light to see what's ahead in the tunnels. The artificial cave experience is 165 metres long and challenged us to move on all fours. This would have been easy if we weighed less! The dark tunnels had stalactites, stalagmites, sumps, fossils and a ball pit for a fun exploration!
---
Adventure Trail and Cloud Climb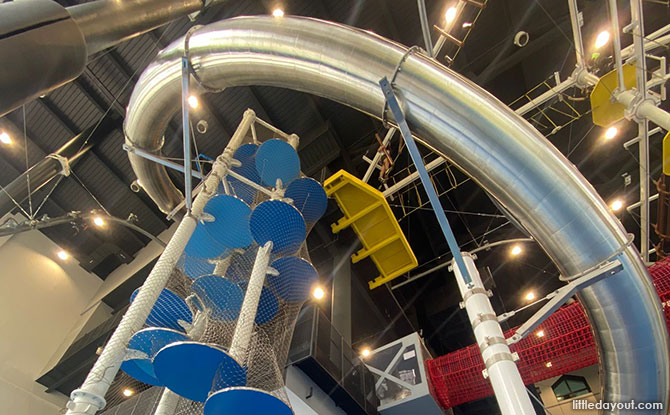 One of the most attractive bits of Adventure HQ would be the three firemen slides! The longest indoor slide is 14m and it is also Singapore's longest indoor slide.
To get to them, you will need to climb up using the 15-metre Cloud Climb as well as the rope tunnels.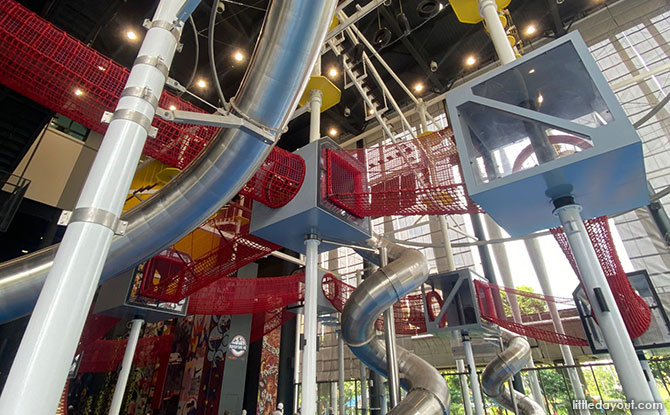 Always shout "Clear" before you enter and after you exit the slide so it would be safer for the next person using it.
Adults using the slides tend to get a little stuck, to go fast – reduce the friction as much as possible!
---
Roll Glider
The most thrilling ride of all must be the 233-metre-long Roll Glider. Take the stairs or the lift to level 4, strap on harness to get on the roll glider. Riders must be at least 30kg to ride on this. Watching riders glide swiftly downwards made my heart leap.
---
Tips for Adventure HQ Adventurers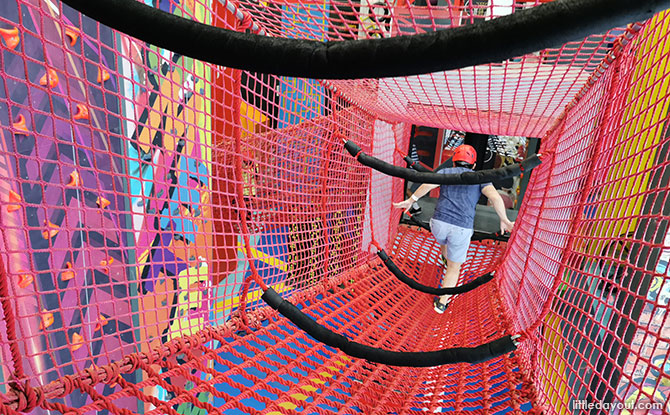 Plan your activities ahead and try the elements with a shorter queue.
We saw most heading for Urban Climb and Skyventure first, those were certainly popular. Rather than queue for a long time, try the Maze Labyrinth at the top floor or the Ninja course before moving on to other challenges.
If you are tired, take the lift. It is located at the briefing room behind the lockers. This saves you some energy from climbing up and down the stairs. #lifehack
Various sections are open at different timings, so check if a Adventure Specialist is in the area before trying the activity.
---
Challenge Yourself at Adventure HQ, HomeTeamNS Khatib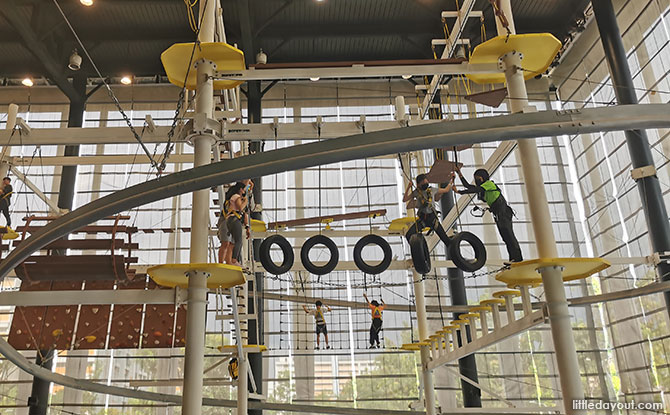 Ready to challenge yourself and conquer your fear of heights, if any? If you are looking for a fun activity with family and friends, check out Adventure HQ at Home Team NS Khatib.
Get your Adventure HQ tickets here.
What's Next: Read about the Peranakan-themed indoor playground at HomeTeamNS Khatib or check out the awesome park beside HomeTeamNS Khatib.