Want to go rock climbing in Singapore? The number of rock climbers has hit a new high as the number of rock climbing and bouldering gyms in Singapore have been steadily on the climb.
---
Rock Climbing or Bouldering? What's the Difference?
In case you didn't know, there are quite a few differences between rock climbing or bouldering, although many times the sports are done in similar spaces and require similar muscle groups.
For rock climbing in Singapore, climbers wear a safety harness and try to reach the top of a wall or the "summit" of a rock formation. There is also usually a belay which comes in the form of another person or an auto belaying device.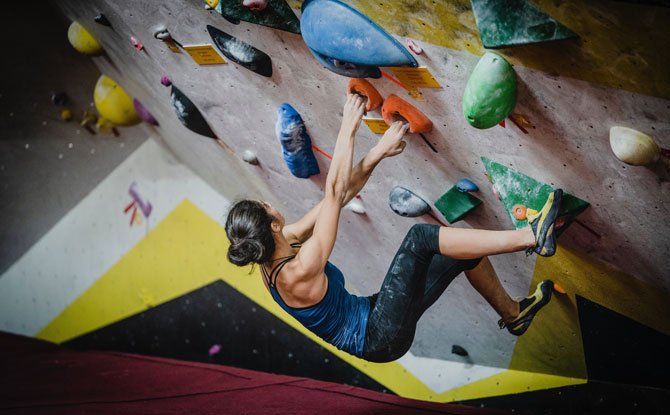 Bouldering, however, starts with participants usually have the goal of solving a "puzzle" which involves performing a series of moves to complete the climb.
The two most widely used rating systems are the V-scale and the Fontainebleau system although it is always subjective and varies from location to location.
Bouldering Gyms and Rock Climbing in Singapore
Regardless of the activity, you wish to try, here is a list of some of the rock climbing and bouldering gyms in Singapore.
---
Fit Bloc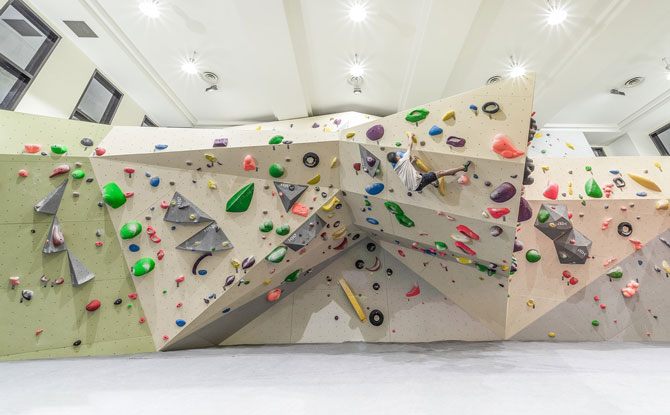 Located a stone throw away from Kent Ridge MRT, this young bouldering gym in Singapore which opened their doors in 2018 has become a popular spot for bouldering enthusiasts of all levels because of the community that their gym has built up, as well as its variety of facilities.
Their wall designs are inspired by their visits to Europe, where even sedentary people can take part in bouldering because of the well-thought wall design but they also have routes that are designed for intermediate and advanced climbers.
Other facilities they have include a variety of fitness equipment, a four lane 25-metre pool, and they also conduct yoga classes for athletes in their gym.
---
Climb Central
The rock climbing walls by Climb Central are usually an eye-catching feature in any mall due to the sheer size of the walls that they have at each indoor rock climbing location. You would probably be familiar with their outlets in Kallang Wave Mall, Funan and Novena Square.
It's a great place for all levels and is a popular starting sport for anyone who has never tried rock climbing before.
Their auto belay system means that you and a friend can climb side by side instead of taking turns. They also offer climbing classes in Singapore that are suitable for kids and families.
---
On Sight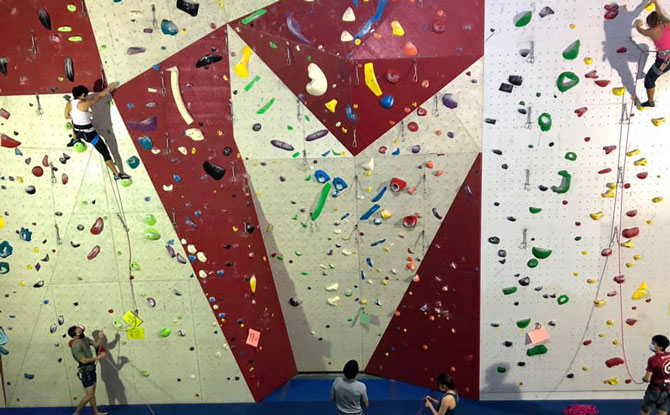 Boasting to be the biggest indoor sport climbing gym in Singapore, climbers can use their 10,000 square foot space with 2,000 square feet of bouldering surfaces and a 15 metre speed climbing wall, among other things.
Here climbers can do rock climbing, bouldering as well as abseiling. If you're looking to have rock climbing become part of your regular activities, take a visit to their retail store that is a great place to get the basic equipment to get yourself started.
---
Ground Up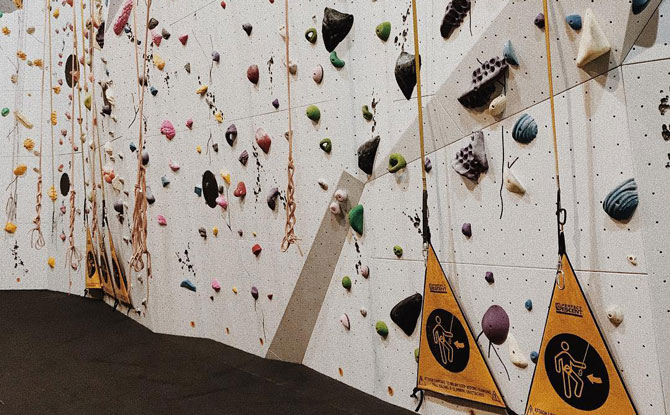 Ground Up Climbing Gym offers professional rock climbing coaching services, route setting and fun-filled kids and adult climbing classes in their rock climbing space. There you can also take climbing and belay certifications that will come in handy if you wish to look into coaching or climbing internationally.
You can do both rock climbing and bouldering at their indoor facilities and they have an outdoor lead climbing facility where advanced climbers can test their skills.
---
Action Motion
For those who prefers activities of the usual fare, Action Motion has a rock climbing facility that challenges climbers.
Each wall has multiple routes that climbers can attempt to scale, which are all unique. There is also an AR bouldering area too.
Read more about Action Motion at HomeTeamNS at Bedok Reservoir
---
BFF Climb
BFF Climb is opened by avid climbers who love having families climb together. One of its founders, Winson, is also the founder of My Little Climbing Room which is a climbing gym dedicated to children.
There are two main zones at BFF Climb – the Boulder zone and Play zone. There are different routes for various levels of climbers – from new, recreational, novice and intermediate levels. So do not worry if you have never scaled a wall – you can still go rock climbing in Singapore!
---
Kinetics Climbing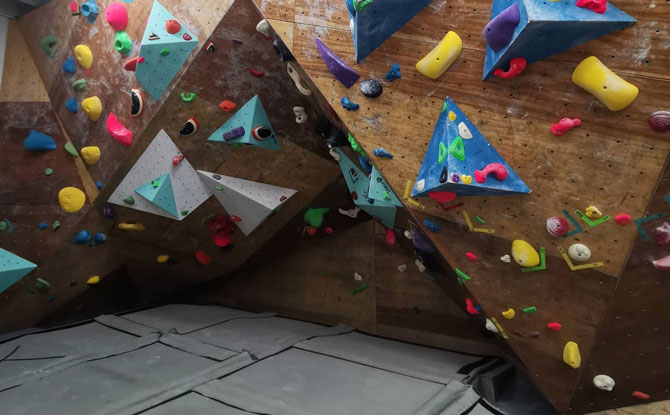 If you are a climber who thrives on novelty, Kinetics Climbing regularly switches up its climbing routes, so you can look forward to a different route to explore at every visit.
Their passes are also priced affordably at $17 for a single day pass for adults and $12 for students. Book one of their many climbing sessions that are catered to climbers of all different levels and interests.
---
T-HALL.SG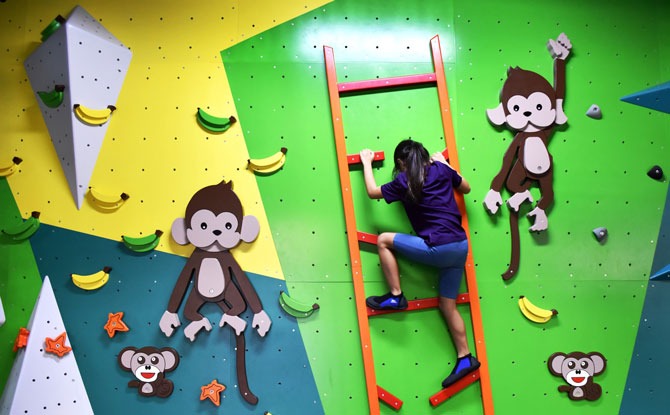 This indoor gym for rock climbing in Singapore has two zones: the Climb zone and the Fun zone.
Their Fun zone features various thematic walls that is a great activity for any celebration or day out. They also have an AR zone within the fun zone which features an augmented climbing wall. Using motion-sensing technology. the wall is transformed into various mini-games that require you to climb up, down, sideways and everything in between!
The Climb zone is where the fun doesn't stop as climbers can take their climbing skills to the next level with their courses and programmes catered to climbers of all levels.
---
Bolder World
Located at Paya Lebar Square, Bolder World is the largest bouldering gym in Singapore. There are over 100 routes for climbers of any level, you can be sure to get your adrenaline fix within your 90-minute session.
They offer a Starter Pack for adults that gets you a session with a dedicated instructor as well as other packages that let climbers work on their techniques and improve their climbing form.
---
Bolder Movement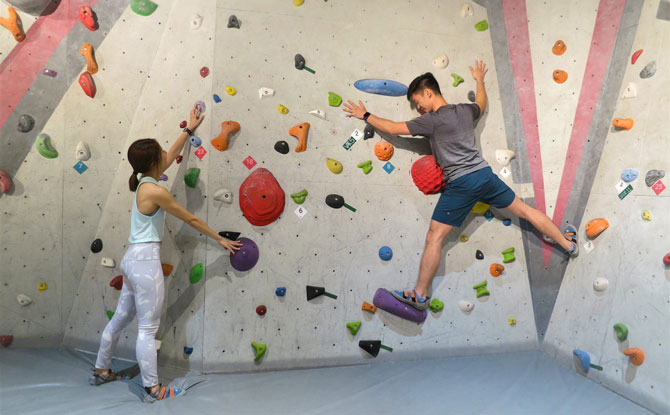 Conveniently located at the heart of CBD, this fun after-work activity will help you unwind and get fit at the same time!
This gym is equipped with the shower and changing facilities as well as personal bouldering classes that will help you overcome the fear of falling and let you enjoy the process so you can #climbtoabetteryou.
---
The Rock School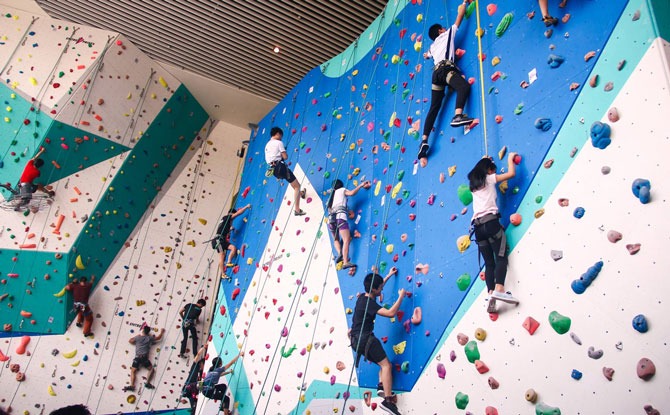 It is known but not often emphasised that rock climbing in Singapore is a great way to stretch you mental skills and problem solve while climbing.
The Rock School at Bedok Community Centre has specifically targeted rock walls that are child friendly yet will help them to develop their problem-solving skills and resilience.
They have a second outlet at Tampines that is great for climbers of all ages and abilities with facilities such as 25 lanes of top-rope wall, 10 lanes of lead wall and a free standing 4.5m-tall bouldering area.
---
Oyeyo Boulder Home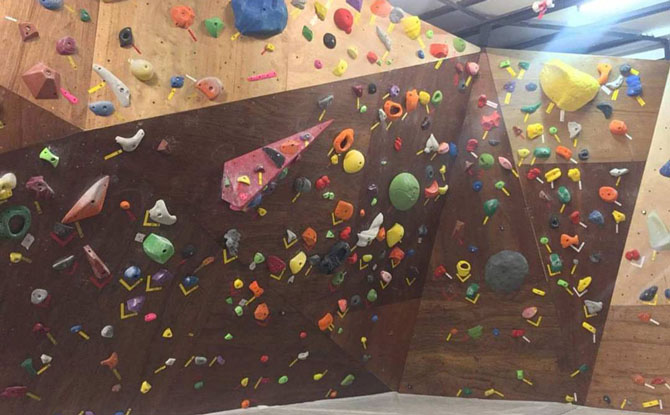 Tucked away from the hustle and bustle of the city, Oyeyo Boulder Home has 38 routes, obstacles and walls for you to explore. This is a preferred space for anyone who wants a little more privacy as they do their virgin or first few climbs without the feeling of many people watching.
If you're looking for a super-chill environment, this is the place for you.