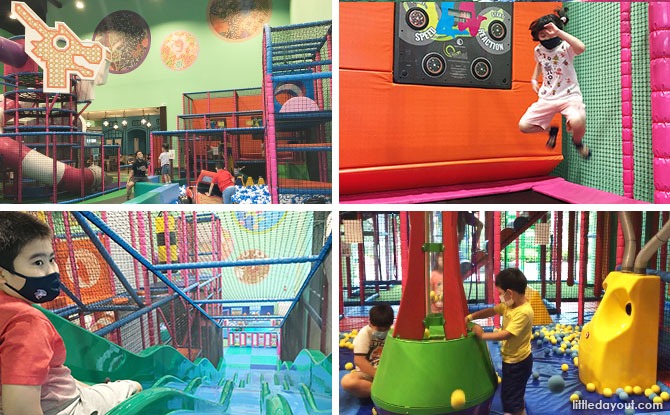 After days of thundery showers, the kids literally leaped at the chance for two hours of play at Singapore's newest indoor playground, T-Play @ HomeTeamNS Khatib, and boy, did they have fun-filled time.
Bright and colourful with a nod to Singapore's cultural heritage, the high-ceiling T-Play @ HomeTeamNS Khatib indoor playground is designed in partnership with The Intan Peranakan Home Museum.
It sports a Peranakan and old school playground theme and provides a play-packed arena for parents and children to spend time together. It was literally fun in motion!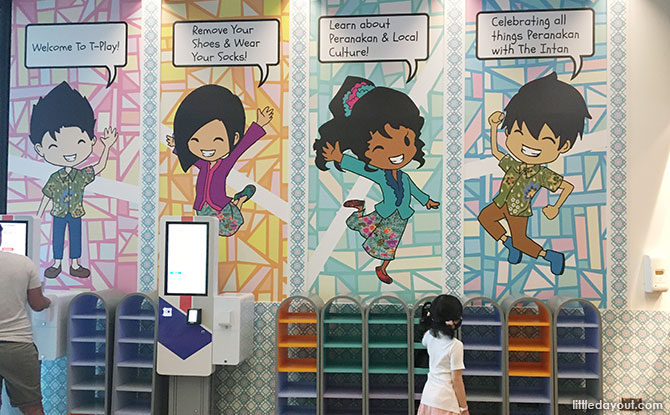 On entering T-Play @ HomeTeamNS Khatib, we could not help but stop to admire the pretty entrance and rainbow pigeonholes for shoes. It was a nice welcome area to the indoor playground.
After a quick check-in, the kids raced off and jumped up onto the multi-level play system; they couldn't wait to explore.
---
Climbing Structures and Topsy-turvey!
The tiered climbing structures were just the right balance between being easy to navigate, with padded rungs to haul ourselves up by, and offering the challenge of slipping up and over each section.
When we reached the top, there was the view of children playing on the colourful hopscotch squares at the ground level – an old-school nod.
Others were tackling the other play zones at T-Play @ HomeTeamNS Khatib. We even caught sight of the MRT train rushing by on the overhead tracks outside.
My kids bounded up the padded steps lightly and moved through the different sections like quicksilver. It turned into a game of parent-child hide-and-seek.
---
Slide Towers and Racing Wave Slides
This indoor playground has the loveliest, giant slippery slides!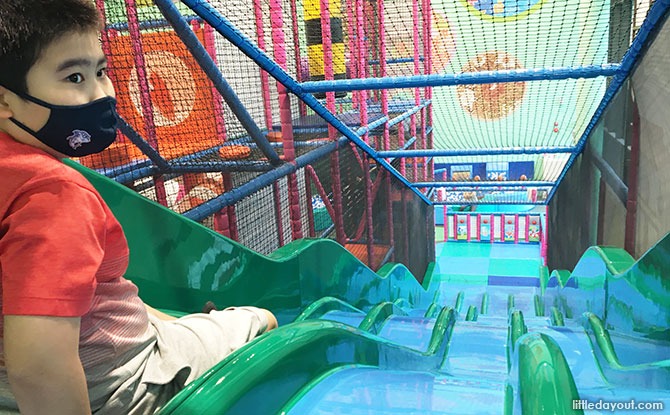 Both kids loved the huge super-fast, four-lane wave slides and seized the chance for a slide race! These speedy blue-and-green slides provided competitive fun for kids as well as for parent-child slide-a-thons.
My competitive younger girl slid down beaming with delight as she went so fast and landed first!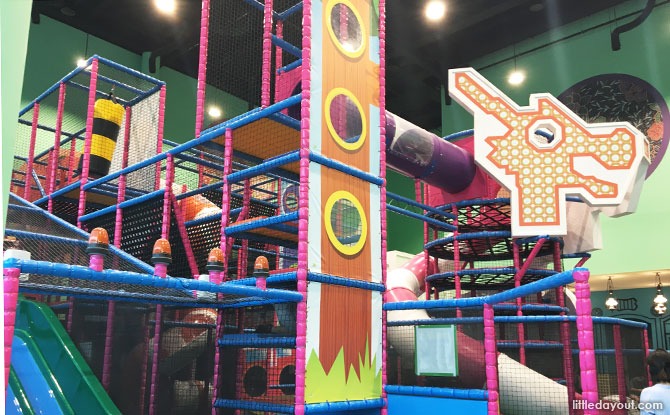 The Khatib playground has three long spiral slides and the main centrepiece is an enormous Dragon Playground replica with a sunny Peranakan pattern!
At the tallest curving tunnel slide, there was a sudden role-reversal when I found myself spiralling down, holding on to my nine-year-old on my lap, and he ended up reassuring me!
It was a rollicking rush of fun as we shot round and round, landing softly and breathlessly. It was so fun we had to repeat the ride a couple of times!
---
Battles at Shooting Foam Ball Arena
A hit with the kids was the tall vacuum ball blaster with air pumps launching tons of bright blue-and-yellow foam balls up in the air. The balls rained down all over the place, making it super-popular with the kids.
Fitted out with air pressure cannons for dynamic shoot-outs, this arena provided smashing fun for children of all ages. The kids loved taking aim, firing and dodging the flying balls, making it a game of agility and reflex.
---
Ball Pit Duels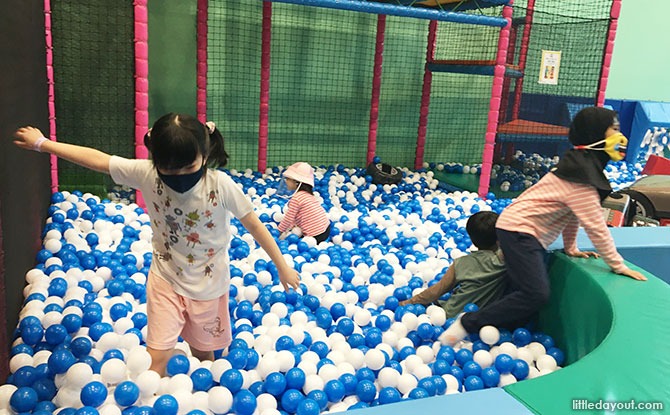 T-Play @ HomeTeamNS Khatib has not one but two ball pits to keep children very happy!
My terrific twosome indulged in ball fights after wading around and attempting to submerge themselves in the pools of blue-and-white plastic balls.
---
CardioWall Freestyle Interactive Trampolines
The two trampolines where they could bounce up and down also made it on the kids' favourite list. It gave them a sense of flight and expended their energy.
A pod wall allowed kids to test their speed and reaction skills. With two trampolines placed side-by-side, kids can also have an all-out two-player battle on the trampolines.
---
Dedicated Toddler Area with Ninja Course and Flyer Saucer Game Panels
For toddlers and younger kids, there is a dedicated cushioned obstacle course with a padded rubber floor where they can climb over shapes of different sizes and colours. The soft play area makes it suitable for little ones to tackle and tumble!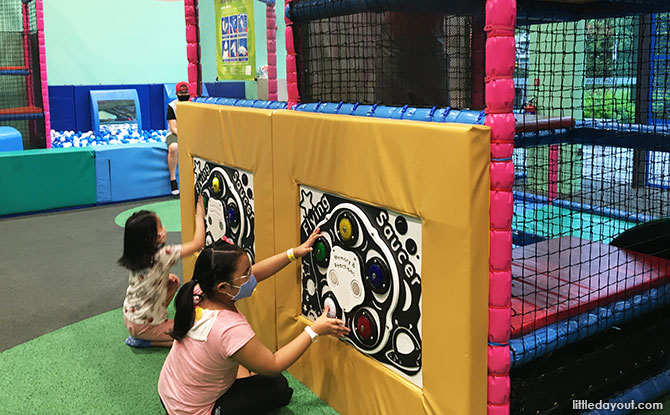 Younger ones can also play an inviting memory-and-reaction game where they can press and trigger colourful spaceships embedded in two interactive wall panels, thoughtfully positioned at toddler-height level.
---
Rest Area
There is a small area decorated with vintage wooden panelling, a television screen and kopitiam tables and chairs with vintage tile-pattern flooring.
Parents can head to the rest area to catch their breath and recover before joining back the fray. The rest area also provides a clear and direct view of the playspace to be able to eyeball their kids.
---
School Holiday Programmes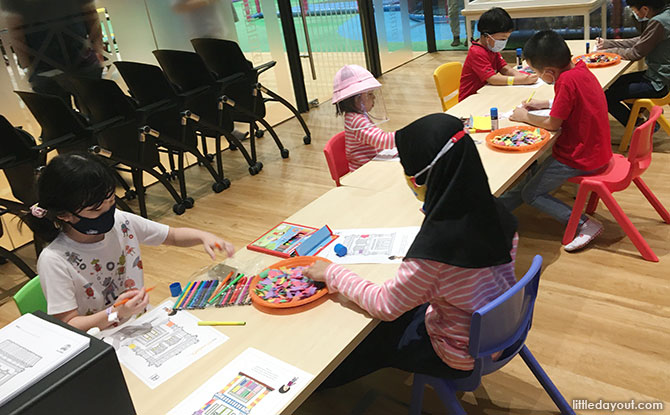 For some additional holiday fun, T-Play is offering a variety of activities and kiddy rides for craft and other specially-designed programmes.
My little girl joined a 40-minute art session where she completed a colouring-craft picture of a Peranakan shophouse and was extremely pleased with her artwork!
It was part of the array of school holiday programmes taking place at T-Play Khatib this December 2020. Other fun Peranakan-themed craft activities and workshops include a chance for kids to make kueh ku keychains and batik art. There are also storytelling sessions and a chance to meet Santa too.
Similarly, over at T-Play Bukit Batok, there craft activities such as Christmas bookmark and Christmas card making, as well as Storytelling with Santa on Fridays, Saturdays and Sundays. More details of T-Play's holiday programmes can be found here.
T-Play @ HomeTeamNS Khatib offers plenty of fun for kids, and parents too. It is located at the first floor of HomeTeamNS Khatib!
Get more details and make your booking here.
---
T-Play @ HomeTeamNS Khatib
Address: 2 Yishun Walk, Singapore, Singapore 767944
Contact: 6705 9423
Website