Visitors heading to the State of Fun can now take a new intra-island cable car ride from Merlion Plaza to Siloso Point on Sentosa's western tip with the official launch of a new $78 million Sentosa Line on 14 July 2015.
This new Sentosa Line is an extension of the existing Mount Faber line and has three cable car stations, the Merlion, Imbiah Lookout and Siloso Point Stations. The Sentosa Line provides access to attractions such as Underwater World and Fort Siloso. Tickets are available for the Sentosa Line alone or as a bundle with the existing Mount Faber cable car line. Singaporeans and local residents can enjoy specially priced cable car tickets at almost 40% off the regular price of tickets.
A round trip on the new Sentosa Line costs $9 for Singaporeans and local resident adults, and $5.50 for children. Alternatively, they can buy a Cable Car Sky Pass to ride both lines for $19 (for adults) and $12 (children). Overseas guests pay $29 for the Cable Car Sky Pass, the current price for only the Mount Faber Line.
Mike Barclay, CEO of Sentosa Development Corporation said, "The new Sentosa Cable Car line will add great value to our guests riding on our Singapore Cable Car Sky Network. It offers a serene ride over our beautiful island, while also greatly improving access between Merlion Plaza, Mount Imbiah and Siloso Point."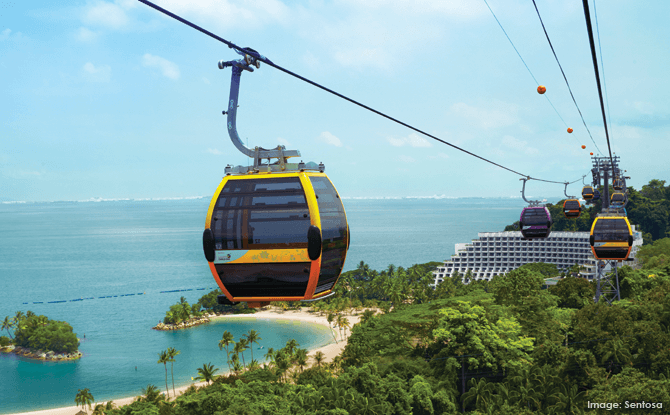 The Singapore Cable Car Sky Network will be free for Singaporeans and local residents from 9 am to 9 pm on 10 August.
Also announced was a new attraction, the Fort Siloso Skywalk. Open from 15 July 2015, the elevated bridge is 11 storeys high and takes guests on an aerial walking trial above the forest canopy.
Fort Siloso, previously a gated attraction, will now be permanently opened as a free attraction to visitors. Instead, paid guided tours will be conducted at the attraction for those who wish to understand the history of the Fort better. These tours will be available free to Singaporeans and local residents from 15 July to 10 August.
Related Story