The Keppel Discovery Wetlands is a great choice for a visit for those looking to discover more about wetlands while also enjoying their beauty just a stone's throw away from the city.
Keppel Discovery Wetlands: Recreated Freshwater Habitat at Singapore Botanic Gardens
Located with the Learning Forest, the Keppel Discovery Wetlands is a 1.8 hectare restoration of a freshwater wetland habitat. Opened in 2017, it recreates the freshwater eco-system that was historically found at the present-day Singapore Botanic Gardens.
Trails and boardwalk run through the Keppel Discovery Wetlands, making it a pleasant place to visit and enjoy nature.
---
Orchid Islands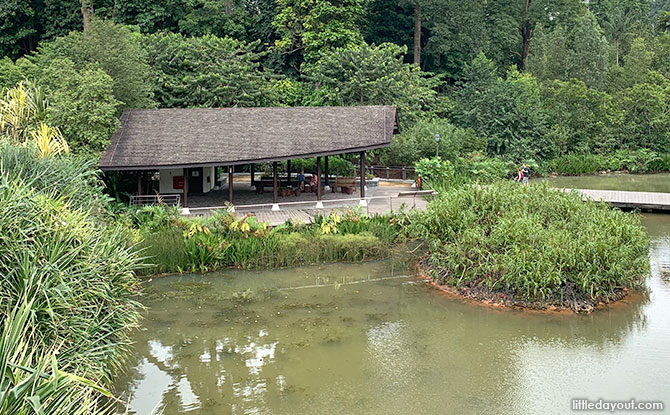 ---
-- Story continues below --
The Orchid Islands are one of the highlights of the Keppel Discovery Wetlands. It is intended to showcase orchid species that are native to Singapore. These include Deer Antlered Phalaenopsis, Finlayson's Cymbidium and the Nun Orchid.
If you visit at the right time of the year, you may be able to admire them in bloom and  also learn about their distinctive characteristics.
---
Botanists' Boardwalk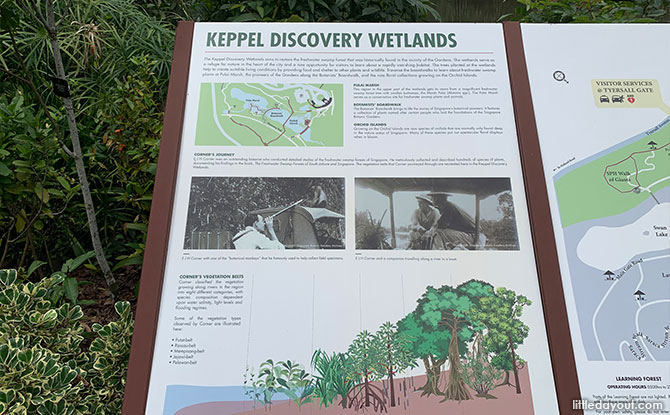 The Botanists Boardwalk is another noteworthy feature of the Keppel Discovery Wetlands. This 50 metre long boardwalk is dedicated to Singapore Botanic Gardens' early botanists such as such as Henry Ridley, who was the first Scientific Director of the Gardens from 1888 to 1912, and EJH Corner, who was the assistant director from 1929 to 1945.
These early botanists would go on expeditions throughout Southeast Asia to study and record the ecology of the region.
Plants along the Botanists' Boardwalk pay tribute to their work while educational signs and displays provide more insight into their contributions.
---
Pulai Marsh
The Pulai Marsh is recreation of a freshwater forest wetland. Based on historic maps from as far back as the 1860s, there was a stream running through the area. It was also discovered that the area was once a freshwater forest habitat.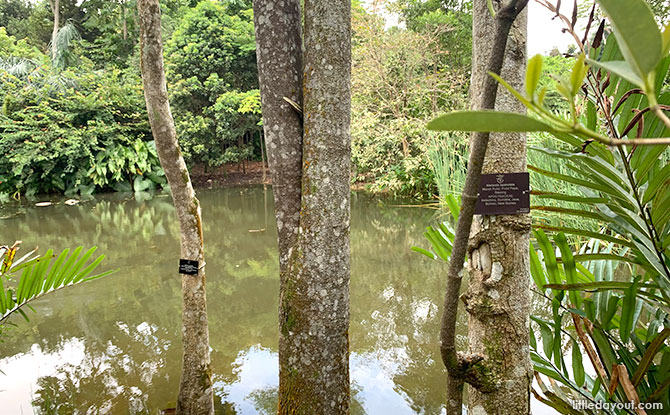 One of the trees found in the area was the Marsh Pulai, a tree with swollen buttresses that grows in flooded ground. It is this tree that gives the current Pulai Marsh its name.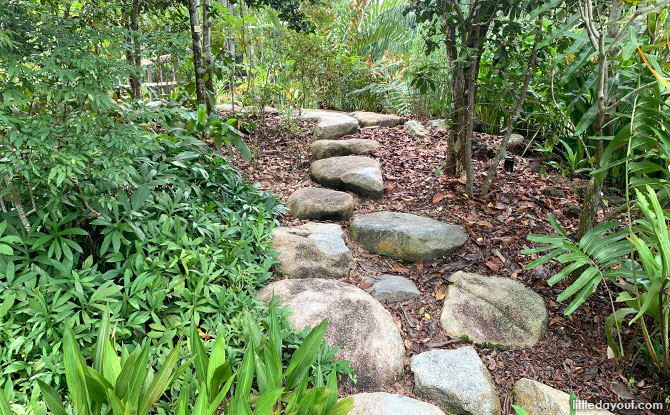 There are boardwalks and lookout points over the water at Pulai Marsh. A stone path connects the Pulai Marsh to the Botanists' Boardwalk.
---
Visiting the Keppel Discovery Wetlands
A visit to the Keppel Discovery Wetlands will provide an insight to what the Singapore Botanic Gardens was like before it became the pristine gardens it is today. While there, you can also take the HPL Canopy Link to cross over and the explore the Gallop Extension.