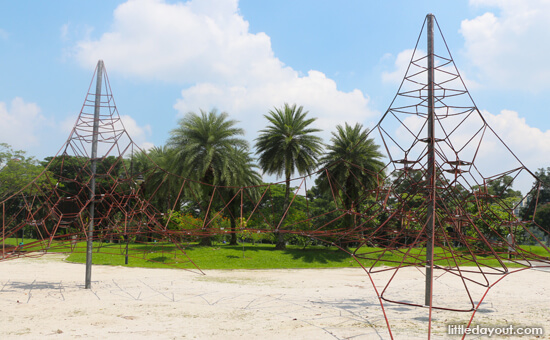 [As of April 2016, Jurong Lake Park has been closed for redevelopment as part of Jurong Lake Gardens. It is expected to be reopened in 2018.]
[Jurong Lake Park has reopened as Jurong Lake Gardens, Lakeside Garden.]
Jurong Lake Park and Playground is less well-known than its West Coast Park counterpart. Nonetheless, this park is equally inviting and fun for the family in arguably more scenic and less hectic surroundings.
Jurong Lake was formed by the damming of Sungei Jurong. In the middle of the lake are two islands where Chinese Garden and Japanese Garden are located.
Other than these two early "themed parks" is the Jurong Lake Park, completed in 2006. This lush green park has a children's playground and a 2.8 km water promenade that is a wonderfully enticing space for families and kids to linger and enjoy the outdoors.
Jurong Lake Playground
The sandy children's playground at Jurong Lake Park has different areas catering to kids from toddler to primary school age. The younger kids can meander through a colourful maze and a low play structure lets them stretch out their little hands and legs. Swings nearby also provide old-fashioned fun for little ones to take in the breeze.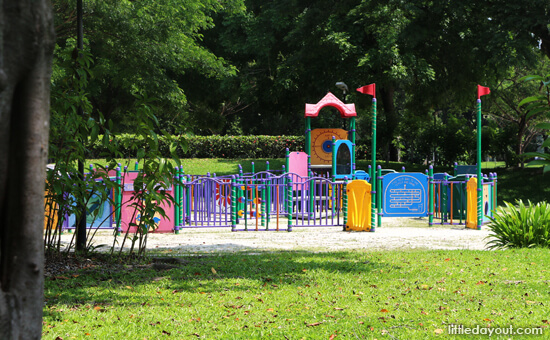 Older kids can explore the rope obstacles found at the other end of the playground. Jutting out from the hilly knoll are rope bridges that lead to three metal slides. A springy rope trampoline dares anyone not to give it a bounce while twin-peaked rope nets stand waiting to be conquered.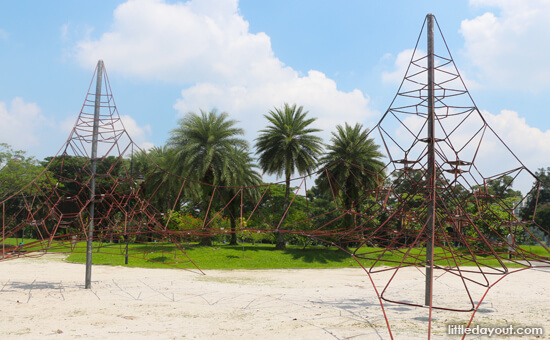 After you have managed to peel the kids away from the playground, take some time to enjoy the broad paths and shaded walks around Jurong Lake Park. By the water's edge, a boardwalk stretches over Jurong Lake and there is even a recreational fishing jetty at the far end where you can watch anglers trying their luck with the fish.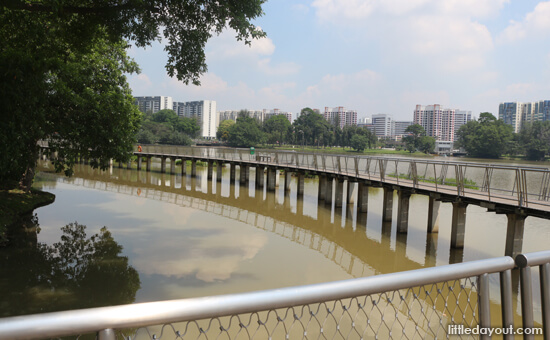 Jurong Lake Park also provides views of the nearby Chinese Garden and its pagodas across the lake. If you are feeling adventurous, pair a visit to the Jurong Lake Park to the Live Tortoise and Turtle Museum found inside Chinese Garden or explore the reclusive Japanese Garden. (Be warned that skate scooters and bicycles are not allowed in these two gardens so if you have them in tow, expect to be turned away at the gates.)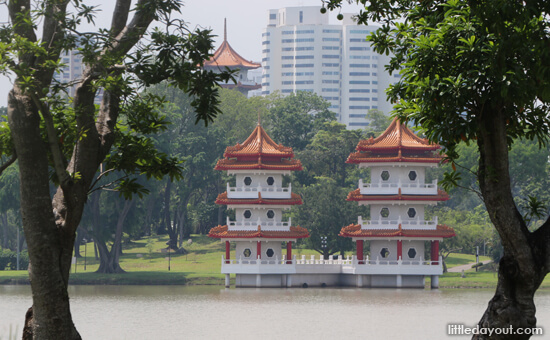 The Jurong Lake District is currently enjoying a renaissance at the moment with new shopping malls such as JEM, Westgate and JCube opening around the area. With other family friendly amenities in the area such as the Science Centre Singapore, its upcoming children's museum KidsSTOP, Jurong East Swimming Complex and the Jurong Regional Library's Early Literacy Library nearby, there is much to see and do in the area for families looking for a Little Day Out.