If you have ever visited Jurong Lake Gardens, Singapore's third national garden and the first in the heartlands, you would have likely come across the Lone Tree, standing prominently at the Grasslands section of the Gardens.
---
Lone Tree at Jurong Lake Gardens
The Lone Tree is a popular photo spot and one which many seek out when paying a visit to Jurong Lake Gardens.
However, did you know that the Lone Tree is not actually a natural tree?
---
-- Story continues below --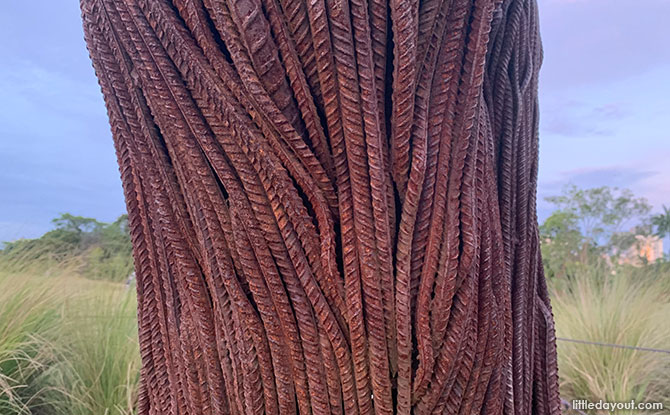 On closer inspection, it becomes clear that the barren-looking tree is actually a sculpture, made from twisted bars of metal that have been fashioned to look like a tree.
The iron reinforcement bars were recycled from the old Jurong Lake Park. This is fitting as the old Jurong Lake Park is now part of Jurong Lake Gardens. The Lone Tree provides a connection between the former park and the new Gardens which opened in April 2019.
---
Sculpting the Lone Tree
According to Ms Kartini Omar, Group Director, Jurong Lake Gardens, National Parks Board (NParks), the Lone Tree is the result of a collaboration between the Board and landscape consultant Ramboll Studio Dreiseitl Pte. Ltd.
The process for designing the tree took five months to complete.
At first, a few sample branches were made on a smaller scale to test out the desired weaving textures.
Next, the overall tree structure was constructed.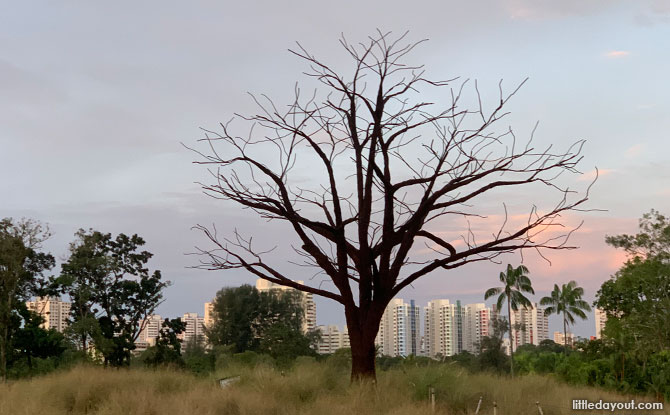 And if you find that the tree looks picturesque and Insta-worthy from multiple angles, that's not by accident either.
The various angles from which the tree can be viewed were taken into consideration. The individual branches were designed to look a natural tree with unique looks from all angles.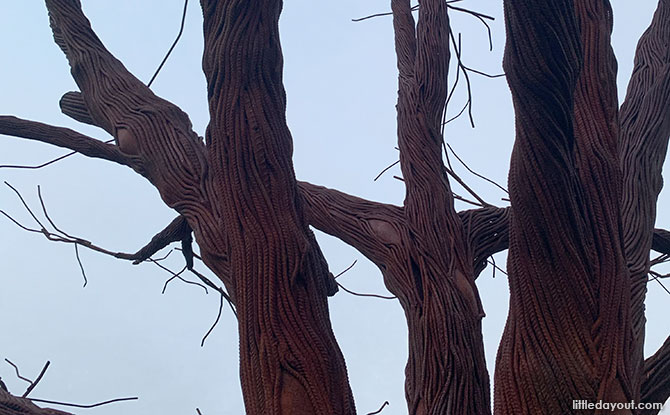 Welding was done on the branches to create a delicate bark texture. Look closely and you will even see knots incorporated into the design of the tree. Finally, a clear polymer was also applied to weatherproof the Lone Tree and reduce rusting.
The final result is the Lone Tree at the Grasslands, Jurong Lake Gardens which we can visit and appreciate today.
---
For All to Appreciate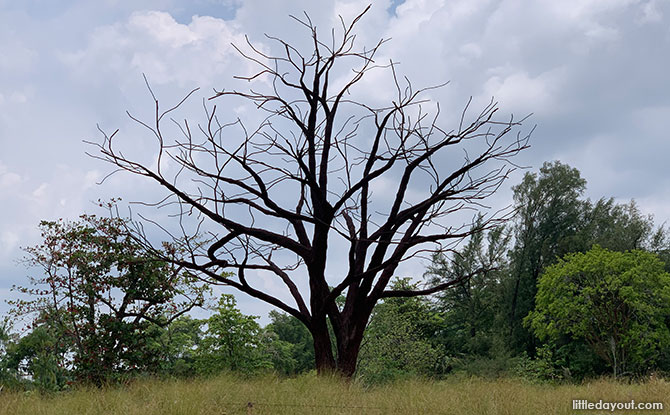 According to Ms Omar, the iconic Lone Tree has become one of the most photographed spots in the Garden and has been the backdrop for photoshoots and video shoots for weddings, graduations and more.