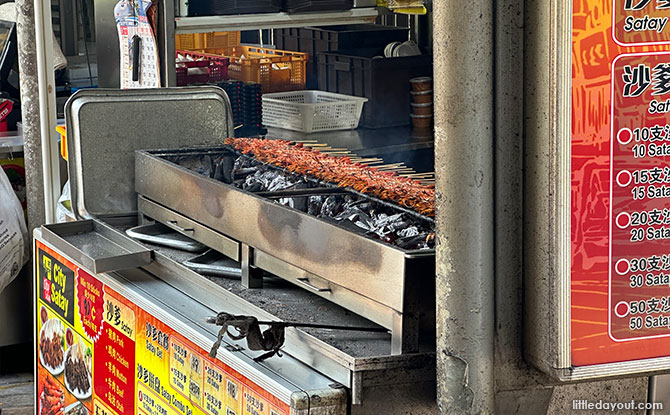 Get a taste of local Singapore flavours at Satay by the Bay. Nestled against the shimmering waterfront at Gardens by the Bay, this open air food court offers a wide variety of bites and flavours. Most well known for sizzling meat skewers, marinated with aromatic spices, or satay, there is more on the Satay by the Bay menu around its various stores for you to enjoy.
Even though it is a short 10-minute walk away from the rest of the attractions at Gardens by the Bay, Satay by the Bay is still a good place to grab a meal at lunchtime or in the evening.
Personally for us, we enjoy going in the evening to tuck into a local dinner before taking a walk back to the Supertree Grove to catch the Garden Rhapsody light and music show.
---
What to Eat at Satay by the Bay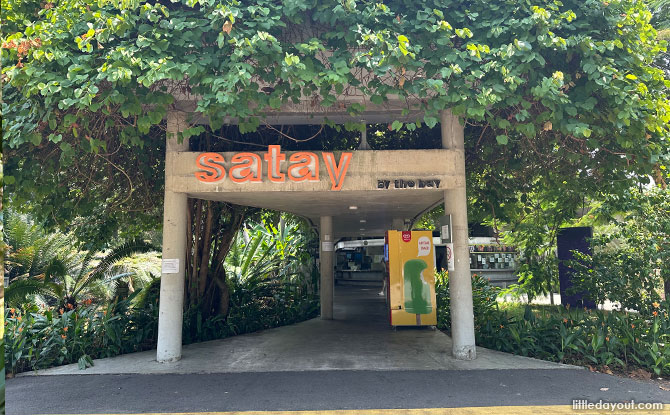 ---
-- Story continues below --
Satay by the Bay opened in 2013 and is a food court style eatery close to the Marina Reservoir. Local flavours are what you will mainly find at Satay by the Bay. There is a focus on barbecued foods, but you will also find other dishes here on the menus of stalls too.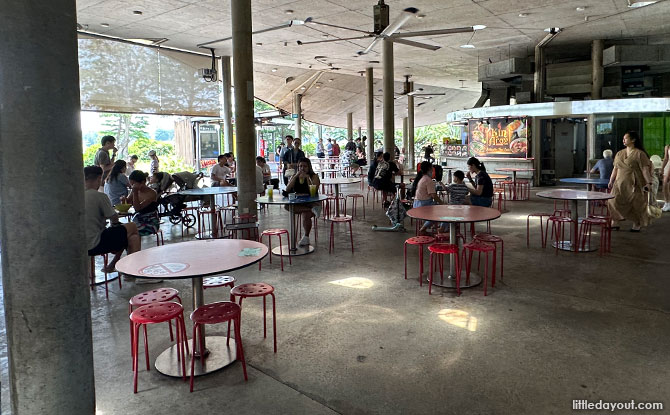 Do take note that the prices at Satay by the Bay can be a bit more expensive than what you would normally expect to find at more "local" hawker centres. However, you can to remember that it is located at Gardens by the Bay, a major attraction in Singapore, and, to some extent, it is meant to cater to tourists and overseas visitors.
Having said that, if you have limited time and want to get local food while at Gardens by the Bay, Satay by the Bay is an option that you can consider.
While Satay by the Bay can be nice and quiet during the day time, it can get really busy in the evenings and the tables can fill up quickly. Expect it to get noisy once it fills up, but that's part of the experience of eating at a place such as Satay by the Bay.
Here's a protip – if you are going on a busy evening, you may well have to wait for a while for the food. Therefore, if you are rushing off somewhere, for example to catch the light show at the Supertree Grove, arrive early to give yourself ample time for the food to arrive and to walk back to the main attractions.
Let's take a dive into what to eat at Satay by the Bay.
---
Satay Stalls
Let's start off with what Satay by the Bay is best known for – satay!
There are two satay stalls to choose from at Satay by the Bay. These are located outdoors, slightly away from the rest of the food stores, which makes sense since there is plenty of smoke generated by the grilling of the satay.
City Satay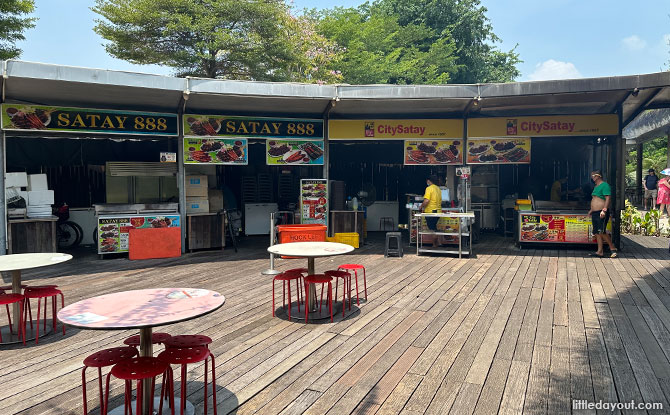 This stall serves up a delectable range of skewered BBQ meat that are sure to tingle your taste buds. This is our preference for satay when we are eating at Satay by the Bay.
If you wish to try pork satay, you can find it at City Satay. It also sells otah (a type of fish cake) and other types of satay including prawn.
Skewered and grilled to a tantalizing char, we enjoy biting into its delightful combination of flavours with the aromatic hints of lemongrass, turmeric and cumin. It is nice when dipped into the nutty creaminess of the peanut sauce.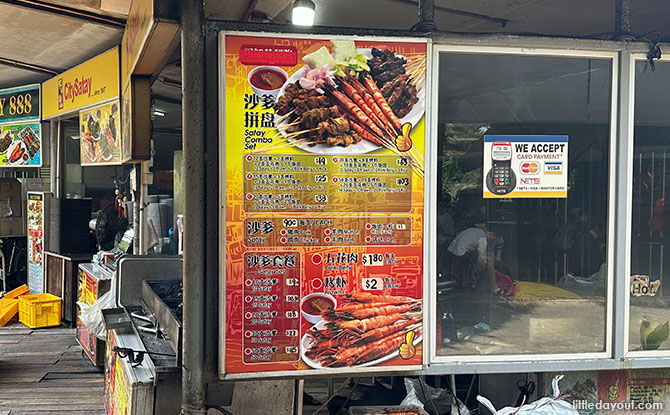 A satay set with 10 sticks of satay costs $9, while a set of 15 sticks of satay costs $13.50.
Geylang Serai Satay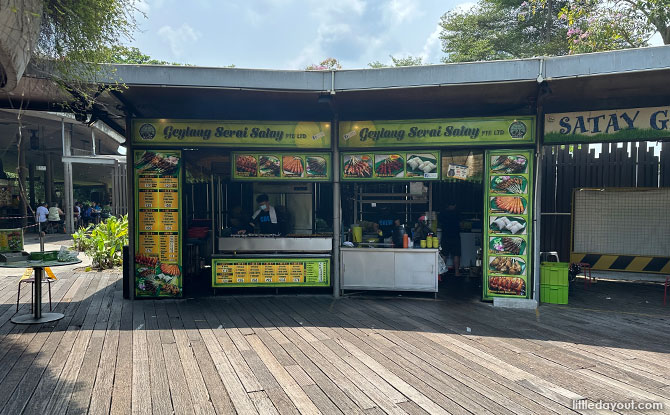 This satay stall has its roots in Geylang, Singapore's iconic Malay neighbourhood. Here, you can get a variety of meats including chicken, beef and prawns.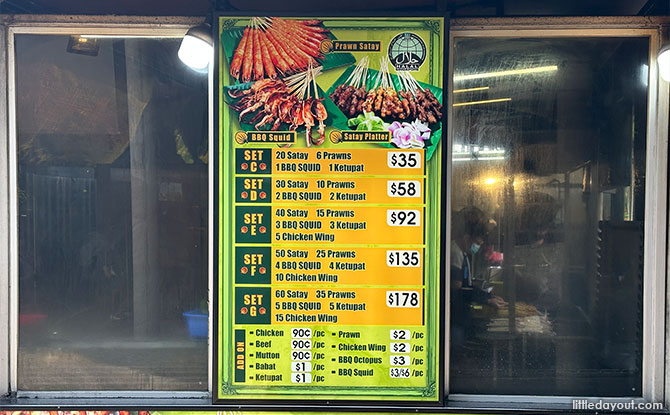 This stall sells halal satay. You can order by different sets. The Set A includes 10 pieces of either chicken, beef or mutton satay with one ketupat rice costs $10. Set B with 20 pieces of satay and 2 ketupat rice costs $20.
---
More Food Stalls at Satay by the Bay
The food options at Satay by the Bay isn't only confined to the skewered meat. There are also other options and you can browse around the various stores to look at what they have on their menus.
---
Seafood
If you love a bit a of seafood, you can check out the stores selling various types of seafood at the Satay by the Bay food court.
A piece of advice. Before you place an order, be sure to check on the prices first if the seafood is market price so that you don't get a nasty shock when the bill comes.
There are several stores choose from.
Marina Crab Galore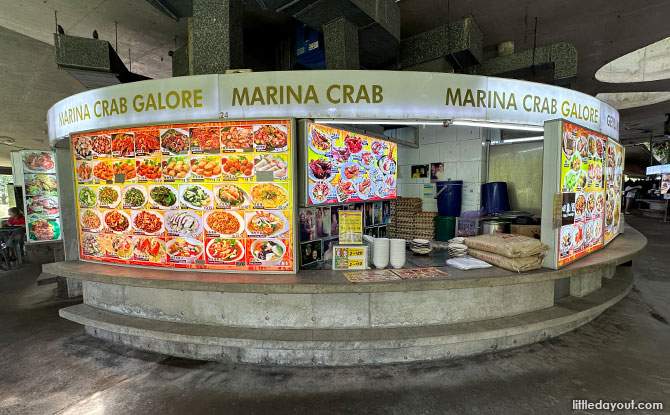 The signature dish here is the white beehoon but you will also be able to find other fresh seafood to satisfy your cravings.
Boon Tat BBQ Seafood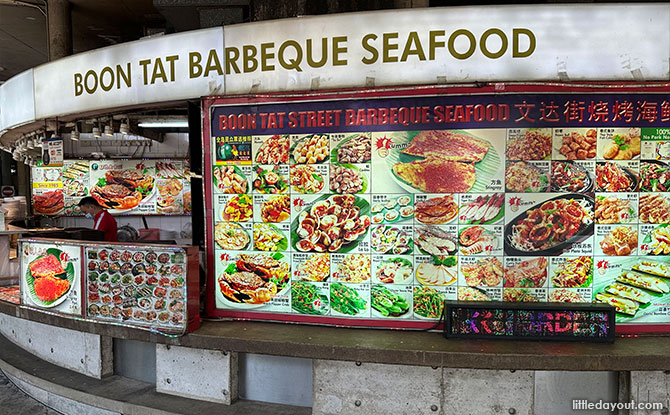 Boon Tat BBQ Seafood sell a wide assortment of seafood ranging from shellfish to scallops. The classic Singaporean seafood dish is sambal stingray. This is a piece of stingray barbecues with belachan or chilli paste on top to impart a spicy flavour to the meat.
Makan by the Bay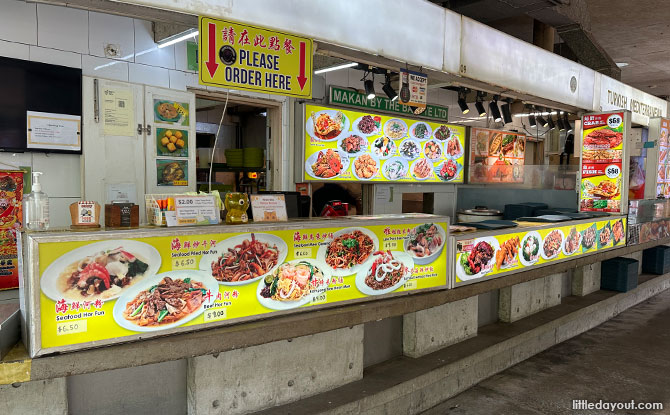 BBQ sambal stingray, Golden Fragrance crayfish and salted egg yolk crab are some of the seafood items on the menu at this Satay by the Bay store. However, this stall also sells popular local "one-dish" meals like seafood hor fun ($6.50), seafood mee goreng ($6.50) and beef hor fun ($9).
---
Satay by the Bay Steamboat
Marina Bay BBQ Steamboat Buffet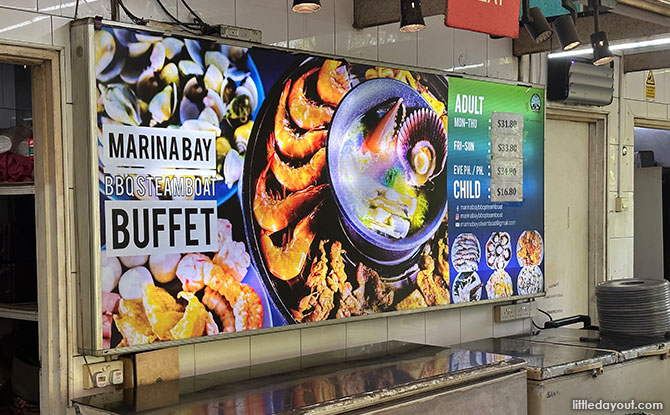 If you wish to indulge in a steamboat feast, head over to Marina Bay BBQ Steamboat Buffet. Not only can you a get a steaming pot of broth to cook the food on your own but you can also order some barbecued seafood too. It is the best of both worlds.
This Steamboat Buffet stall opens later in the afternoon from 3 pm to 10 pm.
---
Local Favourites
BBQ Chicken Wings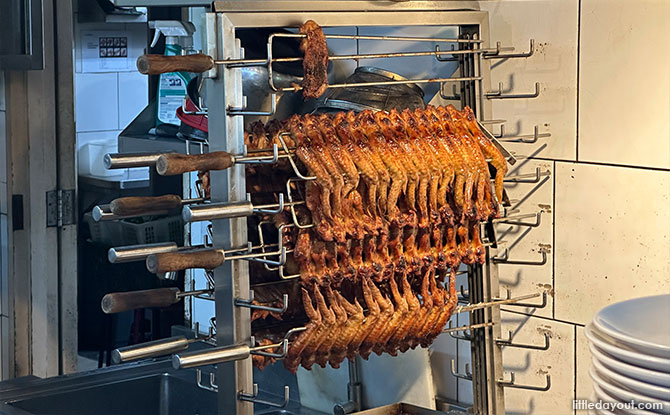 There is nothing like indulging in some freshly barbecued chicken wings, hot off the flame.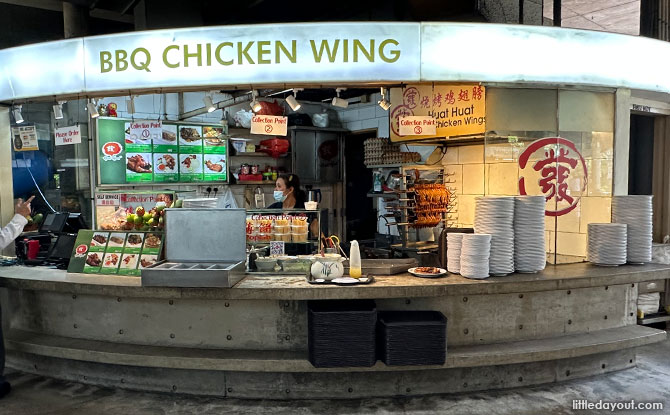 You can get some to try at Stall 18. We recommending getting the chilli sauce to go along with the chicken wings too.
Hokkien Mee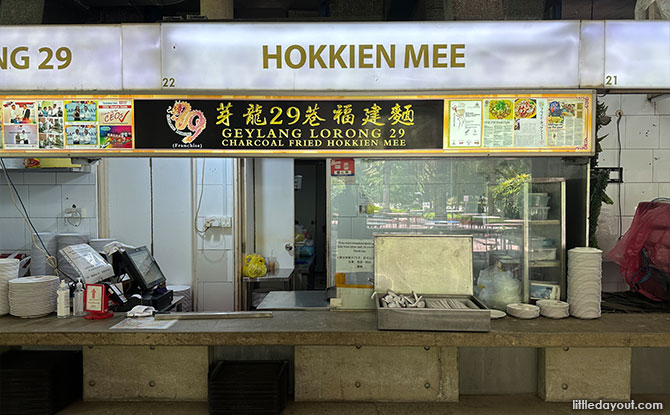 The Hokkein mee stall at Satay by the Bay is from Geylang Lorong 29 and takes pride in cooking with fresh prawns, succulent noodles, creamy eggs and of course, dried pork lard. We would recommend trying it when they have just fried a new batch – that's when it is nicest.
Thai Cuisine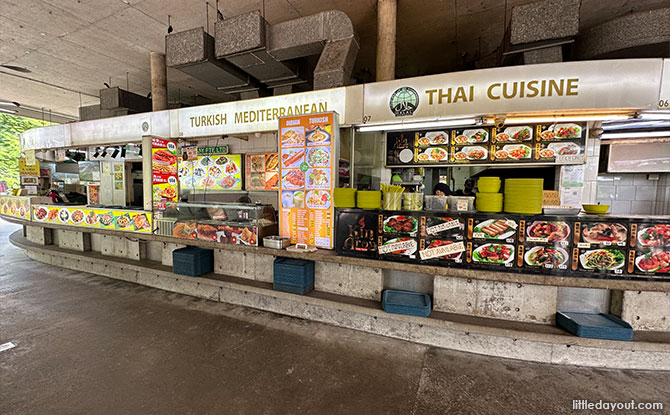 Thai Cuisine offers different types of Thai style dishes such as Sweet & Sour Sliced Fish Rice, Basil Minced Meat Chicken Rice and Seafood Mixed Rice. You can also order dishes for sharing like Thai Style Fried Beancurd ($10), Spring Roll ($10 for 10 pieces), Green Curry ($12 for chicken and $15 for seafood) and Tom Yam Seafood Soup ($10).
Turkish Mediterranean
Even though the signboard says Turkish Mediterranean, this store also sells Indian food. This means taht you can get Indian dishes such as thosai and tandoori chicken alongside falafel served with bread and shish chicken with rice.
---
Drinks & Dessert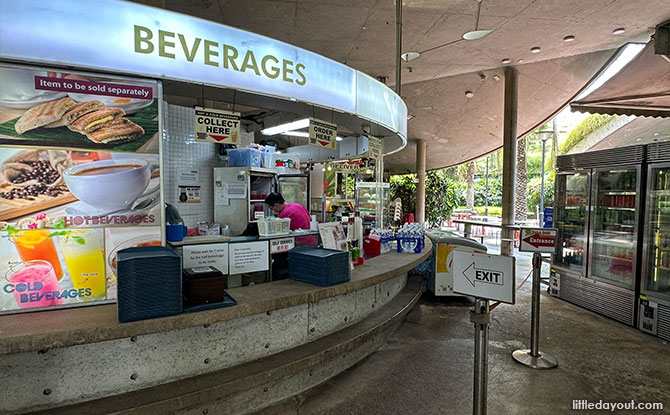 All the fried and barbecued food at Satay by the Bay is best paired with some refreshing drinks to wash it down.
You can pick up some drinks from Stall 25, the drinks stall, which also sells fruit and dessert.
26 @ Marina Bar & Bistro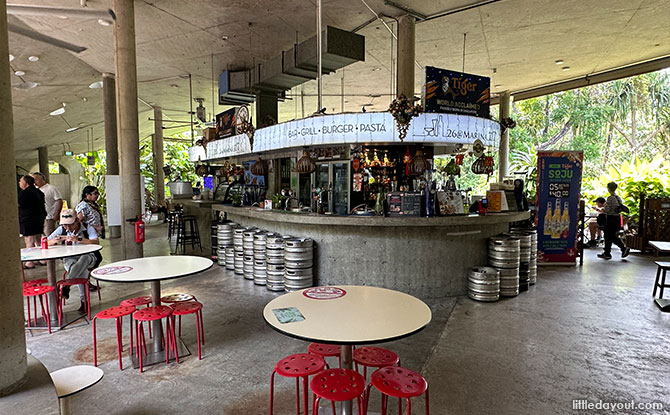 If you wish to get a beer to go with your food, go to the 26 @ Marina Bar & Bistro to order a beer. They also sell food to go along with the beer.
---
Pay a Visit to Kingfisher Wetlands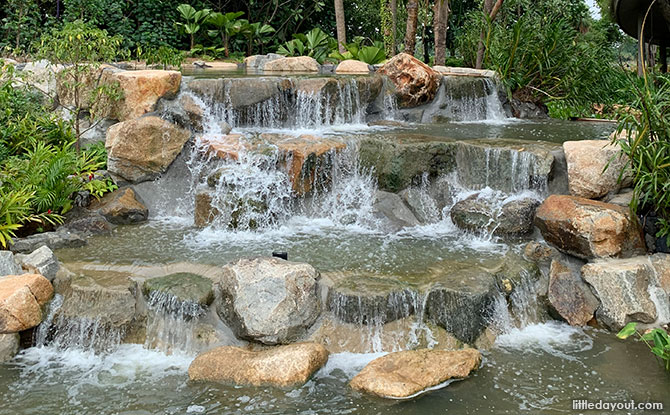 After or before having a meal at Satay by the Bay, you can also take a wander around the adjacent Kingfisher Wetlands. View the dramatic Main Cascades where water pours down into a natural rock pool. There are mini waterfalls for an added touch of theatrics.
We like visiting this feature in the evening because it all lit up, adding further ambiance to the water feature. Kids may even enjoy playing games around the various paths and hedges at the wetlands.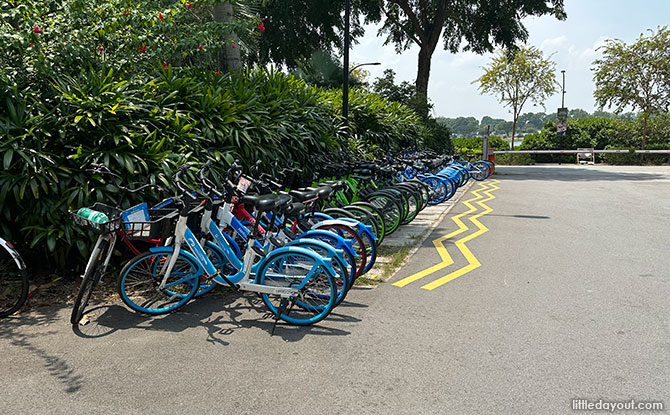 Another pro tip is that there are bikes available for rent at the Satay by the Bay car park. These are the automated rental sort.
If you wish to go cycling, you can rent them and them pedal around Gardens by the Bay and even Bay Gardens East. Then end off your time with a nice meal at Satay by the Bay.
---
Useful Information for Visiting Satay by the Bay
Here is some useful information for those planning a visit to Satay by the Bay.
Opening Hours
Food stalls: 11.30 am to 10 pm (except for steamboat)
Steamboat Buffet: 3 pm to 10 pm
Drink stall: 9 am to 10.30 pm
Location
18 Marina Gardens Dr, Singapore 018953
In addition, it may be useful to know that you should clear your trays and dishes from the table once you have finished your meal. There is a tray return counter next to the drinks stall, just opposite the chicken wings stall.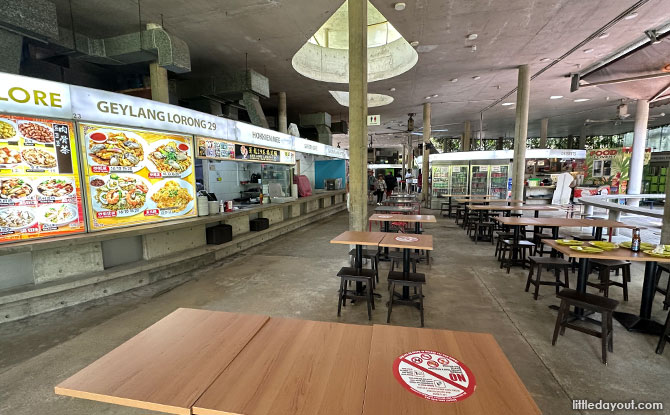 Have a nice time enjoying the food and ambiance at Satay by the Bay. It is a nice way to get a local experience while at Gardens by the Bay.
If you enjoyed reading this story, we predict that you will also appreciate this useful guide to Gardens by the Bay, as well as this other guide to Bird Paradise, or this upcoming event in September 2023 at the wildlife parks.