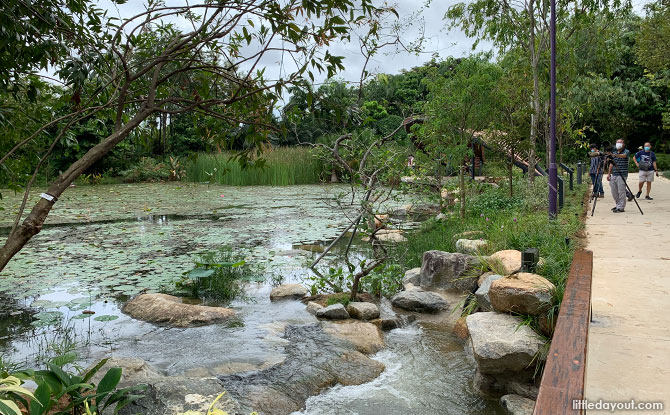 The Kingfisher Wetlands has recently undergone an upgrade, providing a new sanctuary in the heart of the city for wildlife and a place where visitors can take a stroll to enjoy nature.
Located in between Satay by the Bay and the Main Entrance, the Kingfisher Wetlands occupies a corner of Gardens by the Bay that is less often visited.
It connects up the Lotus Pond beside Satay by the Bay with the Kingfisher Lake. Many of the enhancements have been made at the Lotus Pond.
---
Kingfisher Wetlands: Main Cascades and Natural Rock Pool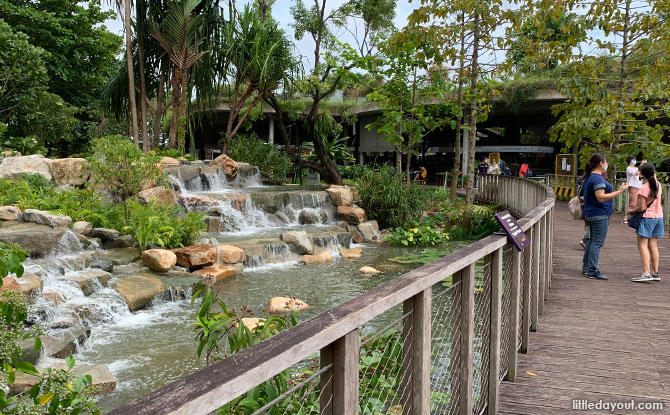 From Satay by the Bay, a bridge leads out into the Kingfisher Wetlands.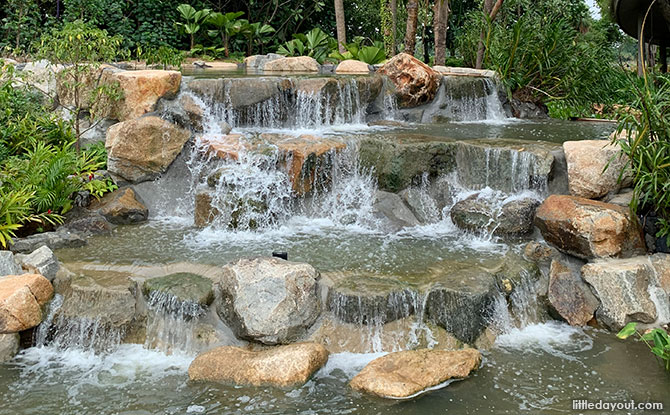 At this zone, the dramatic Main Cascades pour down water into a natural rock pool. The mini waterfalls are a nice touch. It reminds us of the similar water feature found at the Gardens' Serene Garden.
---
Kingfisher Cascade: Connecting the Lotus Pond & Kingfisher Lake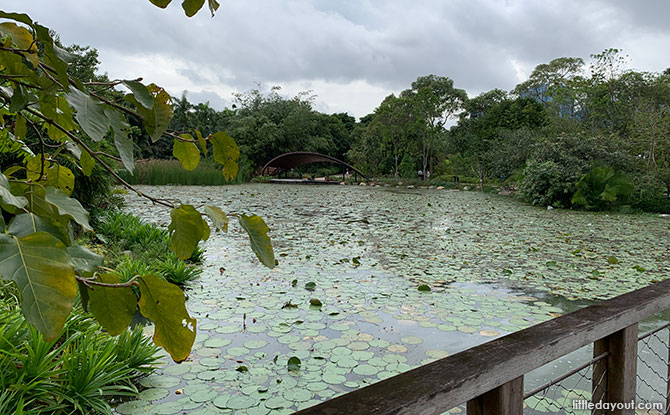 On the other side of the bridge is the Lotus Pond. Around the edges of the pond, there is vegetation such as long grass which provides a natural habitat for birds and wildlife.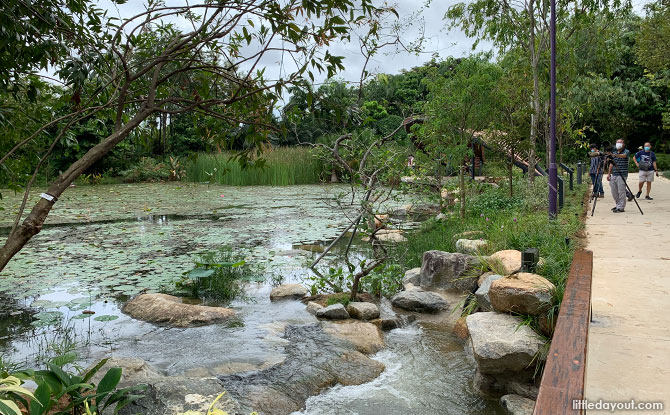 The Lotus Pond has been interconnected with the adjacent Kingfisher Lake via set of meandering cascades known as the Kingfisher Cascades.
There is even a little naturalistic trail, known as the Cascade Walk, that you can take to reach the water's edge.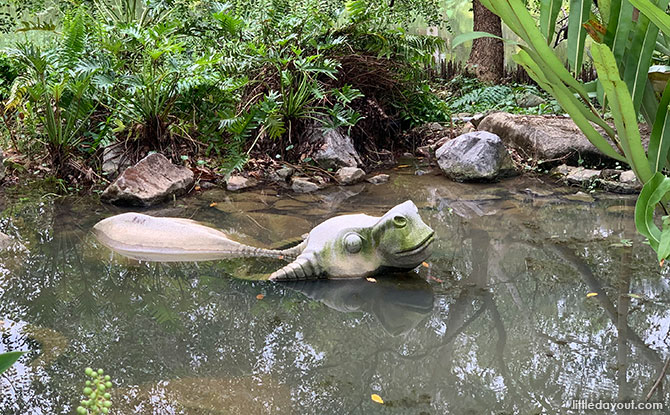 See if you can spot the water buffalo sculptures found near the Cascade Walk.
---
Informational Signs
Around the Kingfisher Wetlands are signboards which provide information about the birds and wildlife that have been spotted at Gardens by the Bay.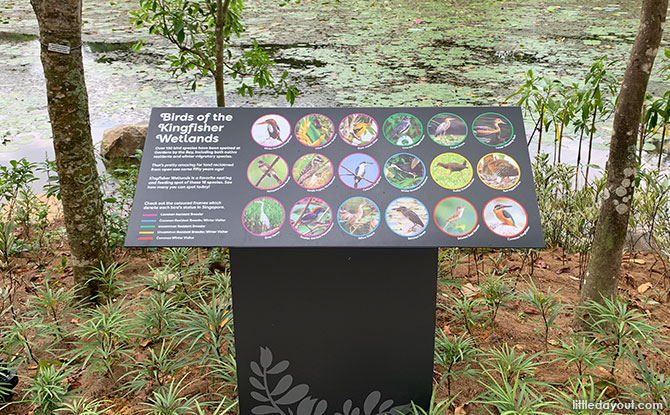 These include both native and migratory birds. 16 out of 40 migratory bird species spotted in Singapore have spotted at Kingfisher Wetlands.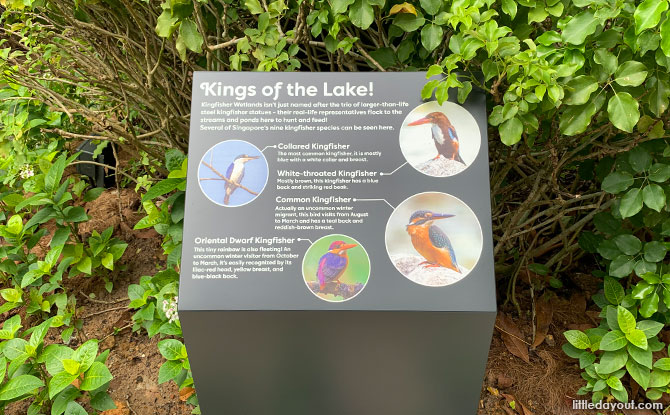 There are different species of kingfishers too, hence the name of the wetlands.
---
Wildlife Lookout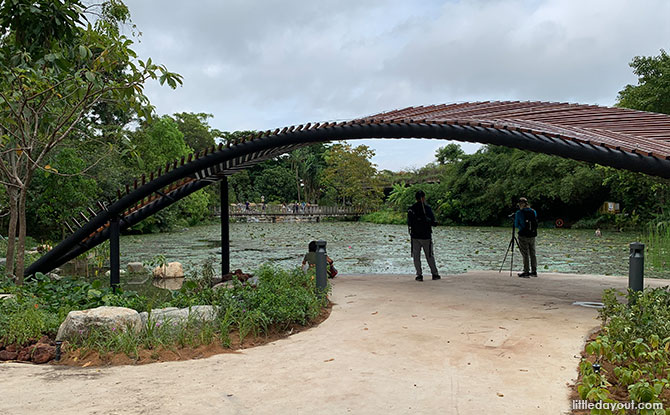 A Wildlife Lookout has been built beside the Lotus Pond. This acts as a platform for visitors to view the pond and try to spot wildlife and birds.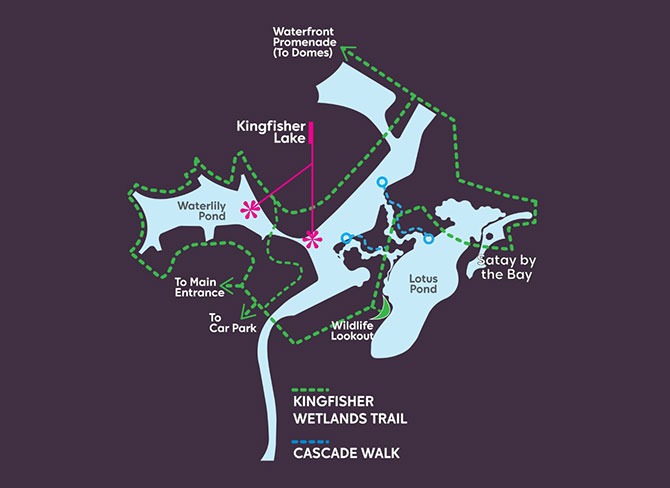 Visitors can also take a stroll around on paths that meander around both the Kingfisher Lake and the Lotus Pond too.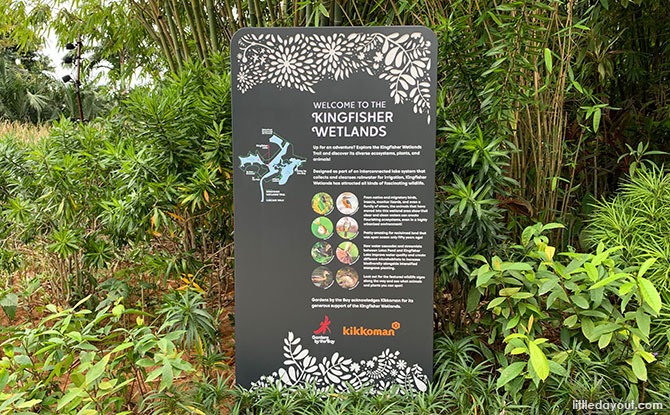 Kingfisher Wetlands provides a natural sanctuary for birds and animals in the city. Its enhancements were made possible by a $500,000 donation by soya sauce manufacturer Kikkoman.