Hidden away from the crowds at Gardens by the Bay is the Serene Garden. This two hectare, zen-like themed garden is one of the newest outdoor gardens at the iconic gardens.
---
Gardens by the Bay's Zen Outdoor Garden
Serene Garden is located at the southern end of Gardens by the Bay, a short distance away from The Meadow.
It has been inspired by Japanese zen gardens. This is immediately evident as you walk through the quiet paths that wind through the green space.
Some of the interesting plants and trees that can be found at the Serene Garden include Podocarpus and Junipers. Long associated with traditional Japanese gardens, they are able to thrive in Singapore's tropical weather.
Also adding to the Japanese feel is a grove a bamboo planted at the edge of the Serene Garden. They help to demarcate the boundary of the garden. They also lend an atmospheric air to the walkway at the Serene Garden.
---
Serene Garden: Rocks and Water
Another nice touch at Gardens by the Bay's Serene Garden is the presence of water features and rocks.
The flowing water create waterfalls which enhance a sense of oneness with nature.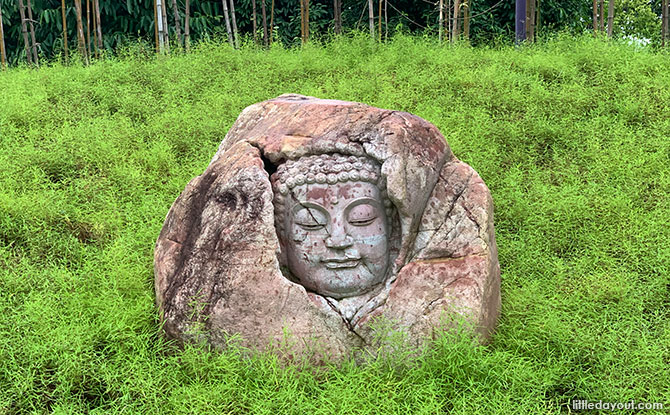 There are a variety of different rocks on display at Serene Garden. These were handpicked for the outdoor garden. They come in different colours. The blue and red ones, which number more than 150, were brought in from Niyodo, Japan. Some of the remaining grey ones have a more local source – a Bukit Timah granite quarry.
For those who wish to explore a different side of Gardens by the Bay, or simply want to escape to somewhere infused with tranquillity and peace, the Serene Garden is a good spot to visit, despite its proximity to the city and the rest of the attractions.
Do take note that that the lighting at Serene Garden goes off at 11 pm in an effort to conserve electricity.