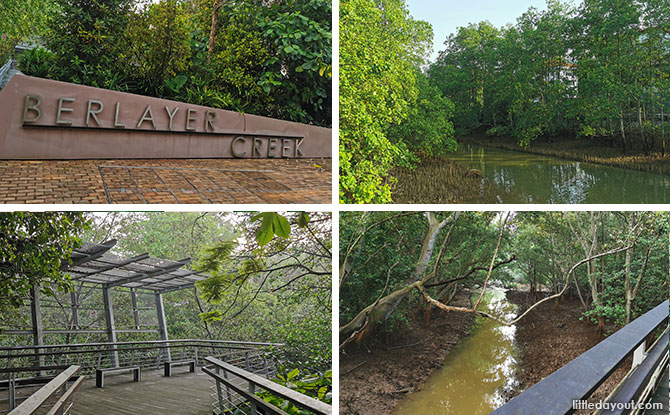 Berlayer Creek might sound like a place out of Singapore, yet it is the name of the Mangrove Boardwalk right next to Labrador Park MRT. This 0.9km trail takes 15 minutes to complete one-way, and is flanked by Keppel Club and Labrador Nature Reserve. It is one of the few remaining mangrove areas in the south.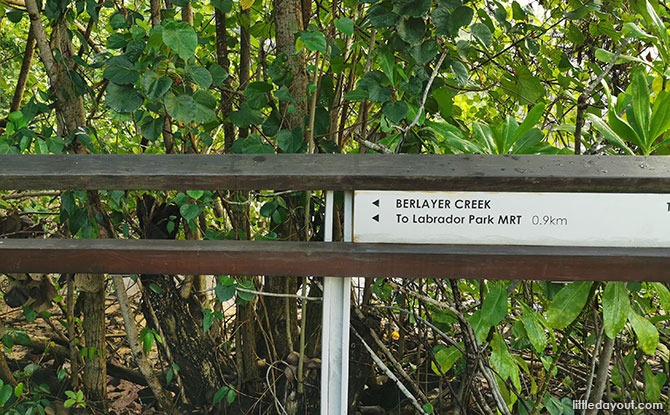 There are two points of entry – one at theLabrador Park MRT and one at Labrador Nature Reserve, right next to Bukit Chermin Boardwalk.
If you have not been to Berlayer Creek, here are 5 reasons why you should explore this boardwalk.
---
-- Story continues below --
5 Reasons Why You Should Explore Berlayer Creek
1. It is a stroller-friendly, bicycle-friendly path
It is an easy walk for the whole family! The boardwalk is flat and even, making it an easy stroll or jog. We have seen cyclists and joggers the few times we visited, the path is wide enough to be shared. Even Grandpa and Grandma can come along for the 15-minute stroll to the other side.
There are also two lookout points to rest at and look out for wildlife.
---
2. Wildlife aplenty
There's flora and fauna aplenty at Berlayer Creek. There are about 30 species of native mangrove and back-mangrove plants! Besides different kinds of mangrove plants like Bakau Pasir, Nipah Palm, Ambong ambong, Sea Holly, wild Pandan, you can spot insects, critters, reptiles, squirrels and birds.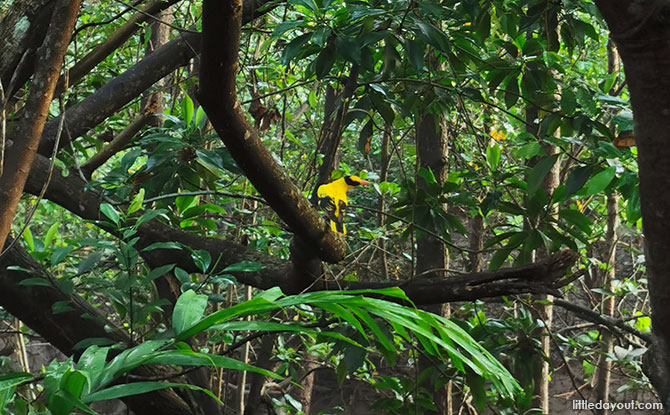 Try to keep voices low and observe the trees. Look overhead, try to hear the kingfisher calling or check the mudflats for crabs and mudskippers. We spotted many birds like the oriole, woodpecker, kingfishers. Just listen out for their calls or movement amidst the foliage. You may even find monitor lizards sunbathing or enjoying a swim, as well as the otters!
---
3. Conveniently located next to Labrador Park MRT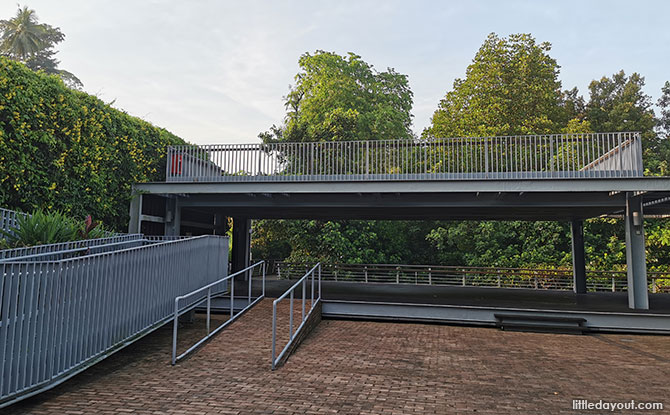 It is hard to believe you can find this piece of sanctuary so close to busy traffic. Berlayer Creek is located right next to Labrador Park MRT and a short walk into the mangroves will show a huge contrast between the sounds of nature and traffic. Be rejuvenated by the birdsong as you stroll through the creek.
As you exit the Labrador Park MRT, you can also check out Berlayer Creek Plaza. Follow the ramp to the 2nd storey where you be on a higher vantage point. The first level is also a hideout in case of rain.
---
4. Connected to Labrador Nature Reserve & Bukit Chermin Boardwalk
Berlayer Creek is connected to Labrador Nature Reserve and Bukit Chermin Boardwalk which means your adventures in the South can be expanded to an even longer walk or even some playground time. How about going on an Adventure Quest at Fort Pasir Panjang which is just a short stroll away?
---
5. Learn the Importance of Mangrove Ecosystems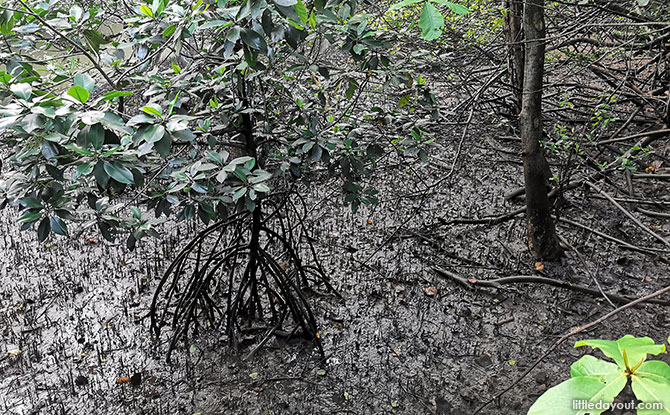 It is a chance to learn about mangrove forests and how they provide sustenance for many living organisms while protecting the shoreline. Parents and caregivers can highlight how the Mangrove plants are different, through its aerial root systems, and how the plants are a natural desalination system. The best way to learn about the mangroves is to see them up close!
---
Berlayer Creek – Rediscover Mangroves in the South of Singapore
We recommend a walk at Berlayer Creek. You can definitely be shaded by the trees, and be close to nature quite comfortably and conveniently. For drivers, the nearest parking is at Carpark B, Labrador Park.