A World War II site is the most unlikely place for kids to play but that is exactly where you can find the Labrador Park Playground with old-school style play equipment.
Protecting the Coast
Labrador Park was once the site of the Labrador Gun Battery. The area's hilly terrain made it ideally suited for positioning coastal guns to fend off seaborne attacks from the South.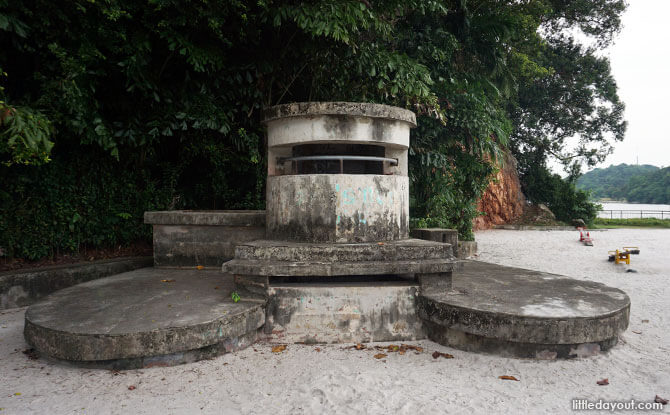 To protect these guns, defensive structures were set up along the beach. Among these was a machine gun nest which remains till today.
Nowadays, the weathered bunker has an unlikely companion – a contemporary playground. This is one of two playgrounds at Labrador Park.
Contemporary Old-School Play Equipment
Besides its unique location, this Labrador Park Playground is special for another reason.
Most modern playgrounds feature towers, slides and teeter-totters. This playground has none of those.
Instead, it has three updated versions of old-school play equipment.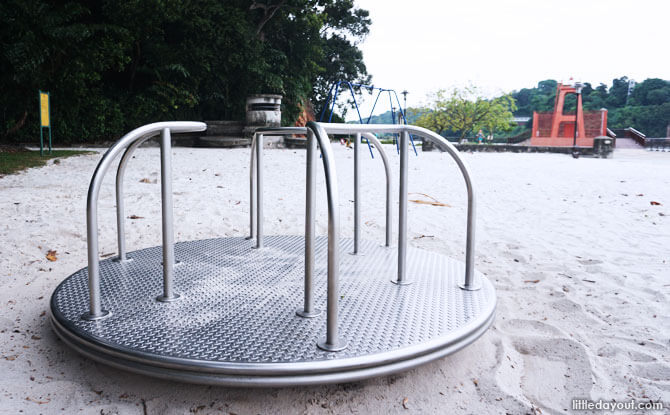 There is a metallic merry-go-round. Its three grab-bars allow kids to steady themselves while they spin into a frenzy on this old-school ride.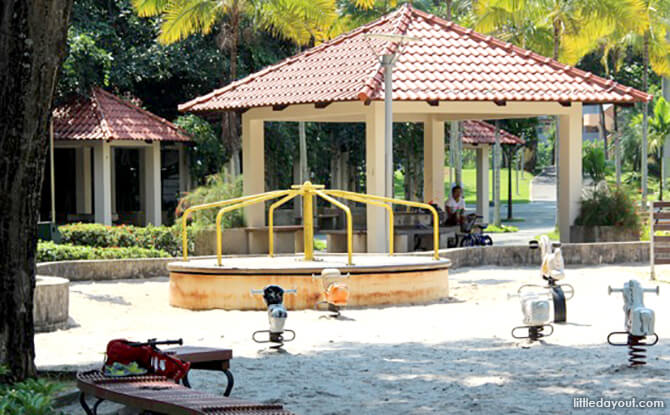 Merry-go-rounds similar to these used to be a familiar sight in neighbourhood playgrounds around Singapore during the 1970s and 1980s. Unfortunately, the last example of this type of merry-go-round (at least that we were aware of) was recently removed from Tiong Bahru Park.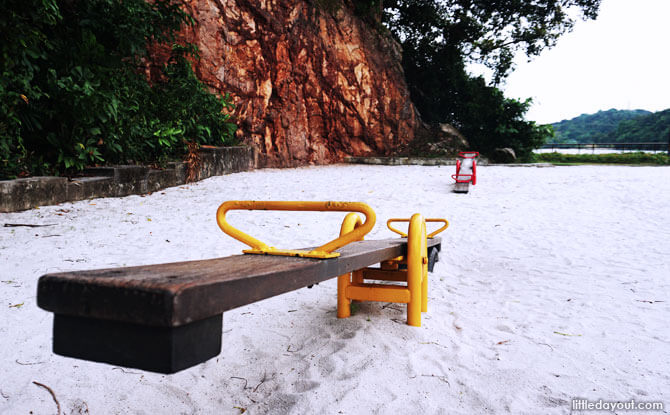 The Labrador Park Bunker Playground also has a pair of see-saws. These are similar to those found at olden-day playgrounds.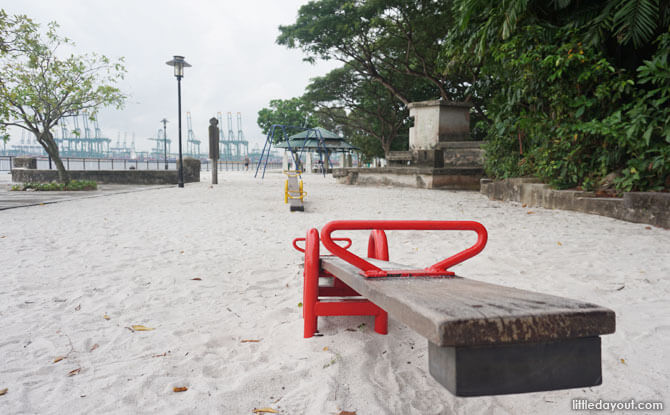 Each see-saw is made from a wooden plank with handles on both ends. A fulcrum in the middle allows the riders to kick the ground and push themselves up into the air.
A tire embedded into the sand cushions the impact of the rider hitting the ground.
The last set of such old-school see-saw (that we were aware of) was found at Mount Emily Park. Those are long-gone.
Rounding off the trio of play gear at the Labrador Park Bunker Playground is a swing set.
Labrador Park Playground: Play By the Bunker
The Labrador Park playground at the World War II machine gun bunker is a unique play spot. Not only for its unusual locality but for its contemporary versions of old-school play equipment.