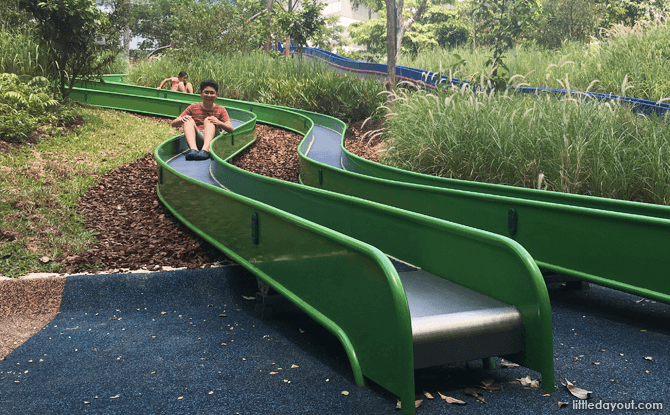 Admiralty Park holds the distinction of being the public park with the highest number of slides in Singapore. There are a whopping 26 slides at the park's playground, found at the southern end of the 27-hectare park.
Slides at Admiralty Park Playground
With such a large number of slides, there are different varieties to choose from. Here is a guide to five types of slides you will find at Admiralty Park's children's playground.
---
1. Open Slides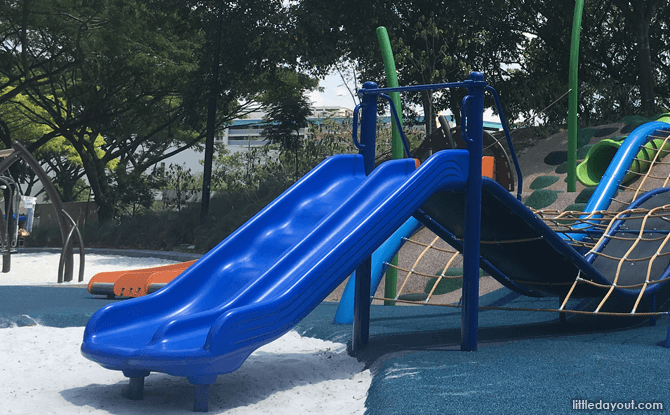 These are the regular garden-variety type of slides that we are all familiar with. The rider sits in a channel and gravity takes them down to the bottom.
---
2. Closed Plastic Tube Slides
Enclosed plastic tube slides are also a type of slide you can commonly find in a playground. At Admiralty Park Playground, some of these tube slides "burrow" through the ground, leading from one area to the next.
---
3. Double Barrel Tube Slides
Admiralty Park Playground is also home to the longest and tallest tube slide in a public park in Singapore. We can probably add a third title, "fastest tube slide", to it as well.
The Double Barrel Tube Slides are found at the Family Terracing Play Area. They are 23 metres long and start at a height of 9 metres up. It is advisable to stay clear of the bottom of these slides as riders can shoot out of them like a bullet from a rifle.
---
4. Roller Slides
Ever wondered what a piece of luggage at the airport feels like when it is rolled through the X-ray machine? Now, you can find out for yourself at Admiralty Park's roller slides.
These slides solve the problem of being stuck halfway down a slide. The sliding surface is made up of rows of rollers rather than just a sheet of metal.
Shorter ones can be found in the Junior Play area and the longer ones are at the playground's Adventure Play section.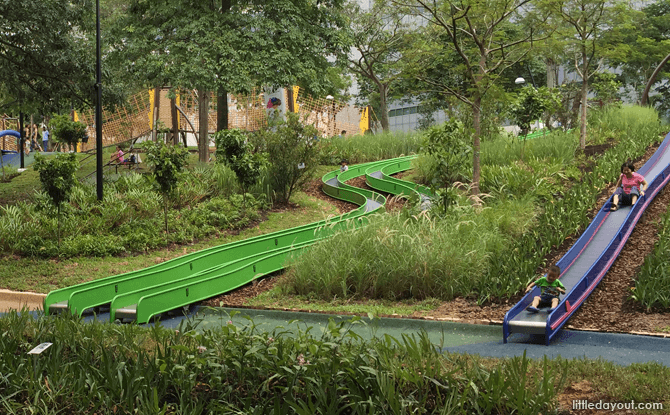 There are two types of roller slides at the Adventure Play area – straight and curved ones.
To get to the entrance of the straight roller slide, dubbed High Adventure Roller Slide, you have to climb up to a platform at the top of the hill. This should clue you in on what to expect from the 32-metre long straight blue roller slide. Hang as it is can be fast ride downhill.
The green curved roller has a gentler slope. You can experience what it feels like to be trundled along like a piece of luggage on the slide. This curved roller slide is the longest outdoor slide in Singapore at 34-metres long.
The roller slides at the Adventure Play area are fitted with interactive LED lightings that change colour and intensity with touch or motion. This adds a new dimension to the play experience in the evenings.
---
5. Family Slide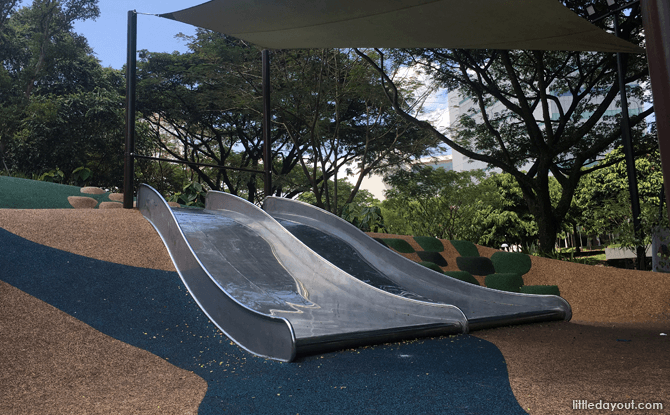 Located in the Junior Play section of the park, the Family Side is the widest slide in a park in Singapore. It is designed to accommodate up to four persons abreast so that parents and kids can enjoy the slide together. Family time just got a boost!
Watch Little Day Out's Admiralty Park Video
See what fun you can experience at Admiralty Park!

Click here to subscribe to our YouTube channel and to see more great videos!