East Coast Park bicycle rental stations make it easy to enjoy cycling at one of Singapore's favourite recreational spots. Pick up a bike and off you go for a leisurely cruise along shaded beachside paths.
If you are wondering where you can find the bike rental kiosks along the 11 km long East Coast Park and what type of bikes are available for rent, this guide is for you.
Here is a quick primer on how East Coast Park is divided up so that the references to different areas make sense. East Coast Park is divided into eight different areas A to H. Area A is closest to the City while Area H is closest to Changi Airport.
Area A: Opposite Singapore Swimming Club/ Tanjong Rhu
Area B: Opposite Meyer Road
Area C: Opposite Marine Parade
Area D: Opposite Victoria Junior College / Mandarin Gardens
Area E: East Coast Lagoon / Opposite Bedok Flyover
Area F: Opposite Bayshore
Area G: National Sailing Centre / Outward Bound Singapore East Coast Campus
Area H: National Service Resort & Country Club
---
-- Story continues below --
Where to Find East Coast Park Bicycle Rental Shops
Now, here are the locations you can find East Coast Park bicycle rental stations and the areas they are sited in. We have listed them in order, starting from the kiosk closest to the city and ending with the bike rental station at Changi Airport.
---
GoCycling @ Marina Bay
We are going to start beyond East Coast Park but we think this is worth a mention. You can rent a bike from the GoCycling kiosk at the ground floor of the Singapore Flyer.
From here, it is possible to cycle through Gardens by the Bay, across the Marina Barrage and Bay Gardens East to reach East Coast Park. The route is quite scenic and you can also return GoCycling bikes at any of their outlets. This makes is possible to start cycling from Singapore Flyer and return the bike at Changi Airport.
Where: 30 Raffles Avenue, #01-01, Singapore Flyer, S(039803)
Contact: 88313068
Operating Hours: Every day, 9 am to 9 pm
---
Bike Stop @ Fort Road
The kiosk labelled Bike Stop at Area B is located close to the Fort Road flyover, across from Katong Park. This makes a good starting point to explore the section of East Coast Park closest to the City or even to venture to Gardens by the Bay East. Bicycles available for rent include regular bikes, tandem bikes, children's bikes and adult bikes with child seats. In addition bike rentals, Bike Stop at East Coast Park Area B1 also sells refreshments. This is especially useful since there are no other shops nearby.
Where: 720 East Coast Parkway Singapore 439174 (East Coast Park Area B1)
Contact: 9298 3194
Operating Hours:
Sun to Thu: 9 am to 8 pm
Fri and Sat: 9 am to 9 pm

---
Coastline Leisure @ Marine Parade
This bicycle rental shop is across from East Coast Park at Marine Parade Central. It is part of the same chain as Bike Stop. If you rent the bike from here, you can take the underpass to reach Area C of East Coast Park. The bike rental prices here are a bit lower than the other shops at around $10 to $12 for three hours.
Where: 80 Marine Parade Central #01-778, Singapore 440080
Contact: 64400087
Operating Hours: Daily, 9 am to 8 pm
---
GoCycling @ Carpark C4
Close to Raintree Cove is the GoCycling @ East Coast Park bike shop. It can be found in a standalone kiosk along the bicycle track near East Coast Carpark C4. This East Coast Park bicycle rental shop rents out the standard adult and child bicycles along with quad bicycles. It is also kiosk that is closest to Cyclist Park, around 750 metres away. (Take note that Cyclist Park does not have a bike rental shop. It only has a bike repair shop.)
Where: 1030 East Coast Parkway Singapore 449893
Contact: 91836964
Operating Hours: Every day, 8 am to 10 pm
---
Bike Stop @ Lagoon Food Centre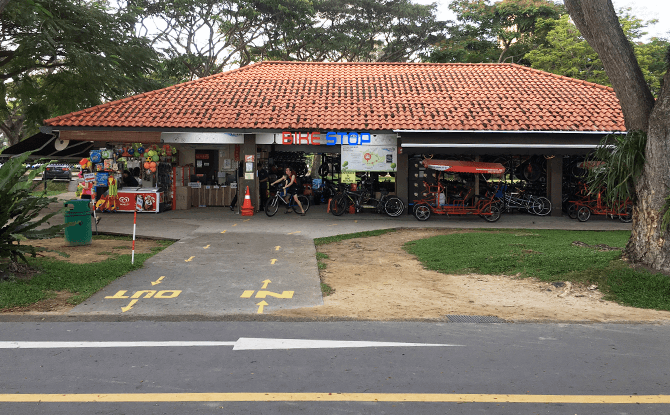 If you want to burn off some calories before tucking in to the food at the East Coast Lagoon Food Centre, head over to the kiosk with the Bike Stop sign at Lagoon Food Centre. This can be found next to Carpark E2, beside the cycling track. This kiosk also rents out quad family bikes. Just like Bike Stop @ Fort Road, you can also buy refreshments here.
Where: 1220 East Coast Parkway Singapore 468960 (East Coast Park Carpark E2)
Contact: 6443 3489
Operating Hours: Every day, 24 hours
---
GoCycling at East Coast Park G1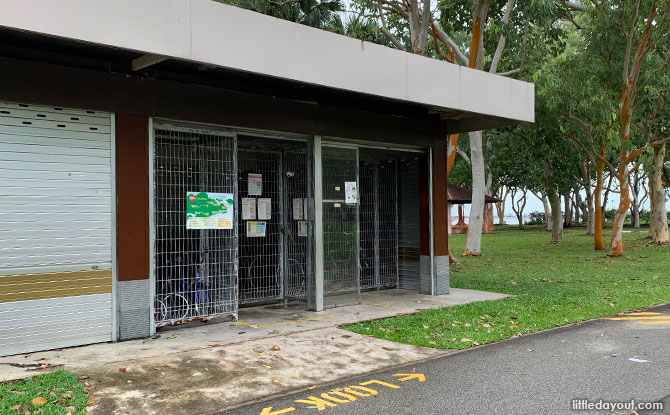 This has got to be most remote bike rental kiosk along East Coast Park. It is a self-service bike rental kiosk, located around 200 metres away from the Marine Parade RC track.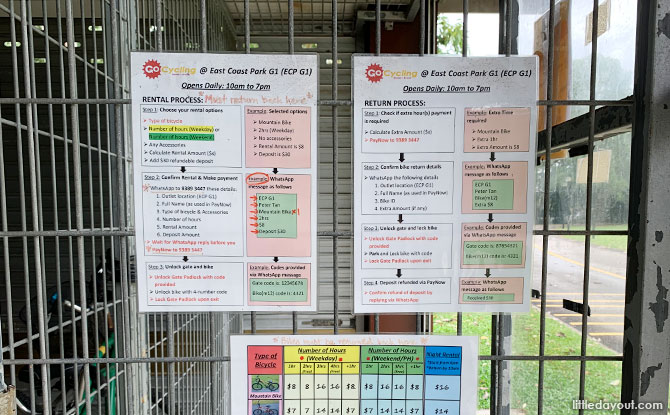 Operated by GoCycling, it works by having the renter send a message to a number in order to unlock the kiosk and bikes, all under the watchful eye of a camera.
Where: 1490 East Coast Parkway, S(468965)
Operating Hours: Every day, 10 am to 7 pm
---
GoCycling at HUB & SPOKE, Changi Airport Terminal 2
At the far end of East Coast is Changi Airport and GoCycling has opened a kiosk at HUB & SPOKE at the southern end of Terminal 2. You can rent a bike from here and head along the Changi Airport Connector to reach East Coast Park. Along the way, you will also encounter the dinosaurs at Changi Jurassic Mile.
Where: 60 Airport Boulevard, #01-T2S-01, Changi Airport Terminal 2, Hub & Spoke, S(819643)
Contact: 92383450
Operating Hours:
Mon to Fri: 10 am to 8 pm;
Sat/Sun/PH: 9 am to 9 pm
---
East Coast Park Bike Rental Prices
East Coast Park bike rental prices vary from kiosk to kiosk. It also depends whether you are renting on the weekday or weekend, and how many hours you are renting for.
Here are the estimated prices you can expect to pay for bicycle rentals at East Coast Park.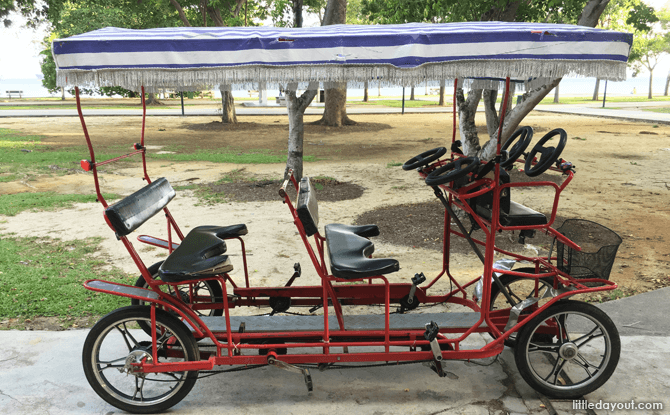 Adult bicycle rental price: Between $8 to $20 per hour. This depends on the location,  time and type of bike. Some kiosks also offer "rent-one-hour-get-one-hour-free" promotions at certain times of the day, typically off-peak times. If you wish to check in advance, it is best to give them a call to find out the available promotions.
Child bicycle rental price: $6 to $8 per hour. This varies with the size of the bicycle required.
Tandem bicycle rental price: Around $15 per hour.
Quad Bike for Two rental price: Around $20 per hour.
Quad Bike for Four rental price: Between $30 to $45 per hour.Information correct as at date of publication.
This story contains affiliate links. This means we earn a small fee if you purchase something through a link from our website. There is no additional cost to you. This helps to support Little Day Out and keeps us going.