Finding your way around on bikes on our tiny red dot just got easier as Google Maps has launched its new cycling navigation feature in Singapore with more than 6,800 km of cycling trails and biking directions.
---
Google Maps Launches Cycling Directions in Singapore
Singapore is the first country in Southeast Asia to enjoy the Google Maps cycling directions feature. This update will be available on both desktop and mobile for Google Map users in Singapore.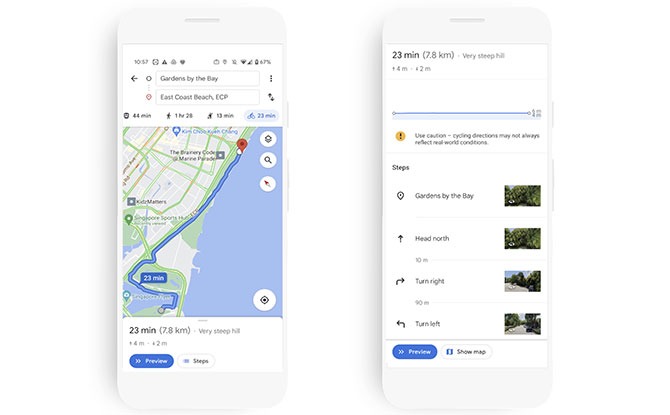 The new cycling feature on Google Maps includes step-by-step cycling directions, an island-wide network of linear green corridors that link up major parks and nature areas across Singapore, dedicated cycling paths and recommended bicycle-friendly roads.
It makes use of around 500 km of data provided by Land Transport Authority (LTA) and the National Parks Board (NParks).
---
-- Story continues below --
Ms Cordula Oertel, Head of Geo Partnerships, South East Asia, Google said, "In Singapore we've seen a huge spike in searches on Google for cycling routes, with a jump of 75% from 2020, and an increase of 400% from 2019, so it's clear that Singaporeans are keen to get on their bikes."
---
Cycling Option
The option to plan a cycle journey adds on to the existing walking, driving and public transport options on Google Maps.
Cyclists can explore different cycling routes, track their trip progress with turn-by-turn navigation, receive ETA updates in real-time, and find out the elevation of the route to stay focused on the road.
Riders are also encouraged to send feedback and route information for inclusion via the "Send feedback" tool.
Mr Kenneth Wong, Deputy Group Director, Active Mobility Group, Land Transport Authority said, "The launch of Google's new cycling navigation feature is timely and complements our Islandwide Cycling Network (ICN) programme where we will progressively expand the cycling connectivity for Singapore."
Mr Chia Seng Jiang, Group Director, Parks East, National Parks Board said, "The launch of cycling directions on Google Maps will help more Singaporeans explore our green spaces easily on two wheels and in turn, benefit from the positive effects of nature on their mental and physical health and well-being."