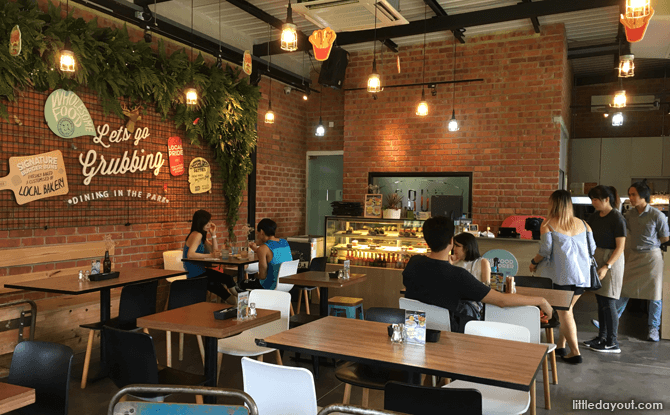 Dining at GRUB is a pleasant affair. Located at the Sin Ming end of Bishan-Ang Mo Kio Park, the bistro serves its tasty burgers and pastas with a gorgeous view of the lush greenery that it's surrounded by.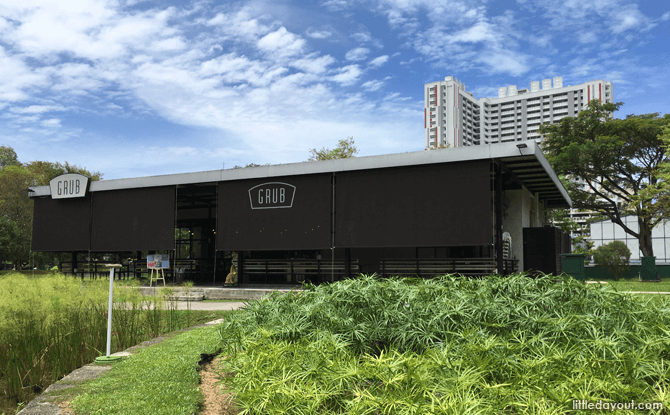 We made two visits to GRUB with our six-year-old in tow, and found it a great place for a fun, relaxed family meal. Not only did we enjoy the food, the little one had fun running around and exploring the park.
Family-Friendly Experience
The experience started the moment we alighted from our car. Drawn to the mildly meandering river, we had fun looking at the fish in the clear water from the wooden bridge spanning it.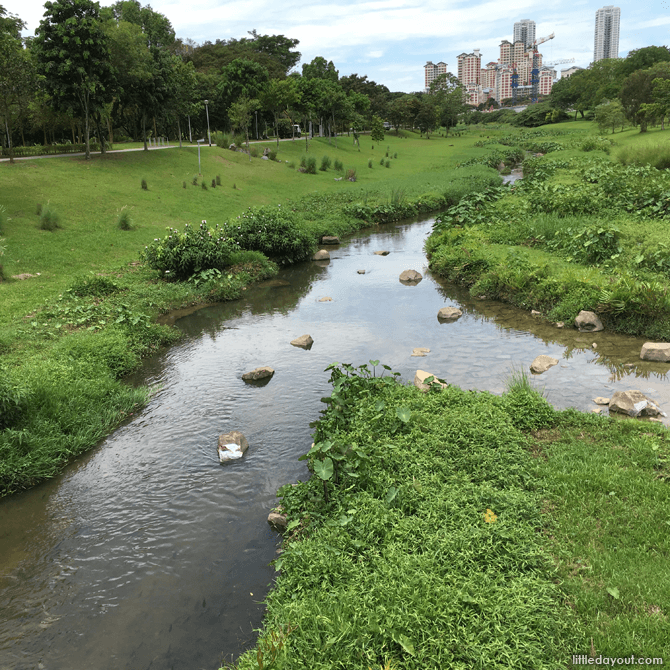 Crossing the bridge, we made our way towards GRUB, stopping to admire the luscious landscape in front of the bistro before going through its doors. Beautiful reeds in the foreground, weeping willows and a bridge a little distance away, and large evergreen trees in the background. It was a wonderful sight to behold.
---
-- Story continues below --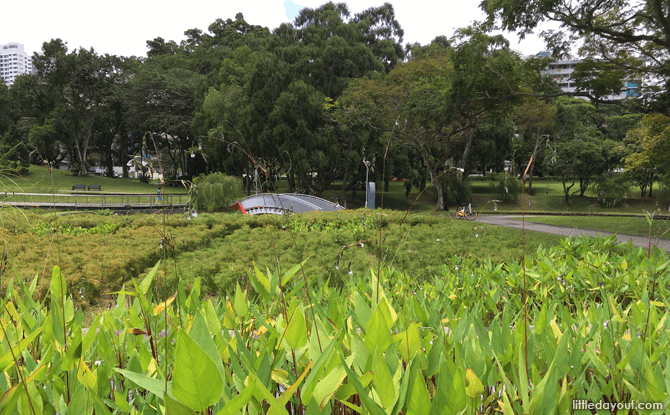 Those who want to be one with nature can choose the outdoor seating at GRUB. We went indoors on both occasions as it was drizzling one day and rather hot the other.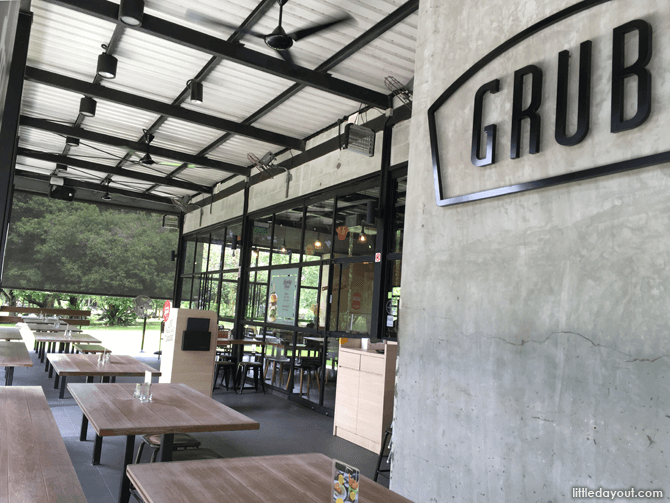 We felt very comfortable with the casual interior and relaxed ambience of the place. You won't find a kid's menu at GRUB, but many of the dishes are kid-friendly so you'll have no problem ordering for the whole family. These items are indicated clearly on the menu, though we ventured from that list and our daughter was more than happy with our selection.
Another thoughtful gesture is the organising of events for children every second and fourth week of the month, so the adults can truly sit back, relax, and enjoy their meal. The lineup of events can be found on their website.
Food, Glorious Food
On top of their signature burgers, pastas, and pizzas, GRUB also introduces seasonal creations every two months. Their "Kopi Ribs", for instance, was created as a National Day special and will be available till the end of September.
We tried quite a few items on our two visits, and here's what stood out for us:
Har Cheong Gai Burger
GRUB's locally-inspired Har Cheong Gai Burger ($14) had a rich prawn paste taste. Its patty was made of a whole chicken thigh, well marinated and fried till golden brown. Crispy on the outside and juicy on the inside – that's how it stayed for the whole duration of our meal! No wonder it's indicated as a Grubbers' favourite on the menu!
The burger buns that GRUB uses are customised and baked fresh daily by a local bakery. The top bun had been lightly grilled to be a little crispy on the flat side and still soft at the dome. It complemented the patty well and the whole creation was a winner!
Sakura Ebi Pasta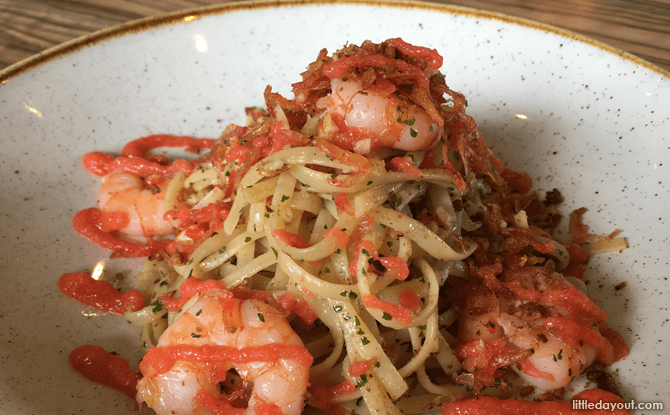 The Sakura Ebi Pasta ($18) was a hit with our family. Even the little one liked it! The little fried sakura prawns were aromatic and added great flavour to the pasta dish without being salty. The big prawns were fresh and had a nice, firm texture. I love that the mentaiko sauce was grainy, which means that it's got a high ratio of pollock roe to mayonnaise. I would definitely order this dish again.
Chilli Crab Pasta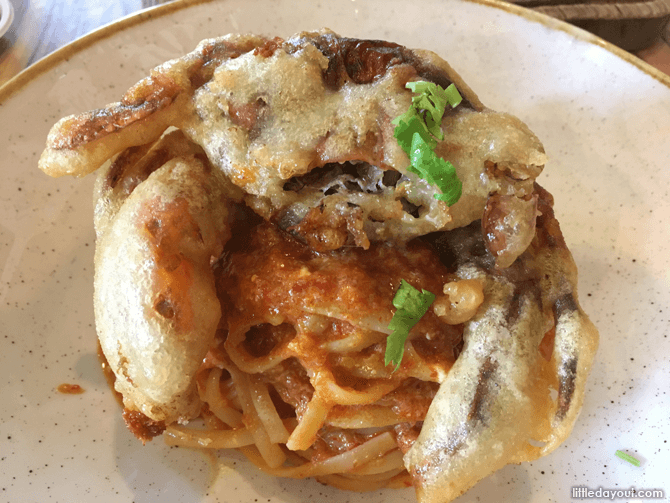 Another pasta that worked well for us was the Chilli Crab Pasta ($19). Yes, there are many versions of chilli crab pasta out there, but GRUB's tasted authentic. Its chilli crab sauce was not sweet and generic like many others, but rather spicy and had a distinct local flavour.
Bacon Carbonara Pasta
The Bacon Carbonara Pasta ($16) came with a fresh egg yolk that you had to stir into the pasta. It was nicely executed – flavourful, fragrant, and with just the right touch of creaminess. The little one loved it!
Truffle Bacon Baked Eggs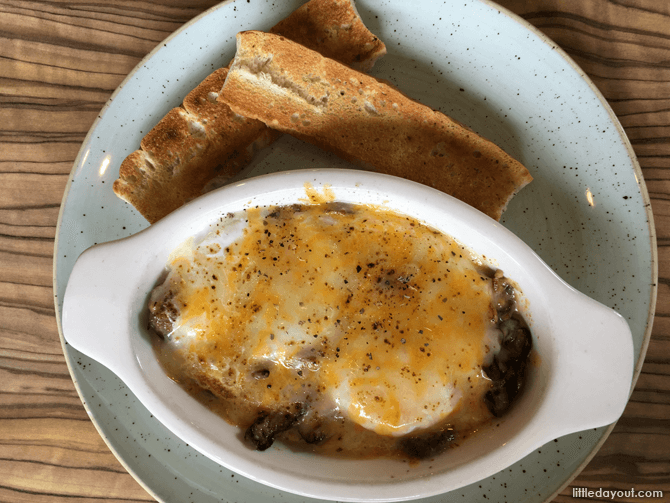 The earthy aroma and flavour of truffle shone through this magical combination of runny eggs, cheese, bacon, and sautéed mushrooms, which made an unforgettable dip for the two crispy pieces of toast that were served together. I love that there was an abundance of mushroom pieces! Our kid was waiting impatiently for the photo-taking to be done, so she could dip and eat, dip and eat….
For all its goodness, the Truffle Bacon Baked Eggs costs only $9! What's not to love about it?
Churros
What made the Churros ($8) stand out was the accompanying yuzu white chocolate dip. I'm not a fan of white chocolate, but the yuzu flavour gave the dip a very refreshing lift and made it very attractive to me! The dessert also comes with a dark chocolate dip.
Paddlepop Ice Cream Cake
The Paddlepop Ice Cream Cake ($7) was so pretty the little one asked for it again on our second visit. She was particularly intrigued by the edible silver and pink balls sprinkled on the top of the cake. Swirls of pastel colours, yummy ice cream, and pretty decorations: that's probably what little girls' dreams are made of.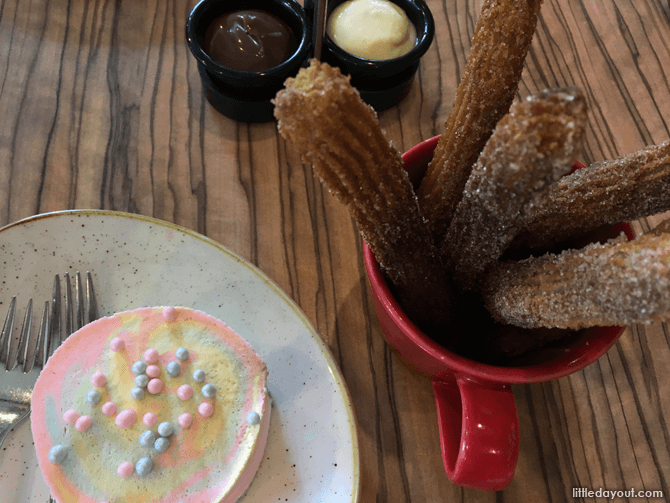 We love GRUB
We think it's commendable that GRUB identifies itself as a Singaporean brand, and looks to source locally wherever possible. Even the craft beers on their menu are mostly brewed in Singapore! We also appreciate the local flavours that they have infused into their cuisine because hey, we're proud to be Singaporeans too!
You may have noticed from the prices listed here that it is rather affordable to dine at GRUB. Indeed, none of the burgers or pasta dishes cost over $20. And all the appetisers are below $10!
Nice food, affordable prices, at a scenic spot. We'll be back for more grub.
Address: 510, Ang Mo Kio Ave 1 (Bishan Park 1, Pond Gardens), Singapore 569983
Website: grub.com.sg
Nearest carpark: Bishan Park carpark along Sin Ming Ave (opposite Blk 408)
First visit hosted by GRUB; second visit at our own expense.