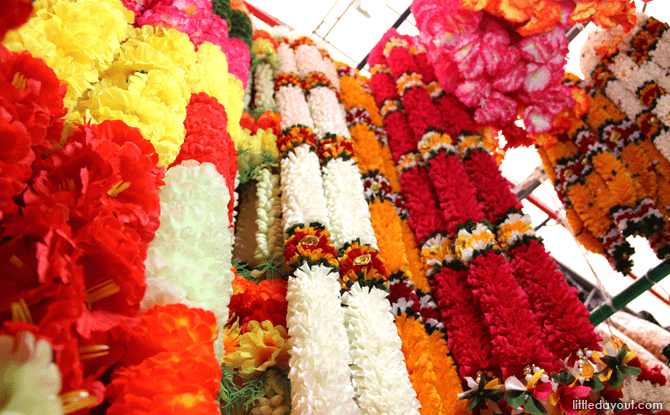 Hustle, and get the bustle on. It's time to pay a visit to Singapore's Little India With Kids!
Drink in the rainbow colours of textiles and wares, the wafting aromas of flowers and spices, and the punchy flavours of food and sweets.
Whether you prefer to go on a heritage trail, or explore the new things that Little India has to offer, take your kids along to shop, eat and play!
Little India With Kids – Good Eats
---
-- Story continues below --
Get your dose of fiery Indian food at the well-known Banana Leaf Apollo, Muthu's Curry, or Anjappar restaurants. Don't worry, you can request for non-fiery options without chilli, for example, butter chicken.
If you want something special for the family when visiting Little India with kids, dine in the cool air-conditioned comfort of Lagnaa Barefoot Dining restaurant along Upper Dickson Road, where everyone gets to sit shoe-less at low tables. Lots of fun for the kids! No need to fumble with high chairs for tots!
Or if you fancy something, well, fancy – head to The Jungle Tandoor where the dimly-lit interior with jungle-themed decor will have your kids oohing and aahing.
A cafe worth a visit is Jewel Cafe at Rangoon Road. This is the cafe and bar's second outlet, after the success of its first one at 1 Shenton Way with its own coffee roaster. Some delish offerings include Black Cod, Southern Fried Chicken, Miso Presa Iberico Pork, and the OMG Burger. There are also pastas, burgers and sandwiches.
Street Views
When visiting Little India with kids, for a cultural experience of Indian customs, you can pay a visit to the first Indian temple in Little India.
The iconic Sri Veeramakaliamman Temple is unmissable, with its colourful sculptures of religious figures on its roof.
Other temples you can visit are Sri Srinivasa Perumal Temple and Sri Vadapathirakaliamman Temple.
Remember to dress modestly and remove your shoes when you enter, as respectful attire and conduct are a must at these temples.
While you're walking about, keep your eyes out for the many goldsmith and jewellery shops dotting Little India and textile shops.
Mum can drop by a beauty salon to get traditional eyebrow threading done; or visit a textile shop to get a traditional Indian sari tailored. Plenty of little mama shops, or convenience stores, are available throughout Little India, where you can pick up drinks, snacks, magazines and even toys for the kids.
Oh yes, spot them if you can – there are some kitschy toy shops for kids in the area, too.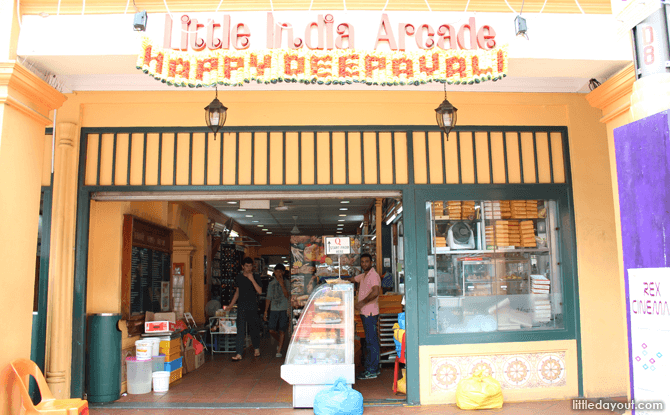 If you only have an hour or two to spare in Little India with kids, the Little India Arcade is the place for you. This cluster of 1920s shophouses is like an abbreviated Little India.
The shops and stalls here sell spices, gold, snacks, textiles, trinkets, flower garlands, beauty services like henna tattoos, and local Indian food. Or if you simply want to get out of the sun and into some shelter, in here it's LIttle India… in 60 seconds.
Little Cooking School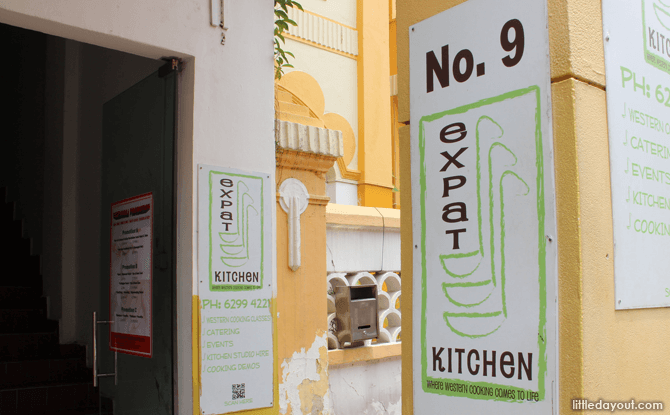 What's that, you say? A cooking school, right in the heart of Little India?
Children from 4 to 12 years old are taught cooking lessons at Expat Kitchen on Norris Road. There are classes for parents and domestic helpers too. Let your little masterchef bloom!
Tekka Centre
If you like taking your kids for a spin where the earthy, festive mood of vibrant markets are a great educational experience, pop by Tekka Centre (665 Buffalo Road, Singapore 210665). You can find a mind-boggling variety of quality produce, dry goods, and meats here – all 284 stalls of them. For extra fun, while visiting Little India with kids, give your little tykes the task of finding items on your shopping list for dinner!
Get quality imported products from the famous Chia's Vegetables stall (#01-08) where their upbeat music and wide variety of veggies like kale, fennel, and herbs will make your dinner extra special.
For good Australian and New Zealand beef, head to CJ Low High Grade Beef stall (#01-105).
Heritage Trail
If you like a more planned experience, go for the Little India heritage trail with your children. It takes you through nine stops in Little India – including the a spice merchant and a traditional Indian goldsmith.
Launched by the Little India Shopkeepers and Heritage Association, the trail is part of its celebration of SG50.
Head down to the Little India Arcade to pick up the heritage trail kit from participating outlets. The $29 pack comes with comes with a mobile app featuring a map, videos and audio commentary of the stops along the trail.
Free heritage trail maps or trail recommendations can also be found on LISHA's website and the National Heritage Board's website.
You May Also Like
More Stories on Deepavali: