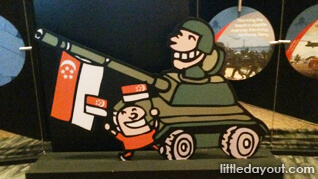 Is it a museum? A gigantic classroom? An amusement centre? What can we "discover" there? If these questions have ever crossed your mind whenever "S'pore Discovery Centre" is mentioned, read on.
Sitting imposingly beside a man-made lake along Upper Jurong Road, S'pore Discovery Centre puts Singapore in the spotlight, highlighting what makes Singapore… well, Singapore.
Filled with interactive exhibits, push button pizzazz and high-tech wizardry to fiddle with, it provides an interactive way for kids to become a participant in Singapore's past and gain a view as to how they can shape future. That having been said, it is also a place where school children go for National Education lessons out of the classroom.
Inside the Singapore Story
Inside the building, the S'pore Discovery Centre's main galleries are accessible via an upward-sloping ramp that leads to the second floor. Singapore citizens and PRs enjoy free admission to the Centre's galleries.
Take a seat at So Singapore Theatre to start off a visit. The light-hearted video presented here takes a cheeky look at local idiosyncrasies and gives us Singaporeans a chance to have a laugh at ourselves.
Second floor exhibits are devoted to the theme, Singapore Works.
Games projected on the walls supersize the action. In Portals, players can try tackling different scenarios faced in a Singapore of the future.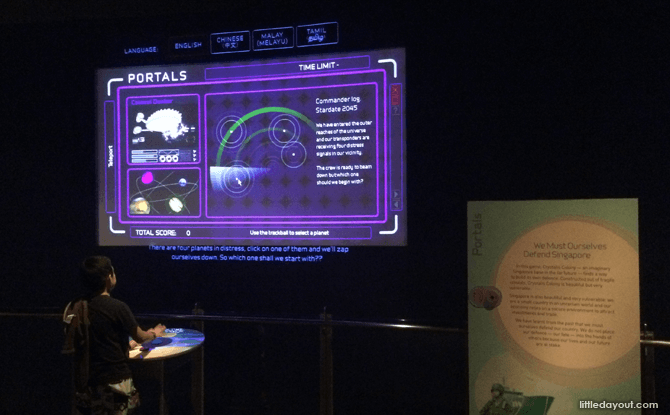 At the Build It! exhibit, players take on challenges faced by land-scarce Singapore. Games are presented through large projection screens and 'soft step-on buttons' on the floor that players need to step on.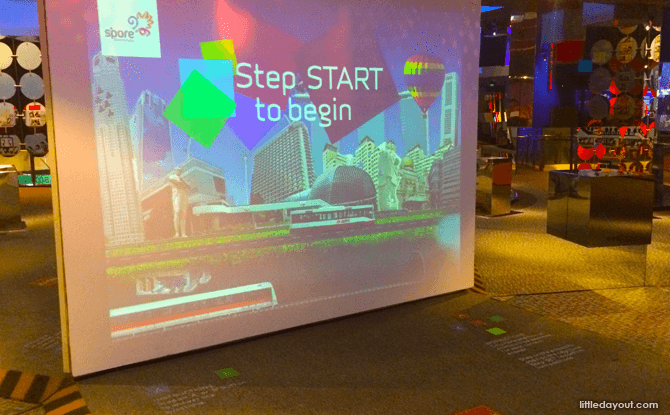 Get in front of the TV camera at On-location Reporter. Picking up the microphone, visitors can step into the role of 'live' news reporter at significant events in Singapore's history.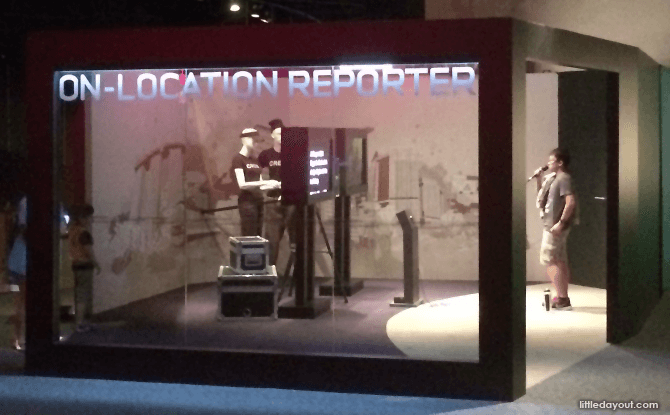 The Singaporean Way
Lower level galleries contain exhibits based on the theme, Singapore Way.
Interactive exhibits here include Digital Dance Studio, where visitors pick up dances moves from different cultures, and Harmony Circle, a "game show" for players to put their local knowledge to the test. Older kids can take play Enterprise Quest, a game that puts the budding entrepreneur through the paces.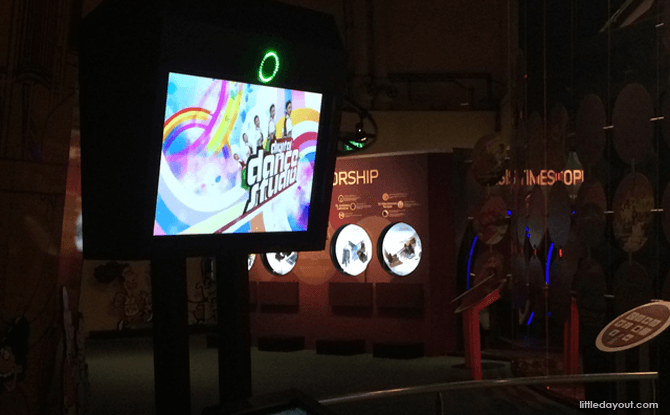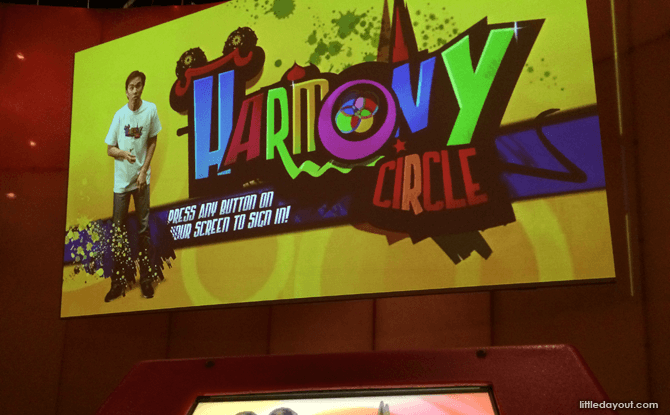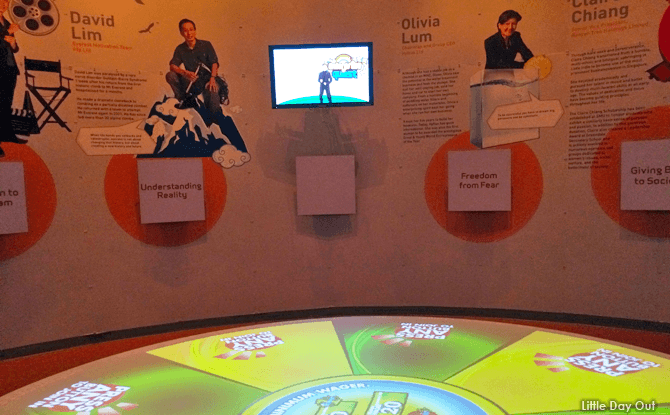 Boys will naturally gravitate towards Battlefield Command. Here, they can imagine taking charge of an attack helicopter, frigate or tank, or commanding the overall action.
The Crisis Simulation Theatre next to Battlefield Command regularly screens a two-part short film. The film plays out a scenario of a bomb blast at the Raffles Place MRT station and what happens in the aftermath of the crisis and its impact on the lives of those affected.
While the film is both moving and thought-provoking, families with young children may wish to give the Crisis Simulation Theatre a miss because of the themes and some graphic images.
Do also note that some exhibits at S'pore Discovery Centre's galleries are designed with a large number of players in mind (imagine dozens of school children running through the place). For example, Visionarium Design Studio tasks teams to plan out Singapore's landscape on a half-dome 360-degree screen. Because of this design, without sufficient people, it may be hard to play such games.
Around S'pore Discovery Centre
Beyond the two-story interactive galleries, other activities at the S'pore Discovery Centre include a 4D Simulator Ride, XD Theatre, and a 344-seater theatre that screens both 2D and 3D movies, including the latest releases.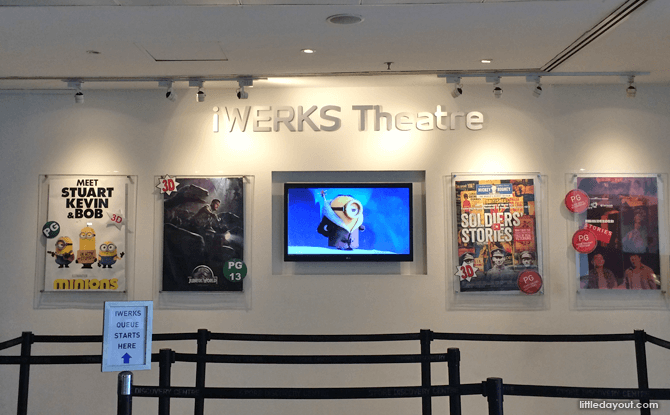 There is a computerised shooting gallery where visitors can try shooting the SAR21 rifle or SIG SAUER P226 pistol. Minimum height at the shooting gallery is 1.2 metres.
Outside and to the rear of S'pore Discovery Centre is Crossfire Paintball. Open to the public, participants need to be at least 14 years old and advance booking is required.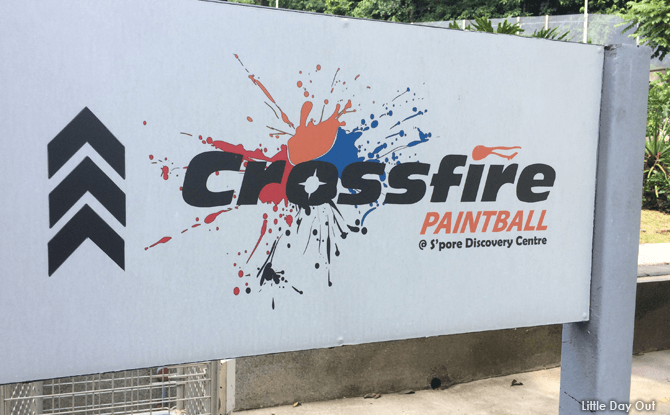 If you are planning a visit to S'pore Discovery Centre, maximise your trip by heading across to Army Museum of Singapore next door. Other things to do in the vicinity include Kartright Speedway, Fairprice Warehouse Club and Thow Kwang Pottery Jungle.
S'pore Discovery Centre also offers Family Memberships (for two adults and up to three children/youth for Singaporeans and PRs) at $110 for 12 months or $220 for 26 months. Among the membership privileges includes access to the IWERKS movie theatre. The theatre screens the same blockbuster movies as regular theatres at the same time.
If you have a movie-loving family and are willing to take a drive out to Upper Jurong, or live nearby, do the math and you may find that this membership could save you a pretty penny on your cinema bills.
For more information, visit S'pore Discovery Centre's website here.
S'pore Discovery Centre
Address: 510 Upper Jurong Road, Singapore 638365
Telephone: 6792 6188
Website: www.sdc.com.sg