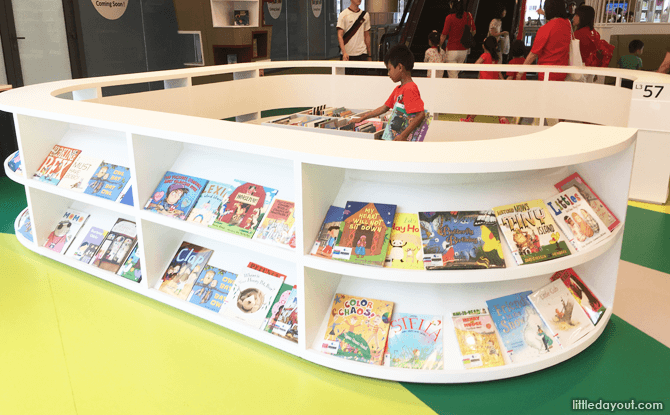 It is not an exaggeration to say that you can get lost inside the massive five-story Tampines Regional Library at Our Tampines Hub.
Opened on 5 August 2017, the Tampines Regional Library at Our Tampines Hub is filled with countless spaces catering to different age groups and interests. There are more than 400,000 books available in the library which is laid out along two sides of the football pitch at Our Tampines Hub.
Here are some of the different spots around Our Tampines Hub's library that you can look out for.
Exercise Bike Reading Desk
The massive library is fitted with glass panels that provide unobstructed views of the football pitch. In case that stirs up the desire to get active, there is an exercise bike fitted with a reading desk at Level 2. While there is only one such bike, it certainly provides a novel way to exercise both your mind and body at the same time.
Children's Section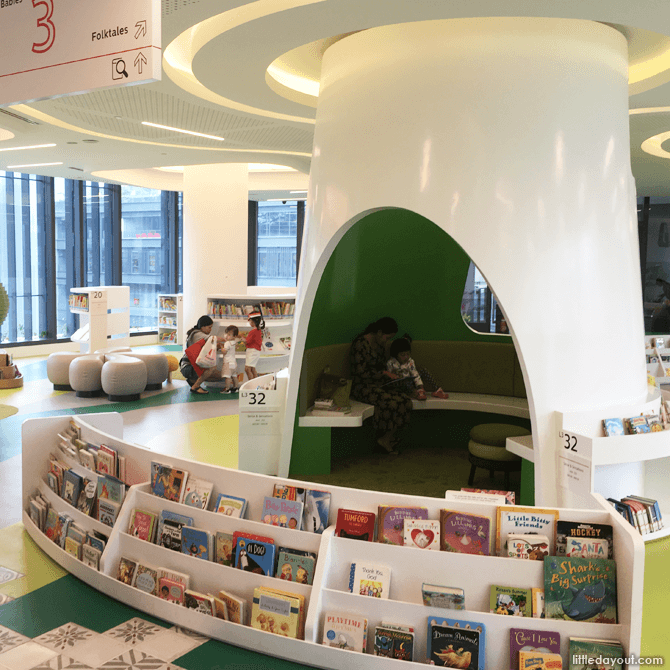 The library's children's book collection is split over two floors. The early literacy section is located on Level 3. Here, you will find low-height shelves filled with picture books for younger children. Books are places facing outwards so that children can choose them by their covers rather than their spines. (And who says you shouldn't judge book by its cover.)
Whimsical reading corners in the form of bird cages and hollowed out tree trunks provide little nooks where parents can share books with their children.
The book section for older kids can be found at Level 4.
Indoor Children's Playground – Akan Datang
Yes. You read right. There is going to be an indoor children's playground at Our Tampines Hub's library. My goodness – a children's playground in library! Well, that's one way to get kids through the library's doors.
The children's playground will be located on level 3 and is a two-level space. Currently, as of August 2017, the space earmarked as the children's playground is still an empty void but it is a definite attraction to look forward to in the future.
The children's playground at Tampines Library is set to open in October 2017.
Terraces
At Level 4 and 5 are Terraces. These are novel sitting areas with cushioned seats where both adults and kids can pause to read a book.




IMPixel Labs@NLB
A space to support tinkers and makers, the IMPixel Labs@NLB will be where different programmes and classes will be held. This follows the success of the maker space at Jurong Regional Library where people can book the use of 3D printing machines and other equipment to experiment and create things.
The library is no longer just a place to read but a place to do as well.
Study Corners, Discussion Spaces and Reading Spots
The library at Our Tampines Hub has seating areas for different activities.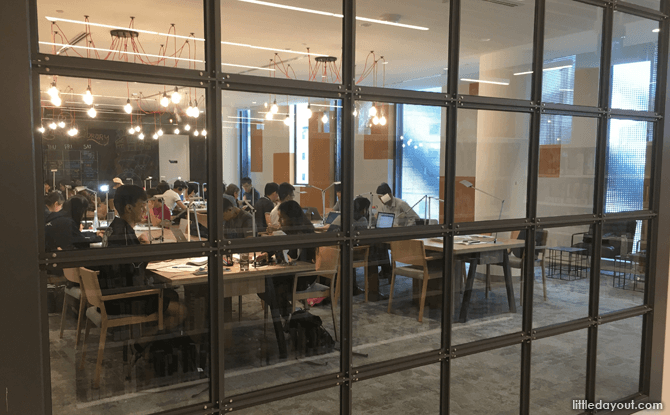 These range from rows of desks reminiscent of a university library to cozy discussion corners. Nice!
Our Tampines Gallery
Paying tribute to the heritage of the Tampines town is Our Tampines Gallery. This dedicated space provides a glimpse into the history, places and faces of Tampines.
Kids have a little activity booklet for them to learn more about Tampines and can also make a rubbing of a Tempinis tree leaf to bring home.
Quick Guide to Tampines Regional Library at Our Tampines Hub
The Tampines Regional Library is so big that it even has a directory, similar to those found in shopping malls, to help users navigate around its different spaces. For those who wish to have a quick overview of "where to find what", here is a breakdown of what is available on each floor at the library at Our Tampines Hub.
Level 2
Audio-visual and magazines
Cookery & Health
Culinary studios
Our Tampines Gallery
Level 3
Early Literary
Family
Level 4
Children
Teens
PIXEL Labs@NLB
Terrace on 4
#spaceout – Teens zone
Level 5
Adults Non-Fiction
Study Lounge
Terrace on 5
Level 6
Adults Fiction
Newspapers
Programme Zone
Volunteers Section
Tampines Regional Library
Opening Hours: Monday to Sunday, 10 am to 9 pm. Closed on Public Holidays. Closed at 5 pm on Christmas Eve, New Year's Eve and the eve of Chinese New Year.