There are many little ways to enlarge your child's world. Love of books is the best of all.
This beautiful quote from Jackie Kennedy Onassis perfectly captures the magic of books. It summarises why so many parents go out of their way to cultivate the love of books in their children.
Opening a book opens up the imagination. It is therefore unsurprising that many dreamers and thinkers count themselves as book-lovers.
What can you do to nurture the love of reading in your child? For a start, bedtime stories and regular trips to the library go a long way toward nurturing their love for books.
And if you love reading, there is a high likelihood your children will pick up the same passion for books too.
---
-- Story continues below --
One interesting idea we came across recently is to give kids a book allowance. This can be a small sum for them to spend on any books they like. Doing so not only places a value on books, but also helps them kickstart their own treasured library.
Singapore's Best Children's Bookstores
And when they are ready to go book shopping, there are plenty of bookstores in Singapore to choose from. Walk into any of the major book retailers and you will find children's titles well-stocked on their shelves.
Singapore has its share of boutique bookshops too – some of which specialise in children's titles.
Here is a list of some of Singapore's best children's bookstores that are worth paying a visit, and perhaps spending a bit of that book allowance too!
My Imagination Kingdom
Stocking over 2,000 books, owner Jaclyn Tan wanted My Imagination Kingdom to be a bookstore where children picked their own books rather than one where parents picked the books for their kids. This led to the creation of a store with little alcoves for children to immerse themselves amongst books. The type of books that can be found at My Imagination Kingdom include board books, pop-up books, picture books and chapter books. What's more, head down on Saturdays and Sundays at 12 pm and 2.30 pm to participate in storytelling sessions. My Imagination Kingdom also organises meet-and-greet sessions with local authors. Follow them on Facebook for the latest updates.
My Imagination Kingdom
Address: One KM, 11 Tanjong Katong Road, #03-43, Singapore 437157
www.myimaginationkingdom.com
Closetful of Books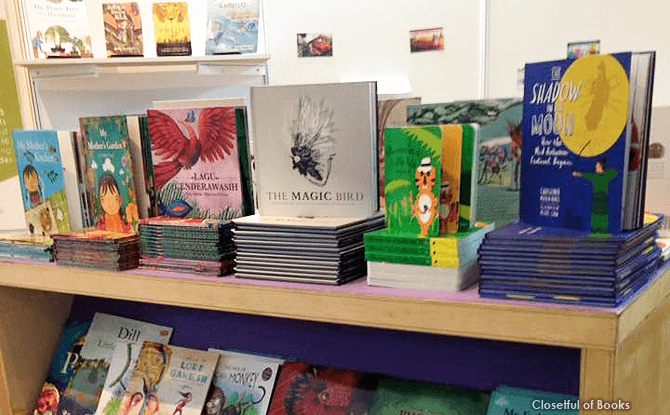 Ever wondered what books are suitable for your child? Get a recommendation from Closetful of Books' resident book expert, Denise Tan. She enjoys corresponding with parents who need specific recommendations and, having read all the books that Closetful of Books sells, is more than happy to share her love of books with kids. You can also pop by their office at Ubi Road to browse through the 2,000 titles they carry. These include picture books, early readers, junior fiction and middle grade novels. At other times, they can be found around the schools holding book sales. You can also shop online with them at their website.
Closetful of Books
Address: Oxley BizHub 1, 71 Ubi Road 1, #07-43, Singapore 408732
www.closetfulofbooks.com
Woods in the Books & Books Ahoy
Located in hipster Tiong Bahru, Woods in the Books specialises in picture books for all ages. And the obsession with pictures is understandable as the store was started by artist Mike Foo (who paints lovely wall murals) along with co-owner, Shannon Ong. There are picture books such as Where The Wild Things Are for younger kids and others like Tin Tin that will bring adults back to their childhoods. Woods in the Books has a second outlet, Books Ahoy, at Forum the Shopping. This shop takes over the spot vacated by Bookaburra Books and stocks a good range of children's books.
Woods in the Books
Address: 3 Yong Siak Street, Singapore 168612
www.woodsinthebooks.sg
Books Ahoy
Address: 583 Orchard Road #02-02, Forum, Singapore 238884
https://www.facebook.com/hellobooksahoy
Littered With Books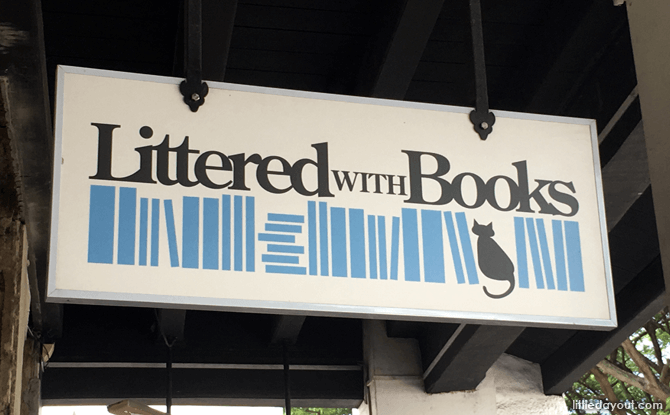 Set in a quaint shophouse on Duxton Hill, Littered With Books is an independent bookstore that sells both adult and children's books. Stop in on the last Sunday of every month when children's book readings are held at 3 pm.
Littered With Books
Address: 20 Duxton Road, Singapore 089586
Contact: 62206824
Junior Page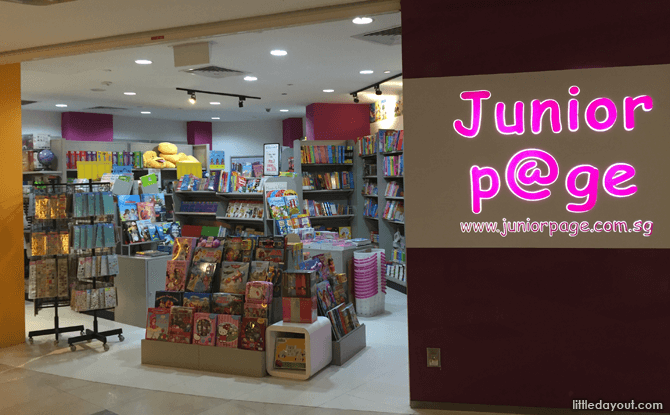 Junior Page is a book retailer whose buyers have been in the business for almost 20 years. Their mission is to provide affordable books for children and they sell everything from simple readers to fun fact books for older kids. They also stock a wide range of activity and sticker books. You can also choose to shop with them online, spend more than $25 and they will even deliver the books to you for free.
Junior Page
Address: 460 Alexandra Road, #02-40 Alexandra Retail Centre (ARC), Singapore 119963
www.juniorpage.com.sg
Epigram Books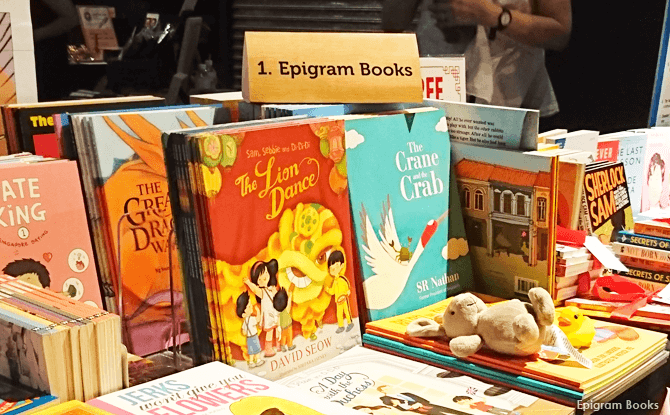 Even though more of a publisher than a book retailer, we think Epigram Books deserves a mention because of their focus on Singapore literature – stories created by Singaporeans, about Singapore. You would probably recognise their titles, many of which can be found at major retailers. These include Amos Lee, Sherlock Sam and Danger Dan. If you want to visit the epicentre of Epigram Books, their showroom is open on weekdays from 9 am to 6 pm or you can shop online as well.
Epigram Books
Address: 1008 Toa Payoh North #03-08, Singapore 318996
www.epigrambooks.sg
The Big Book Retailers with Children's Books – Popular, Kinokuniya, Times & MPH
The big book sellers need no introduction.
Kinokuniya has two locations around Singapore, Times Bookstores has six outlets, MPH has one at SingPost Centre, while Popular has too many to count!
Of these, there is one spot that we thought parents may want to especially take note of.
The first is the awesome children's book section at Times Bookstores at Waterway Point. This themed area invites kids to take a step into the fairytale world of literature (with the odd stormtrooper thrown in).
Happy book shopping!