Bibliophiles pay attention! A large Chinese bookstore will be at Wheelock Place, in Orchard Road come 8 February 2021. I used to be one of those who loved browsing at Borders, hearing about an all-new bookstore leaves me delighted to know there is a new place to "hang out" with books. The ZALL Bookstore (shop space) comprises a café, art gallery, event spaces and more than 30, 000 books on Chinese literature, humanities, history and philosophy.
ZALL bookstore is also known as Zuo Er in mandarin, offers a refuge for city dwellers, to immerse in the world of books. This is reminiscent of the reading culture in China and Taiwan, where there are plenty of bookstores to linger at. Also, this is a good reason to be "out late at night" cultivating positive reading habits.
---
5 Highlights of ZALL Bookstore
1. Large Kids' Collection and Reading Area
Parents would be thrilled to find an extensive children's and teen's collection for their Chinese reading. We all know how challenging it is to hone Chinese literacy at home. At ZALL bookstore, you will be wowed by the different kinds of books at one glance. There are books for early readers, lower primary children, competent readers and categories like Chinese comics as well.
There is also an events space at the Children's section on level one where it is perfect for browsing with the little ones. The height of the shelves are just right for preschoolers who can easily take their pick of books to read. There are titles such as Peppa Pig, Winnie the Pooh and even abridged versions of Hong Lou Meng as well as a small collection of books in English.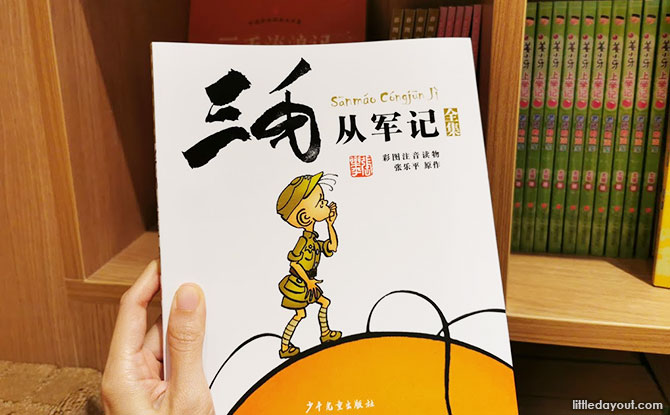 Those who know the story of San Mao, the beggar child with 3 strands of hair, will also be able to find 三毛San Mao comics at the bookstore. This is an easy read with Hanyu Pinyin accompanying the Chinese words. Other suitable titles for lower primary children and preschoolers include 姜小牙Jiang Xiao Ya (same author as 米小圈Mi Xiao Juan). Other titles include Harry Potter and Roald Dahl in Mandarin.
---
2. Welcome to Browse, with a Cuppa
The space at ZALL is an inviting one for all to browse. There is plenty of seating, both alfresco and indoors, with seating right next to the windows on the second level. Get your cuppa fix from the café, where cakes, pastries, drinks are also served. There will be a variety of coffee blends, Chinese Chu tea and Taiwan tea served.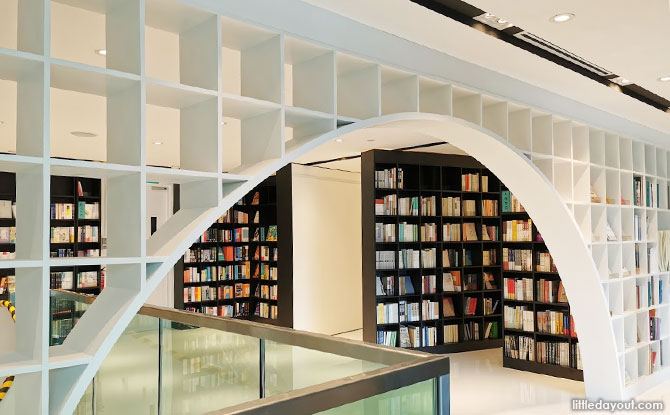 The calligraphic elements of black and white are evident in the interiors of the bookstore, inspired by the essence of the Jiangnan Watertown. The main design feature of the bookstore is the circular arch extending from 2nd floor to first resembling a river bridge in the water towns.
---
3. Classical Collection and Books on Parenting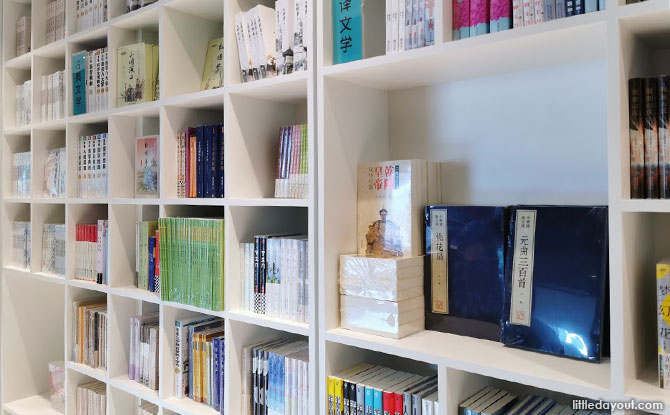 From autobiographies, Traditional Chinese Medicine comics to classics like Romance of the Three Kingdoms, Li Bai's poems, Jin Yong's wuxia novels can all be found at ZALL. Take a pick of the classics, which will have your Chinese teacher nodding in approval. You can even find the "ultimate" classics, bound in ancient book binding techniques, much like the Wuling secret manual you see in Kungfu dramas.
There is also a parenting section at ZALL with familiar authors such as Taiwanese Wang Hong Zhe as well as self-help books in Chinese.
---
4. Possibility of browsing through the night
If you can't sleep, there is a possibility of browsing at ZALL in the middle of the night! While this is not possible currently due to the pandemic, the plan is to operate 24 hours for book-lovers. There is also a plan to include a craft store at ZALL. In addition to reading therapy, one can look forward to engage in craft or shop from the collection from local and regional artisans at the gifting corner.
---
5. Visit the Art Gallery and Tea Showcase
Chinese culture and literature extends to art as well. ZALL bookstore includes a gallery showcasing a collection of creative artworks and thought-provoking paintings by Singapore's local talents and international artists.
Books and tea are paired together synonymously. Apart from the opportunity to sip tea at the safe, you can check out the collections on tea as well as purchase a beautiful tea set which are on display. Perhaps this might bring us to a more enlightened state, like the ancient philosophers who used to muse and ruminate over tea sessions.
---
ZALL Bookstore Opens on 8 February 2021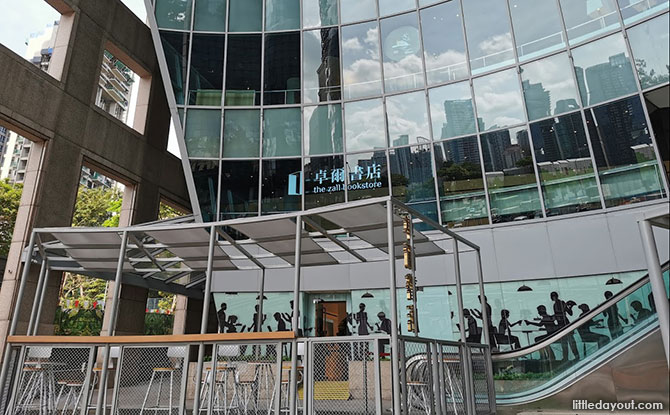 ZALL at Wheelock will be opening its doors on 8 February. It will be a place of respite for people who are passionate about Chinese culture, literature and arts. Families will welcome the repository of books to add to their own collections, with something for everyone. More details here.
ZALL Bookstore is located at 501 Orchard Road, Singapore 23880.