A child-centred book café has popped up in Syed Alwi, in the Jalan Besar area. We love how a bookstore and café concept is dedicated to the littlest! We speak to Cecilia Yeo, founder of Natventure Books and co-owner of Natventure Book Café to find out why this should be a hangout for families!
---
Little Day Out Interview with Cecilia Yeo from Natventure Book Café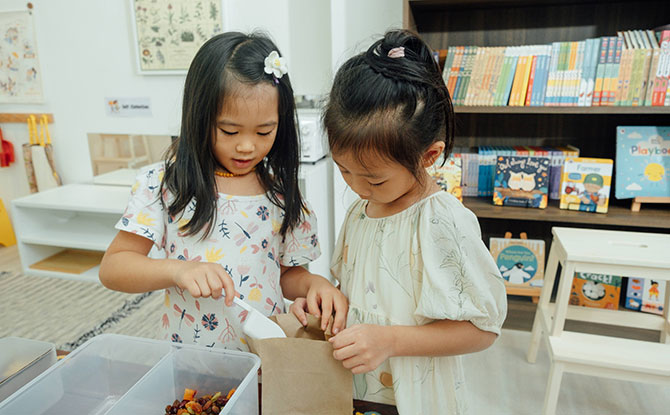 Natventure Books started as an online bookstore in end 2019, just before the pandemic, to focus on nature-themed and adventure books. This is due to my family's passion for nature, adventure and books.
At that point, I have already dreamt of having a kids' book café, ideally by some park/beach – perhaps a space where children can be free to explore and to express their independence, and also to embrace nature.
---
What inspired you to start a Natventure Book Café?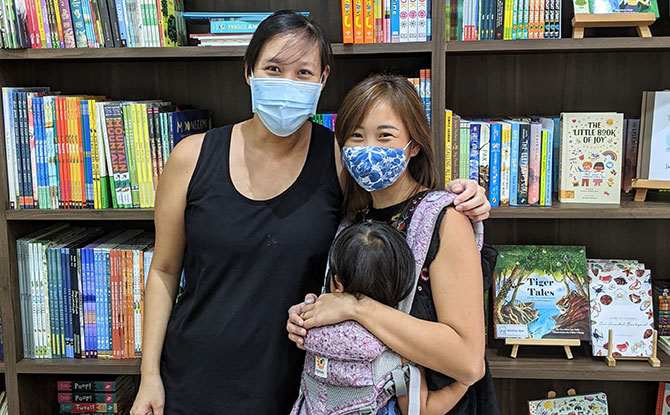 I have always enjoyed reading, and I read from many different genre. I have many fond memories of shopping in those book rental shops when I was a student and visiting physical bookstores like Borders.
After having children, I wanted to share that same love of books to my children. Most bookstores in Singapore don't prioritise the children's experience in the store. And bringing children to the library can be quite restrictive, i.e. need to keep quiet, cannot run around, cannot have food and drinks.
During the pandemic, many online book sellers popped up. While this made it easier for parents to shop for book for their children, the whole book shopping experience is only for the parents and not the children.
I initially wanted to return to work in my previous profession, social worker, but found it difficult to find a position that could allow me to balance my family commitment.
In a conversation with my friend, who is now my partner, we decided to actualise this dream of a kids' book café. And we want to re-define the concept of a child-friendly place.
---
Tell us about the experience at the store/café.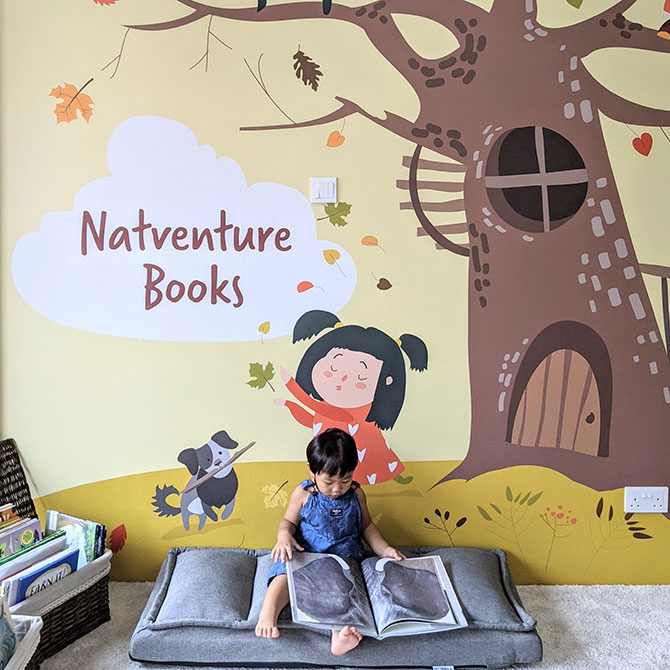 We are a book café that priorities the experience of the children.
Hence, we went for low floor sitting, where children don't have to be confined and restricted to a highchair. With your own mat, babies can even lay flat on the floor beside you as you dine. Our floor sitting from @nine.n.official allows for flexible sitting arrangements and kids can even lie down if they wish.
We have reading corners with books that children can freely browse and read. We also allocated the lower shelves for browsing books that little children can reach on their own. We understand that with little children, they may not always been careful with the things they handle. So a fold, a dent, or even a tear on the books that can be easily fixed is normal and accepted.
We are a space where children are free to explore and express their independence. Mistakes are looked upon as just another learning opportunity.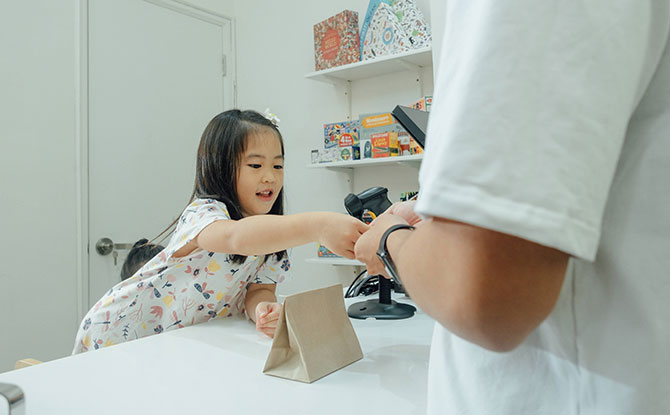 We placed a Montessori learning tower from @berrybear.sg at our ordering counter and we encourage kids to place their order and even bring their drinks to their own table. We specially provide little trays with handles for them to do that.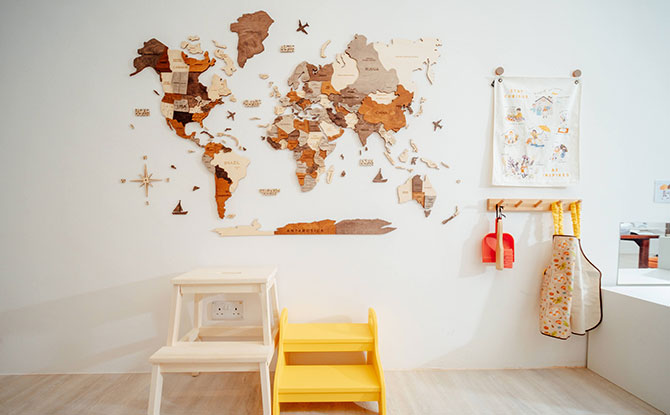 Natventure Books Café is also equipped in the following ways:
– pictures for all the drinks in our kids drink menu to facilitate their order experience
– water station where kids can pour their own drinks, with towels below in the event of spill, they can choose to clean up on their own
– a special room for whoever who needs it. Whether it's a child who needs a space to regulate himself or a nursing mother who needs some privacy. We also have diaper changing station.
It's really a place to slow down to the pace of the child, and a place where children will be respected as capable individuals.
---
What would you hope visitors and customers will take away from visiting the store and café?
Beyond the love for books, we hope parents will realised that children are often more capable than we think they are.
We also hope children will experience the accomplishment of doing something for themselves, even if it's a simple thing like pouring a glass of water for themselves.
---
Which are the top three favourites of yours that are available at Natventures?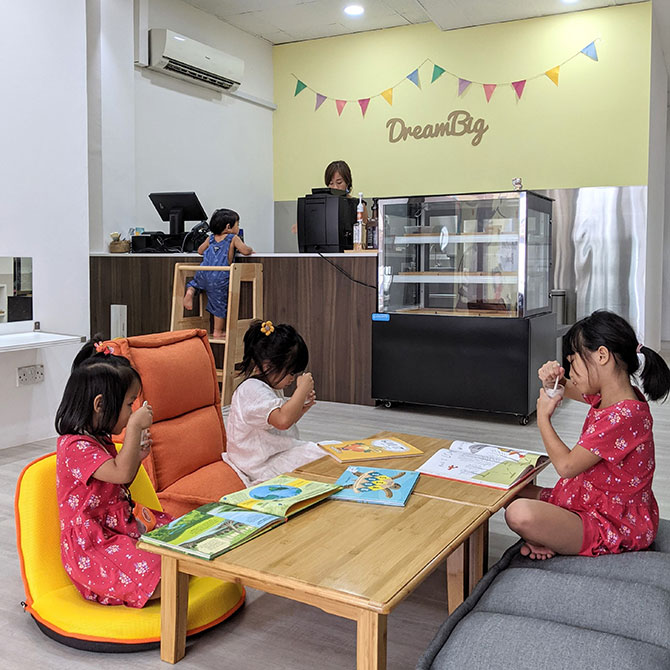 For food, I love the honeycakes from @blessedbakes_sg. I have to resist the temptation not to eat them myself.
Current favourite book, Big Panda and Tiny Dragon.
And one of my all-time favourites, Tiger Tales: Almost True Animal Stories from Old Singapore by Pepper Dog Press, a local publisher.
---
What would children love about the book café?
I think they would love the space to express their independence, which can be quite a rare experience in other retail spaces.
Thus far, many kids love the reading corners in our store and enjoy the iced chocolate.
Thank you Cecilia for inviting children into your lovely space.
We feel drawn to it already and hope to visit it soon. Before you make your visit to Natventure Book Café, do book a slot here.
---
Natventure Book Café
Where: 65 Syed Alwi Road, #01-01, Singapore 207644
Opening hours: Daily 9.30 am to 5 pm, Closed on Tuesdays