Inside the Bedok Public Library at Heartbeat@Bedok, you are immediately greeted by the calms hues of the two-storey library's nature-inspired décor. Located on the second and third floor of Heartbeat@Bedok, the new library feels modern and inviting, with hints of nature throughout its interior.
The Bedok Public Library was reopened on 28th October 2017, moving to its new location from its previous premises which it had occupied for more than 30 years since 1985.
With Seniors In Mind
The new Bedok Public Library's collection is divided across two floors.
Audio-visual material, newspapers, general non-fiction and Chinese, Malay and Tamil titles are shelved on the Level 2. Adult fiction, teen fiction and the library's children's collection are located on Level 3.
---
-- Story continues below --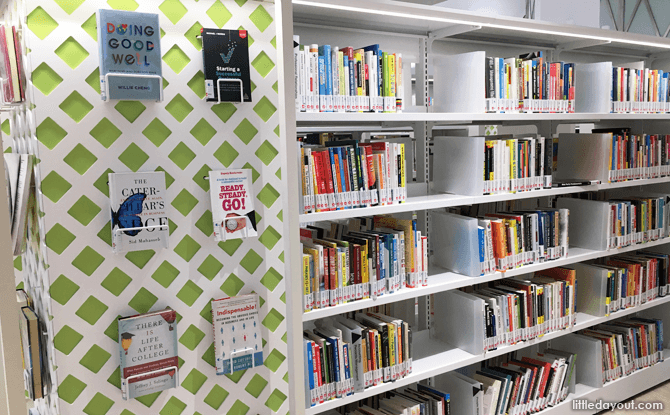 There are approximately 200,000 books at Bedok Public Library.
On Level 2, the library incorporates various thoughtful features with seniors in mind. These senior-friendly features include a large print book collection and keyboards with larger alphabet keys.
There are also individual lamps fitted at reading areas that can be used to provide better illumination.
Adults, Teens and Children Sections
Level 3 of Bedok Public Library at Heartbeat@Bedok is connected to Level 2 by an internal staircase. It also has its own entrance that allow library users direct access to Level 3.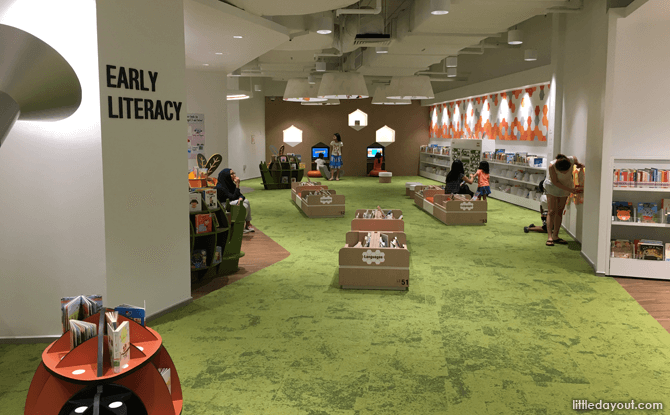 At Level 3, the library has an early literacy section for very young children. Here, the books are shelved with their covers facing forward for easier browsing by little ones.
The main children's section includes sitting areas to encourage children to settle down with a book and read.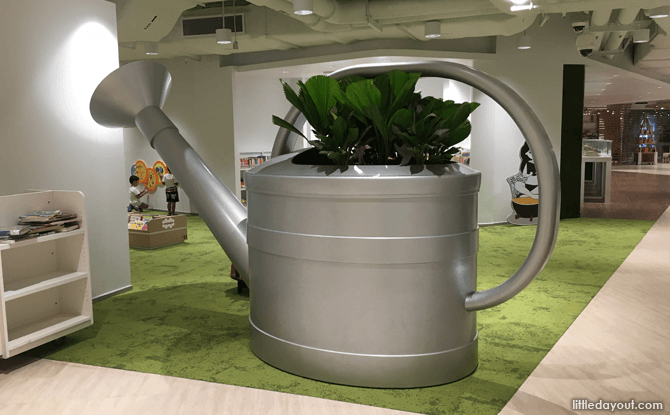 Appropriately, a larger-than-life watering can stands at Bedok Public Library's children's section, symbolising how reading nurtures fertile, young minds.
Also at Level 3 are reading and study areas.
There is also a small exhibition area close to the Level 3 entrance.
Bedok Public Library's bookdrop is located on Level 3.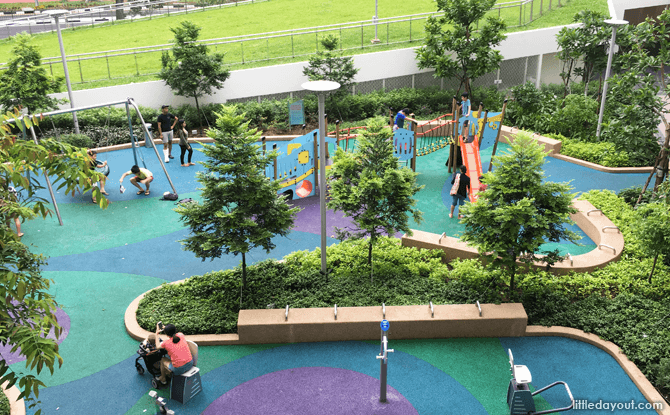 Parents with young children may wish to take note that HeartBeat@Bedok has an outdoor children's playground located at Level 1, next to the escalators.
Bedok Public Library at Heartbeat@Bedok
Address: 11 Bedok North Street 1, #02-03 & #03-04, Heartbeat@Bedok, Singapore 469662
Opening Hours: Mon – Sun: 10:00 AM – 09:00 PM