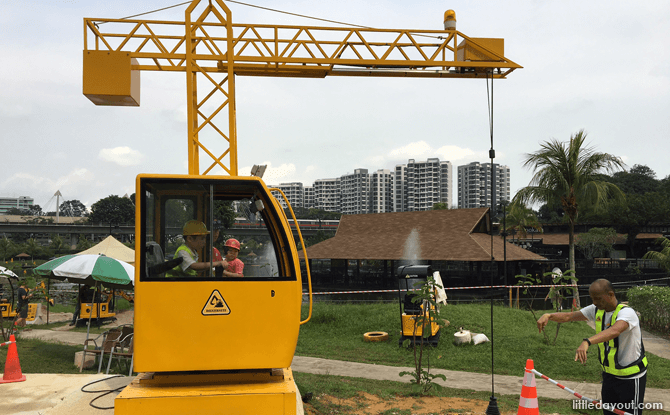 Nestled up north amidst a scenic fishing lake, huge lotus pond and fountains, Diggersite offers toddlers above two years old, children and even accompanying young-at-heart adults the opportunity to try their hand at operating smaller versions of real heavy-duty machinery used for construction work!
[Editor's note: Take note that this story was based on a visit in 2017]
The owner, Edwin Lim, actually owns a real construction company! He felt that a secured construction site specially designed for children affords the chance for educational knowledge and skills-building. What's more, it empowers them to manoeuvre REAL equipment while enjoying outdoor role-playing and fresh air.
---
-- Story continues below --
---
Dig In as the Adventure Begins…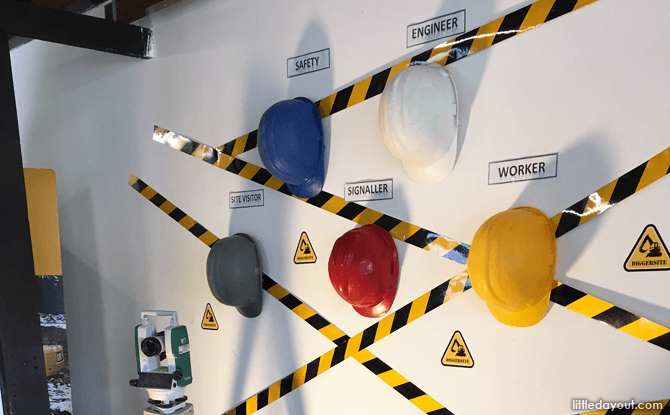 Upon entering a black container storage area, children are provided with bright yellow vests and coloured safety helmets. The choice of a helmet colour will determine their role as a construction worker (yellow), engineer (white), signaller (red/orange) or safety officer (blue).
After purchasing tokens for operating the equipment, an assigned supervisor-instructor leads them to the open-air construction yard.
The location is scattered with bright yellow safety signs, orange cones and structured into seven outdoor stations. Each station has different operating machinery and specific task to be accomplished.
There is no order to completing the stations found at Diggersite at Yishun. Children can select their choice of a station based on the construction equipment they would like to operate.
---
Heavy Duty Fun at Seven Zones at Diggersite at Yishun!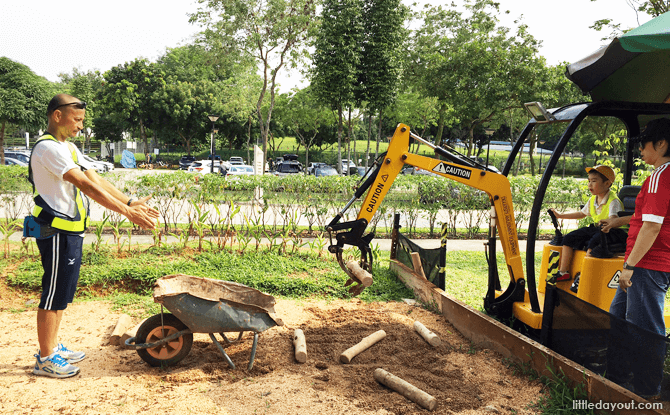 An accompanying instructor supervising on-site provides the basics of how to manoeuvre each machine and complete the allocated task. Children will have loads of fun tackling enjoyable challenges while developing their coordination and motor skills.
As there is no age limit, parents can join in the fun as well!
Children below six years of age can sit on the lap of an accompanying adult to operate each of the following equipment at Diggersite:
---
Tower Cranes
Small cranes are mounted on fixed trucks and equipped with metal chains to lock into and pick up electromagnet metal blocks. The goal for each little crane operator is to lift and move the metal blocks horizontally across another section and lower them vertically into huge rubber tyres.
---
Hydraulic Excavators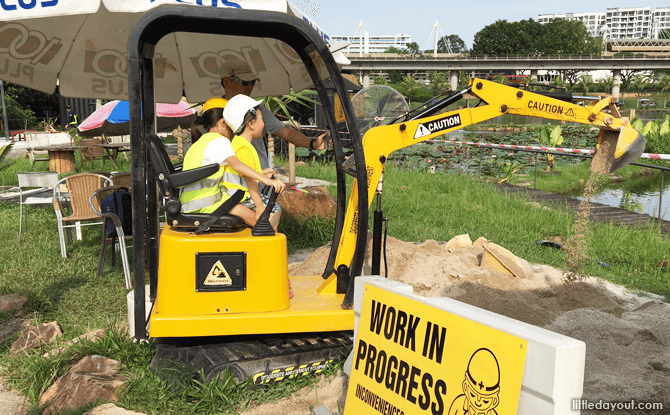 A perennial hot favourite among the kids! The aim of the excavator operator is to dig away at the sand, scoop from the sand hill and fill as well as bury the buckets located in the sandpit.
---
The CLAW!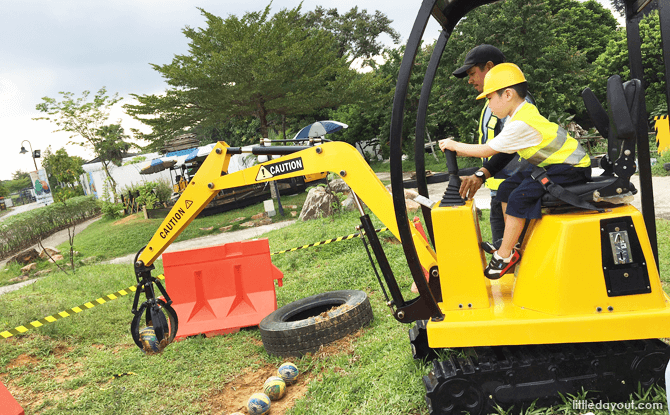 Grabbers are mounted on fixed trucks with an impressive single claw for the operator to extend and catch rubber balls for transporting into tyre barrels.
---
Grabber Cranes
Cranes have hoist wire ropes and thin claws for operators to pick up coloured balls from a pit and drop them into a huge car tyre or slide.
---
Wrecking Ball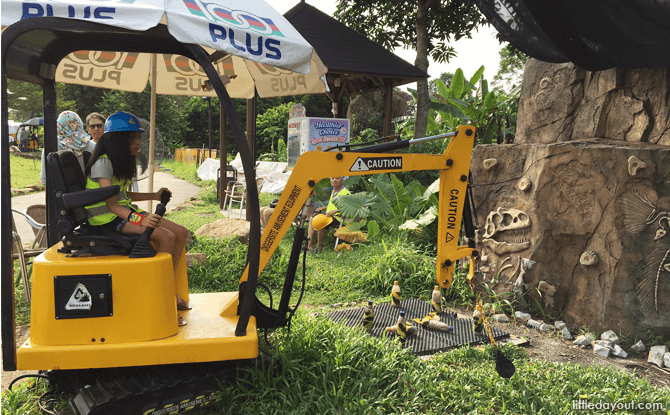 Demolition vehicles have a heavy steel ball hung, allowing the operator to knock down a group of bottles.
---
Log Grapples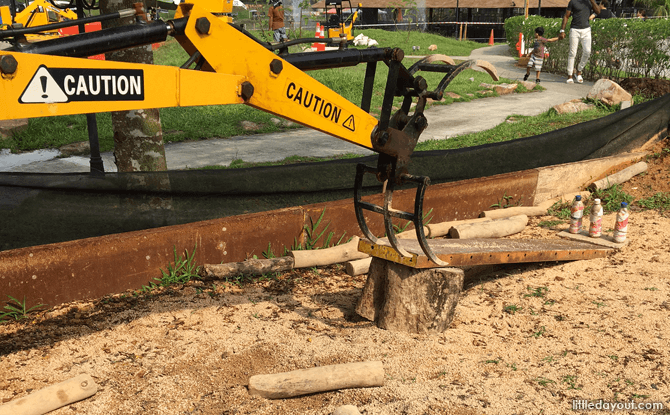 These are machines with huge talons for operators to manipulate, grab and load wooden logs into waiting wheelbarrows. There is an additional task of picking up the logs and unloading down a metal ramp or wooden slide to knock down standing pins at the base.
---
Forklift
A powered industrial truck used to lift and move materials for short distances is the latest attraction at Diggersite! Young forklift operators are tasked with an obstacle and face a timed challenge to drive around the compound to transport a wood pallet to specified locations.
---
Additional Play
Younger children could also have fun digging and shovelling in a Sand Pit area. Plans are in the pipeline to create a Painting Wall and Brick Layering Corner for the more artistically-inclined.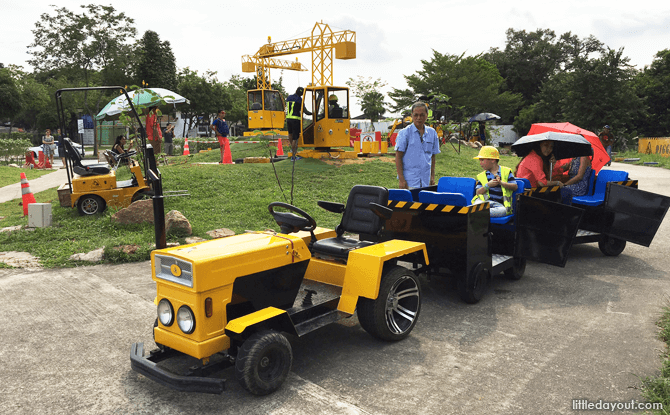 To complete the Diggersite experience, there is a Mine Tractor (vehicle used to transport mined materials such as coal, gold and other minerals) that takes children and adult passengers on a short ride along a circular route within the construction site.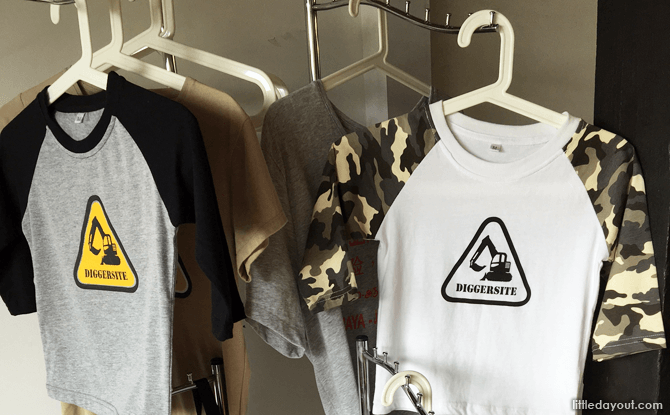 Merchandise available for purchase include a range of Caterpillar diecast construction toys and kid-sized Diggersite T-shirts and bags for continued role-playing at home.
---
Diggersite at Yishun
Address: 91 Lor Chencharu, Singapore 769201
Entrance is beside the Live Turtle and Tortoise Museum
Website
Getting to ORTO:
Taking the Train: Khatib MRT Station on the North-South Line – 10-minute walk to ORTO's entrance facing Yishun stadium
By Bus: 39, 85, 851-858, 965, 969 – ORTO is opposite Yishun Sports Hall
Driving: Turn in from Sembawang Road into Lorong Chencharu (Free parking)