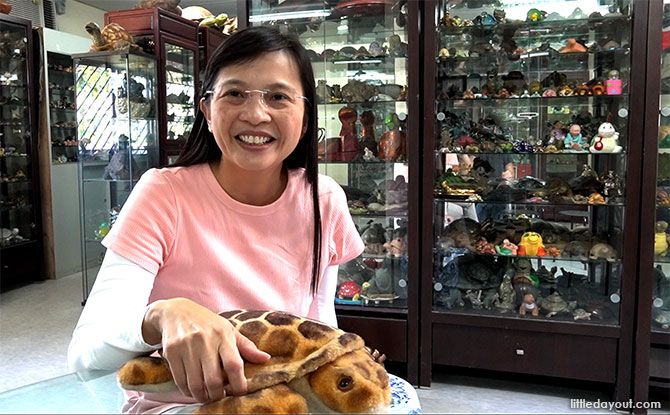 Run by Connie Tan together with a couple of dedicated workers, The Live Turtle and Tortoise Museum at Orto is as much about one family's legacy, as it is about a real love for these gentle giants.
The museum is the only venue in Singapore where you can get up close and personal with over 700 turtles and tortoises from more than 40 different species. It recently moved from Chinese Garden in Jurong to a new home at Orto in the North.
"There is no where else in Singapore one can go to learn about so many different types of turtles and tortoises, so I'll do what it takes for as long as I need to keep the museum going," says Connie who welcomes visitors to spend as much time as you'd like with her many, many pet turtles.
Yes, you read that right – her PETS.
---
-- Story continues below --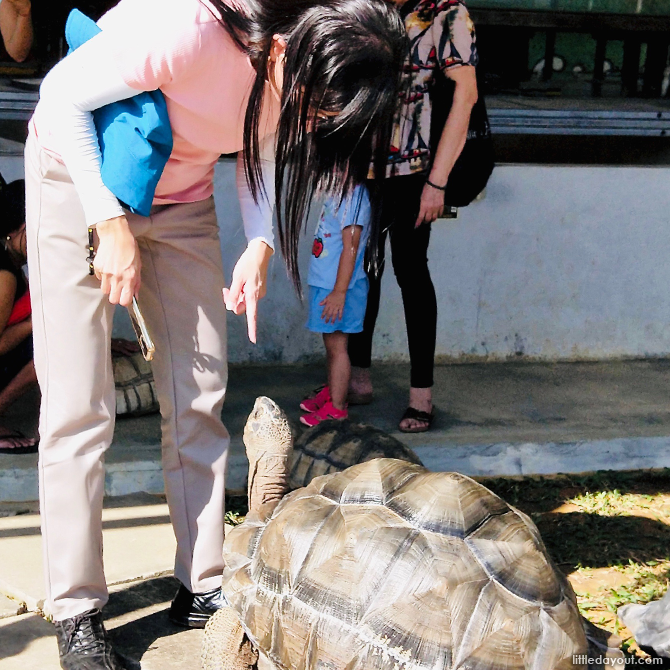 In fact, the idea of a venue to allow Singaporeans to experience live turtles came about because of Connie's love for these creatures from a young age.
So, unsurprisingly, there's no one else who would beg to differ and share about how loving these pets of hers really are.
"Many of my turtles were – and still are – traumatised by the move from the Chinese Garden to our new home here in Orto. When I first brought Xiao Hei (an Aldabra tortoise) here, she was very hesitant about her new surroundings. She attempted to get a hug out of me after sensing that I wasn't abandoning her, and she really hugged me hard; so hard I fell over!"
Free-Range Tortoises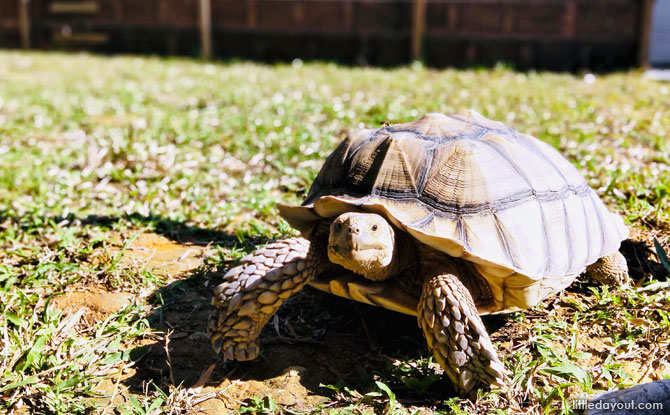 Unlike in a zoo, the museum allows its tortoises and terrapins to roam freely during the day. For example, being a land and water type, the terrapins are free to bask in the sun by the pond. Or when it's time to mingle with visitors, a clique of Sulcata Tortoises will be let out to play to their hearts' content.
It is at this point that you'll have the opportunity to stroke the turtles, or feed them snake beans you'll have to buy from the museum.
"This is exactly why I insist on maintaining this turtle museum," Connie beams as she hears my daughter's squeal of delight as she laid eyes on the astoundingly fast-moving tortoises.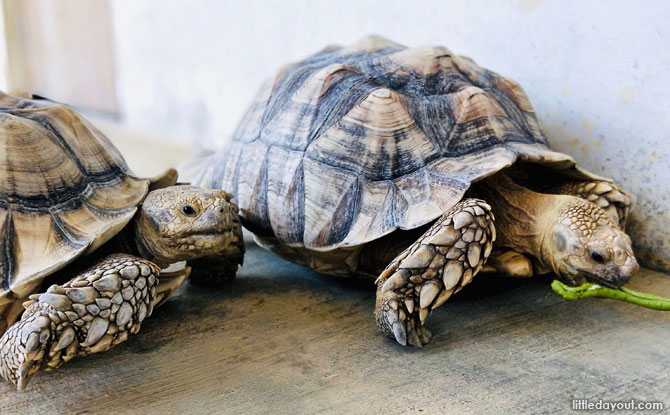 When Connie was informed six years ago that she would have to move the museum out of the Chinese Garden due to the government's redevelopment plans for Jurong, she quickly got to work looking for a suitable new home for her turtles.
However, it wasn't until an open letter she addressed to Prime Minister Lee Hsien Loong in March 2018 that really made a difference.
She was – and continues to be – overwhelmed by the outpouring of love and support she has received' from the time she sought help with the relocation to setting up The Live Turtle and Tortoise Museum in Orto, Connie shared that she has a lot to be grateful for.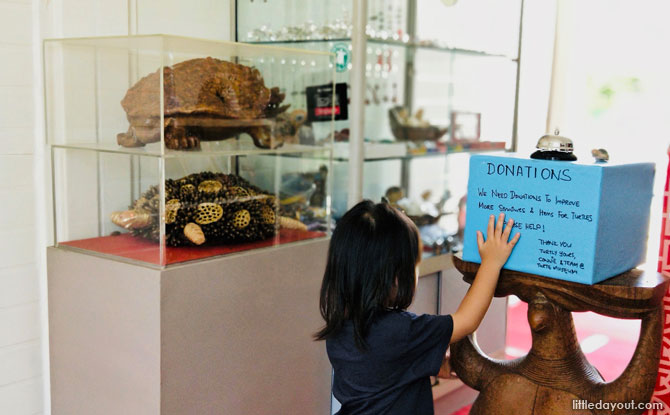 "I have had friends and work acquaintances help in whatever way they can. Some of my friends volunteer to wash the Museum, others had donated and even bought the raw materials I needed to construct the structure that is the Museum!"
The fact of it is that the Museum still lacks funds, but Connie is determined to keep it running for new generations of visitors.
A Museum of Rare Artefacts
Aside from being face-to-face with hundreds of turtles and tortoises, you will also get to admire over 3600 turtle-themed artefacts that Connie's father began collecting from days of yore. We're talking turtle-everything, from jade sculptures to soft toys! I even spotted two little turtle-shaped pencil sharpeners!
"My father travelled a lot, and he would buy as many different turtle artefacts he could find from the countries he visited. Some of the artefacts you'll see are made out of very rare materials and gemstones – they truly are priceless."
At the same time, Connie has plans to conduct workshops on rearing turtles.
"In recent years, I've had parents approach me to adopt their pet turtles because they didn't realise that cute baby turtles grow to become big turtles that require lots of love and attention, just as any other domesticated pet would," said Connie. "I really would like families to join me in these workshops to learn the care a turtle requires before committing themselves to one."
A Turtle-Y Eye-Opening Experience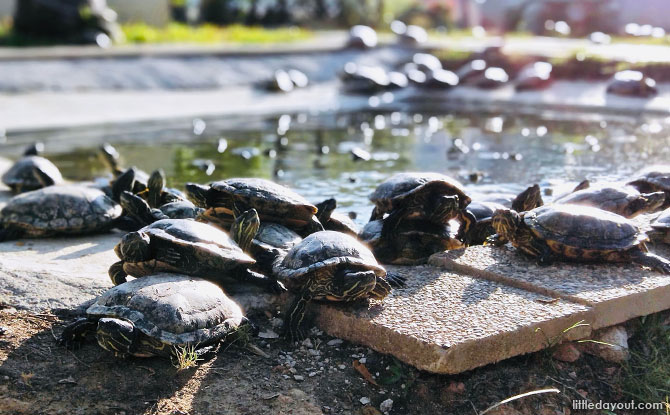 At $14 per adult ($10 for Singaporeans/PRs) and $6 for senior citizens and children aged three to six years old, you definitely need to pencil in a family visit to the Live Turtle and Tortoise Museum soon.
It is an eye-opener to say the least, and you might even think about and be plotting your next visit, before leaving the Museum!
Who knows, the next few visitors could have the good fortune of hearing from Connie herself that her turtles have adapted to their new home, and have started laying eggs! Come on, turtles – we're rooting for you!
The Live Turtle And Tortoise Museum At Orto
[Editor's Note May 2020 – Take note that The Live Turtle and Tortoise Museum is current closed because of COVID-19. You can visit its Facebook page at https://www.facebook.com/turtlemuseumsg/ for updates]
Where: 81 Lor Chencharu, Singapore 769198
Opening Hours: 10 am to 6 pm, daily
Admission Fees: $14 per adult ($10 for Singaporeans/PRs) and $6 for senior citizens and children aged three to six years old
For more information on getting to The Live Turtle and Tortoise Museum, visit its Facebook Page or go here.