The Fire Station Open House is held every Saturday morning at fire stations all around Singapore. We paid a visit to the Sengkang Fire Station for a fun, morning outing with children.
"ONE, TWO, THREE… FIRE!"
The firefighter springs into action and yanks on layers of his fire-protective suit, oxygen tank, and gas mask. Speed is of the essence. There is a fire raging somewhere in Singapore.
This was the scenario given to the firefighter who was required to don his gear within 1 minute 15 seconds.
---
-- Story continues below --
And, cheering him on, a crowd of dads, mums, and kids counted down the seconds – all part of the show-and-tell at Sengkang Fire Station's Open House.
Fire Station Open House
Every Saturday, from 9 am to 11 am, the fire stations in Singapore (except Jurong Island Fire Station) conducts an Open House for members of the public.
You can simply walk in and register on the spot, for groups of less than 10 people – so, remember to bring your photo ID.
Dress in light, cool clothes, as all the activities are conducted outdoors.
We brought our excited toddler to Sengkang Fire Station (they gave him a free firefighter hat!) bright and early on Saturday morning – and we're glad we did, as it got crowded pretty quickly.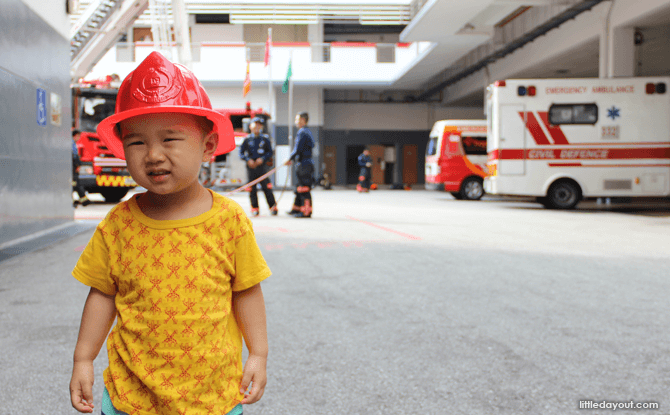 Sergeant Helmi took us on a tour around the place, and explained the features and capabilities of the fire station, the appliances and vehicles used, as well as live demonstration of various equipment by firefighters.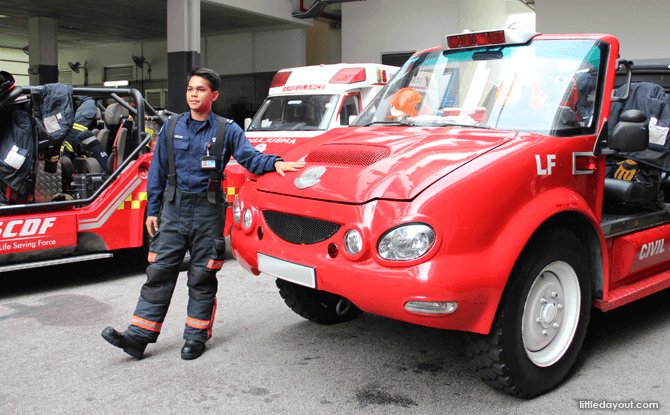 After the grand tour, all visitors are allowed to climb into any of the vehicles and take photos, so it's all hands on deck.
Donning Station Demo
To engage the visitors, Sergeant Helmi asked the crowd to shout "One, two, three… FIRE!" This is the cue for the firefighter to demonstrate the challenge of donning their gear.
Firefighters have to take the Breathing Apparatus Test (BAT) once a year.
They have to meet the requirements of donning their full set of gear – protective suit, breathing oxygen tank, and gas mask, all within 1 minute 15 seconds.
The breathing apparatus allows the firefighter to breathe safely in fumes for about 30 to 45 minutes.
And it's pretty heavy lifting, too – their suit and gear weighs an amazing 17 kg, while the hose they carry can weigh about 10 kg.
But this is still your neighbourhood friendly firefighter, high-fiving the kids in their thick, hot suits in the sweltering heat.
Siren and Alarm Demo
It's really loud, and it's bound to get everyone's attention.  Watch the video – the parents quickly realised how loud this was and quickly ushered the kids to a safer listening zone.
Now we know – the fire engine is equipped with various siren and alarm sounds!
Water Hose Demo
The highlight of the Fire Station Open House has got to be the water hosing demo, where the firefighters help the kids hold on to the hose and shoot powerful jets of water. This focused jet of water is very strong and can shoot very far.
This wide spray of water is more like a mist and is used by firefighters when they are advancing carefully towards the source of fire. Since the firefighters are unsure of where the fire is exactly, the wide mist acts like a protective shield from sudden bursts of fire.
Sliding Pole Demo
Another demo that thrilled the kids was the sliding pole demo.
We were not allowed to take photos of the firefighters sliding down the pole, due to safety reasons.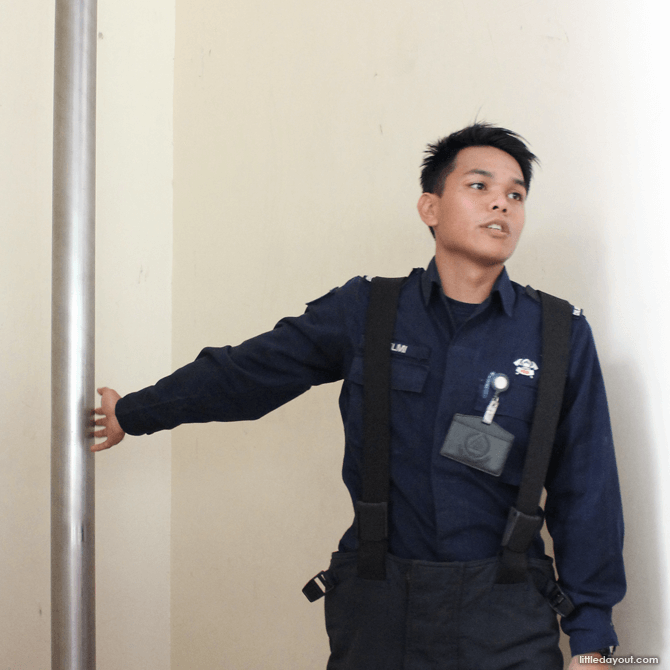 Sergeant Helmi explained that the pole should only be used when there is an actual fire emergency – in fact, even firefighters have been injured before while sliding down the pole – so photos of the demo were not allowed.
Anyway, we all shouted "one, two, three…FIRE!" another time, and three firefighters came whooping merrily down the sliding pole. They actually looked like they were having fun and enjoyed having visitors in the station.
It was such a popular demo, the parents and kids asked for an encore.
Fire Engine
Our toddler was thrilled to bits at being able to pretend-steer the huge fire engine.
The Singapore Civil Defence Force has these fire engines or pumpers which are equipped with rescue equipment and fire-fighting features. The fire engine has a water tank that can store 2,400 litres of water and and a tank with 1,200 litres of foam.
The friendly firefighters also passed around pumper heads like these for visitors to understand how heavy they are when attached to the long hose during firefighting.
Combined Platform Ladder
This cool vehicle has a really tall ladder that can extend to a length of 30 metres. So it's mostly used for fires involving high-rise buildings or large areas. 
The firefighter in the cage on top of the Combined Platform Ladder is also able to monitor the fire situation and assist in "boundary cooling". This means that the water spray deployed at the area of fire ensures that the next building won't catch fire.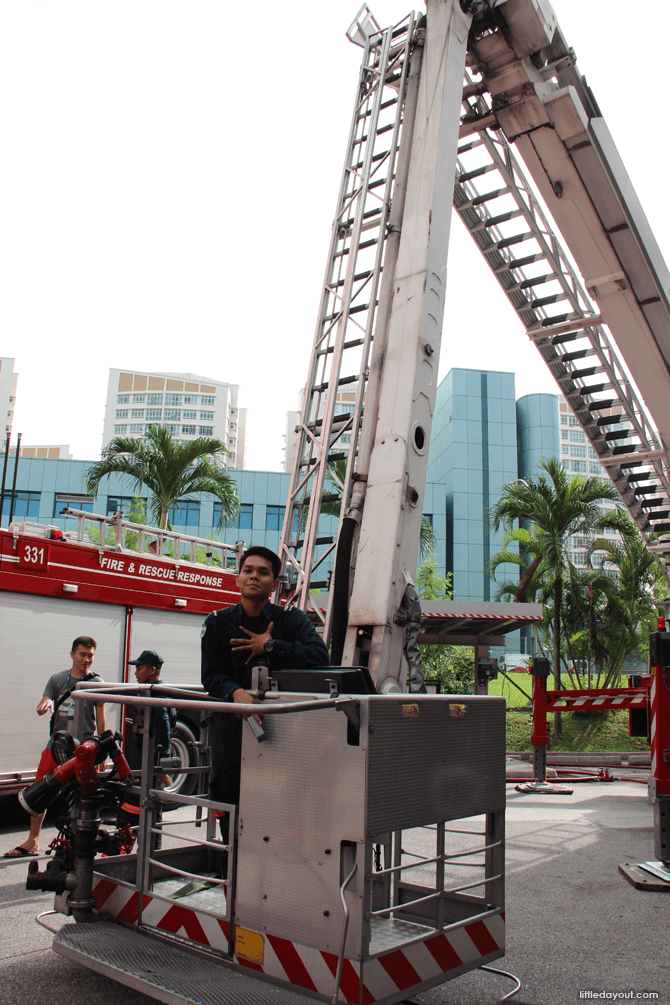 Red Rhino
Smaller than the fire engine, the Red Rhino is also known as the Light Fire Attack vehicle.
Each Red Rhino is manned by two section commanders and two firefighters, and is equipped with a hydraulic system for rescue tools, a water mist gun and a water monitor.
It looks like a pretty nifty and agile vehicle, ready to spring into action.
Fire Bike
Now this is something we don't often see – the fire bike.
It's designed to respond very quickly to fire emergencies and to counter traffic congestion.
Equipped with powerful water guns, its firefighter also has a Compressed Air Foam (CAF) backpack. The fire bike handles medical emergencies too.
According to Sergeant Helmi, the fire bike shares the workload with the ambulances.
Ambulances
While we were there during the one-hour tour, at least two ambulances were activated for medical emergencies.
But since this is Fire Station Open House, there was a chance for our tot to climb into an ambulance and see what it's like inside.
Visit the Fire Station Open House
In the one-hour tour, we had a glimpse of the fire station's functions and features, the skills needed to be a firefighter, and how these brave staff risk their lives during fire emergencies to carry out rescue and firefighting duties.
Days after the visit to the Fire Station Open House, our little tot is still talking about the fire station!
Good To Know
When?
Every Saturday, 9 am to 11 am.
Which Fire Stations offer the Fire Station Open Houses?
Alexandra Fire Station
Ang Mo Kio Fire Station
Bishan Fire Station
Bukit Batok Fire Station
Central Fire Station
Changi Fire Station
Clementi Fire Station
Jurong Fire Station
Paya Lebar Fire Station
Sengkang Fire Station
Tuas Fire Station
Woodlands Fire Station
Yishun Fire Station
*Note: Central Fire Station has a heritage gallery as well. Read about the Civil Defence Heritage Gallery: Let Your Kid Be a Firefighter.
Do you need to book tickets to the Fire Station Open House?
Admission is free. For groups of less than 10 people, just walk in and register on the spot.
Click to access online booking for groups of more than 10 persons.
More details on the Fire Station Open House can be found here. Have fun!