Asher, my three-year-old, was attending a holiday programme at his school. I wanted to spend some one-on-one time with my six-year-old, Zach and I knew one of the best ways to his heart is getting outdoors. I chose to visit Hay Dairies because it would be a nice long drive to Lim Chu Kang where I could have an uninterrupted conversation with my son and we enjoyed the weekday morning ride together.
Milking the Goats
When we arrived, we were the first visitors. Hay Dairies is Singapore's one and only goat farm which produces goat's milk for sale that is open to the public. I was glad to discover that we were in time to view the milking session (from 9.00 am to 11.00 am). The milking section is close to the entrance so we did not have to venture far.
The staff were very friendly and beckoned us to come closer to have a better view. While we stood on an elevated platform to watch the goats being milked, I was tickled to hear classical music being played in the background. It reminded me of the days when I was still nursing my boys and was encouraged to relax with my favourite TV programme on. The goats stood in a row while suction tubes attached to their teats pumped the milk into a metal cylinder and we could see it being filled up slowly.
---
-- Story continues below --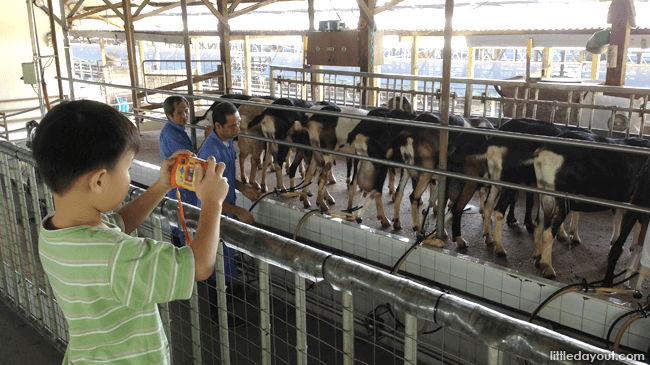 Zach whipped out his camera excitedly and started snapping away. He has been very enthusiastic about photography of late and I am curious to find out where this is going to lead. After a while, one of the staff led the goats back to their pen and the next group was up for milking. There are about 12 goats brought out for milking each time and amazingly, this goes on for two hours straight. The next time I visit, I must ask them how much milk is being collected daily.
A Walk Back in Farming Time
We walked around the sheltered grounds, which is a great thing in Singapore's inclement weather. I stopped to read the history of Hay Dairies placed along the walkway and was surprised to discover that the Hay family who owns Hay Dairies was not always in the dairy business. They were originally rearing chickens before switching to pig farming and finally to goats.
After walking a bit, we realised we could not go very far because the pen where the goats were kept in was gated. I saw a sign informing us that we are no longer permitted to have close contact with the goats. This is recommended by the Agri-food & Veterinary Authority of Singapore (AVA) to prevent the transmission of diseases from humans to animals and vice versa. I was a little disappointed for Zach because we were there a few years back and he had fun feeding the goats. However, this time around he seemed more interested in trying out the goat's milk.
Relishing Delicious Goat's Milk
We returned to the entrance where a fridge stocked with original and chocolate flavoured goat's milk greeted us. He chose a chocolate-flavoured version and relished every drop of it. It was $2.50 for a 200 ml bottle and $8 for an 800 ml bottle. Hay Dairies does home deliveries if you order a minimum of 1,600 ml. I may consider that in future for Asher who is on goat's milk powder at the moment. I reminded Zach that he used to drink goat's milk too when he was younger, but he seems to have forgotten that.
On our drive back, I noticed a sign for "Avifauna Bird Farm". I was intrigued and wanted to make a stop there as well but it only opens on weekends so I made a mental note to drop by again as a family on one of the weekends.
Website: www.haydairies.com.sg.