Zoosh, zoom, wheee!
That's all part of the fun of pedal go-karting at West Coast Park.
These four-wheel vehicles let kids (and adults) hop behind the wheel and steer their way around West Coast Park.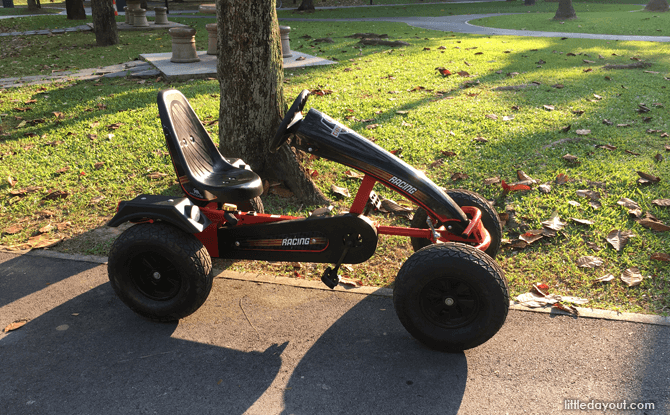 Available for rent from a kiosk at the eastern section of West Coast Park (close to Clementi Road), these German-made go-karts come in two sizes – one for adults and children above five, and a smaller one for younger kids.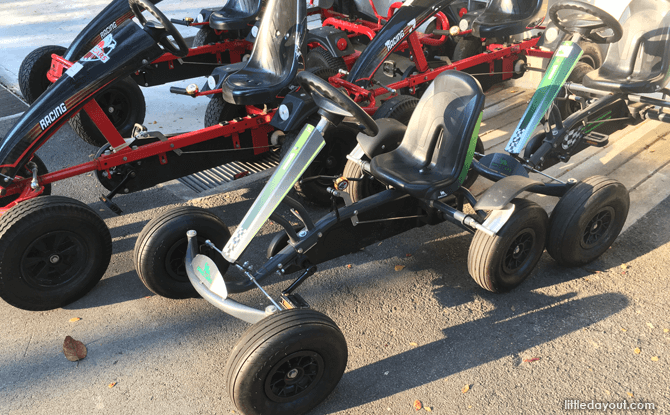 And they couldn't be easier to use – even for young children. Just sit down, put your feet on the pedals and you are ready to go!
Steering is done with a steering wheel and the all-important brakes are to the right of the rider's seat, ala hand-brake style. Oh, and there is a bell too – to alert others of your presence.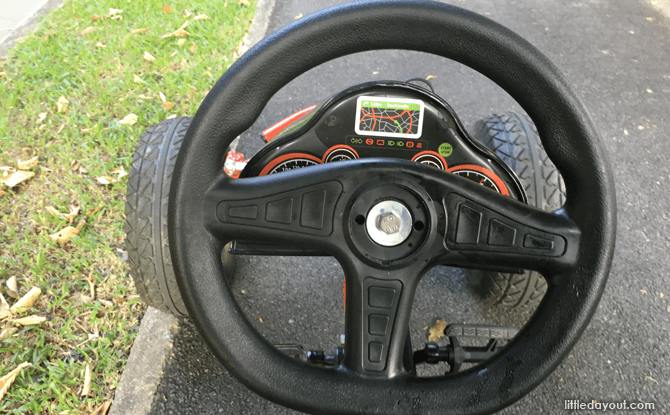 Getting Used to the Go-karts
The go-karts' seats can be adjusted to suit different heights. Make sure you sit at a comfortable distance where the legs can extend comfortably to the pedals.
It is a good idea to get used to the go-karts around the flat terrain near the kiosks first.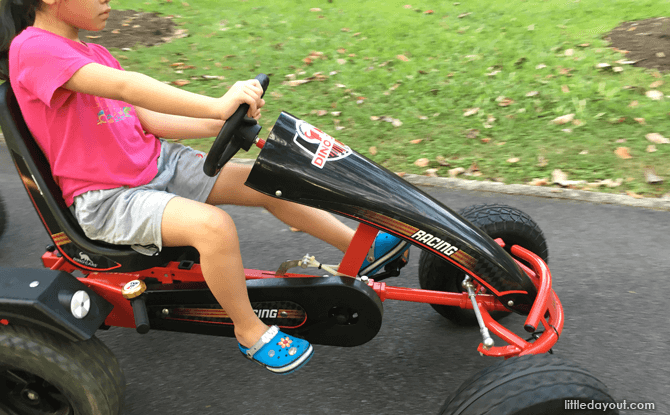 Younger kids will need to get used to steering the go-kart and getting used to the brakes. However, this shouldn't take too long.
Even adults who are used to driving will need to consciously remember that the brakes are located beside the seat.
A word of caution though.
DON'T SPEED. While the go-karts are pretty stable, do not attempt to race or speed in them. At speed, we imagine the go-kart can go rolling if a person loses control of them, especially around the bends.
Supervise the kids.
Okay. Public service announcement over.
Pedal Go-Karting Around West Coast Park
West Coast Park is the ideal park for go-karts.
Close to the kiosk, there is a "course" for go-karts to navigate around. These include little winding turns, roundabouts and the go-kart version of San Francisco's famous Lombard Street.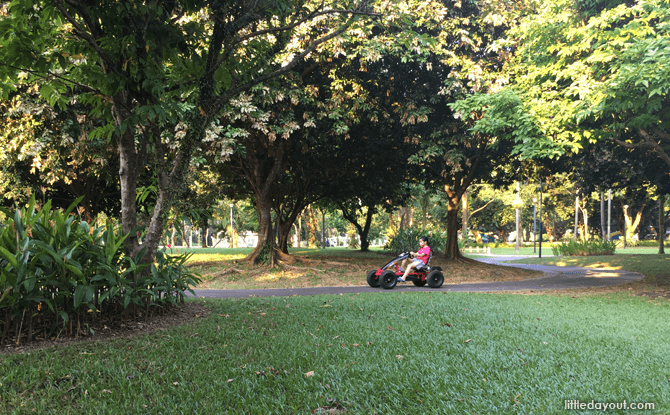 All this makes for an interesting ride around the eastern, less crowded sector of West Coast Park.
You can also venture on a pedal-powered expedition around the rest of West Coast Park. You can pedal across a bridge toward the West Coast Park Adventure Playground (although you probably don't want spend time playing there as the go-karts are rented out on a time-basis.)
Pay a visit to the jetty, pedal along the waterfront and circle around the Grand Lawn. West Coast Park has broad, paved tracks, making go-karting a leisurely affair.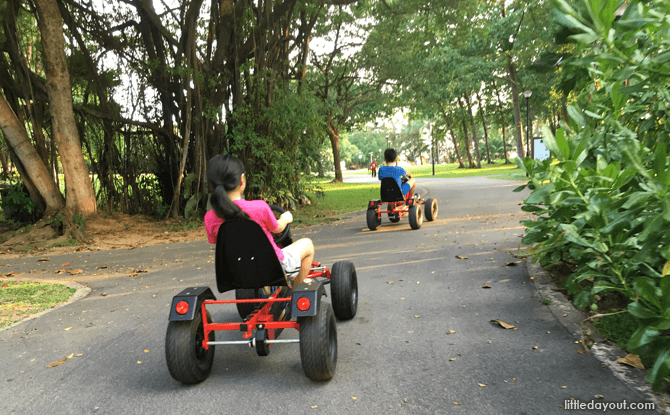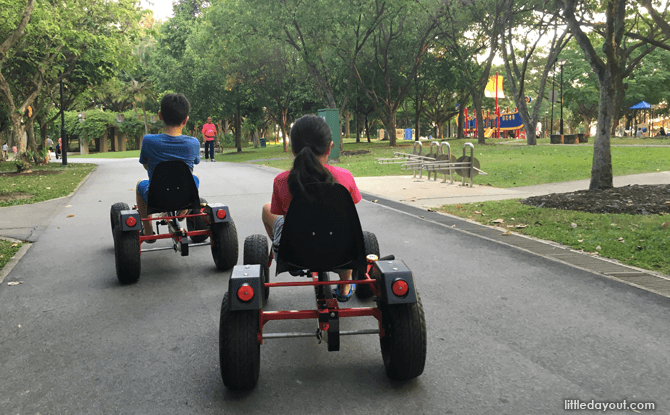 Just be sure to watch the time and return the go-karts on schedule to avoid additional charges.
GoCycling West Coast Park
West Coast Park (close to the junction of West Coast Highway and Clementi Road)
Opening Hours:
Weekdays: 10 am to 8 pm
Saturdays and Sundays: 8.30 am to 8.30 pm
Telephone: 9199 8411
Pedal Go-karts Rental Rates
Big Go-karts (suitable for adults and kids above five): $16 for 30 minutes; $24 for the first hour.
Small Go-karts (suitable kids above three): $13 for 30 minutes; $20 for the first hour.
There are also family go-carts that seat up to four persons. These are available at $45 for 30 minutes and $68 for the first hour.